Cool Stuff: These Matt Ferguson 'Infinity War' Posters Will Make You Want To See The Movie In Theaters 5 Times


We've been covering the pop culture artwork of UK-based artist Matt Ferguson for more than half a decade at this point and are always impressed, but this might be his best piece yet.
A pentaptych of five interconnected posters for Avengers: Infinity War which will be released exclusively through Odeon Cinemas. So if you're seeing this event film at Odeon, you might walk home with one of these posters. But what does one poster do for you? You need to collect all five to make for the best possible display. So I guess you'll just have to see Infinity War five times in the movie theater! And thus Odeon's evil plan has worked.
Below, check out the Matt Ferguson Infinity War poster in full and also check out some detailed close-ups.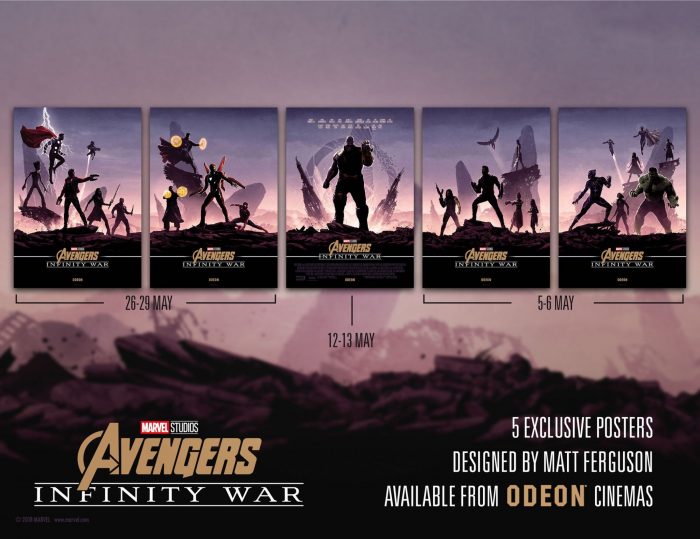 You'll have to see the movie at an Odeon Cinema between April 26 and 29 for the first two posters. To get the Thanos poster, you'll have to return again between May 5 and 6. And to complete your set, you'll have to go back on May 12 and 13.
Unfortunately, Odeon Cinemas are only the operating in the United Kingdom and Ireland, and thus out of reach for us Marvel fans living elsewhere. I wish one of our favorite art galleries, like Bottleneck or Hero Complex, would release this as a limited edition screenprint. Perhaps in a more manageable 12" x 36" one-piece design. Matt's work has sometimes ended up as an added bonus with the Marvel home videos, so perhaps we'll see a future release there as well.
Here are the five posters in full:
Here are some detailed close-up shots: