Theme Park Bits: Disney World Monorail Rumors, Millennium Falcon Ride Test Footage, Pixar Fest Videos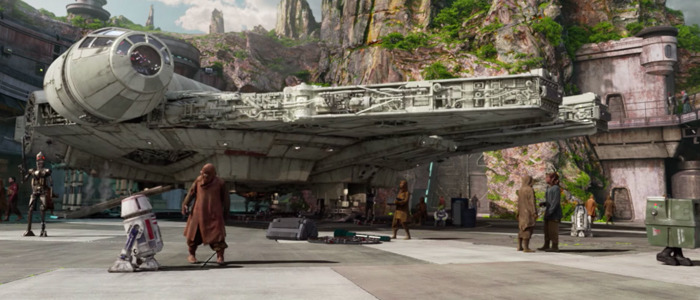 In this edition of Theme Park Bits:
See what the Haunted Mansion might have looked like if it had been called "Museum of the Weird."
Disney World might finally be getting a fleet of brand spanking new monorails.
Check out early test footage for the Millennium Falcon attraction at Star Wars: Galaxy's Edge.
Dwayne "The Rock" Johnson continues his recent pattern of popping up around theme parks.
See video of the updated Pixar Play Parade and Tokyo Disneyland's new 35th-anniversary parade.
And more!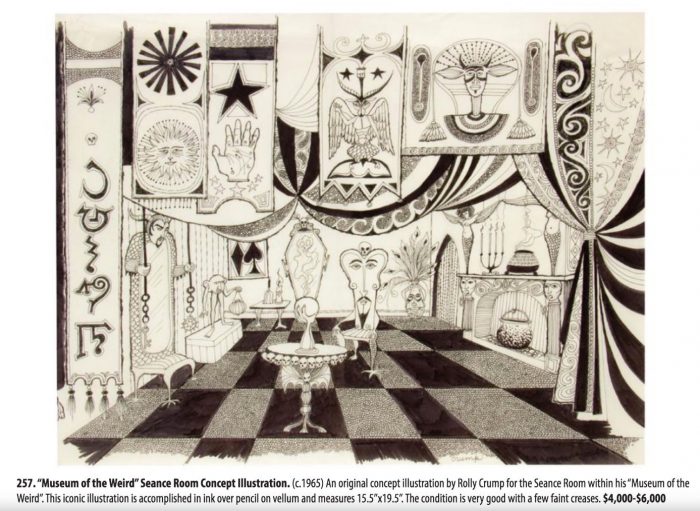 It's always cool to see rare concept art, and this week, Paleofuture has a look at some early Haunted Mansion designs that are set to be auctioned off soon. These illustrations come from artist Rolly Crump, who worked through the planning stages of the ride back when it was still called "Museum of the Weird."
Get your smartphones out (assuming you're not already reading this on one), because annual passes for Walt Disney World can now be purchased in the My Disney Experience app. There's also a rumor that the wait times for resort buses could be coming to the app. Both Disney World and Disneyland Resort in California are set to launch a new Play Disney Parks app this summer, as well.
All-New Play Disney Parks App Coming to Disneyland Resort & Walt Disney World Resort This Summer! https://t.co/gsipFmpluz pic.twitter.com/uIL9Fg7Gsi

— Disney Parks (@DisneyParks) April 18, 2018
While we're on the subject of rumors, have you heard the one about the new monorail fleet coming to Walt Disney World? The current fleet has been operating since 1989, and there have been incidents in the not-too-distant past with monorails breaking down and having pieces literally fall off of them.
The final catalyst for the new fleet seems to be the incident this January where a monorail full of passengers traveled to Epcot with one of its doors hanging open. It sounds like funding the new fleet may be the thing that halted progress on construction of the Broadway-style Main Street Theater (which is also now rumored to be canceled) at the Magic Kingdom.
This week, two new characters were unveiled in the Toy Story Mania! queue at Disney's Hollywood Studios! https://t.co/H14sgZlq31 pic.twitter.com/OOxRgJ81Pe

— Disney Parks (@DisneyParks) April 16, 2018
At Disney's Hollywood Studios, boxes for Lenny the Binoculars and Chuckles the Clown have been added to the Toy Story Mania! queue as part of its redesign before the opening of Toy Story Land on June 30. The first FastPass reservations for Toy Story Land are already available to guests who are within 60 days of their check-in to a Walt Disney World hotel.
Over on Sunset Boulevard, meanwhile, the Sweet Spells shop has closed permanently to make room for a new shop specializing in Toy Story Land merchandise.
Above, you can see test footage, courtesy of WDW News Today, of the Millennium Falcon attraction that is coming to Hollywood Studios when the new land Star Wars: Galaxy's Edge opens there in 2019. Making Star Wars also has some fresh details this week about the layout of Galaxy's Edge, including its Cantina restaurant, which will reportedly have both a quick-service bar and a table-service area where live music is performed.
In related news, Disney has applied for a patent showing how its Star Wars hotel could be outfitted with a "Multimedia System for Transforming Any Room Into a Show Environment."
Remote-controlled BB-8 races, photo ops with Han Solo in carbonite, and copious character greetings are just some of the highlights of Star Wars Day at Sea, which you can hear about from a Disney Cruise Director in the video above.
/Film Editor Peter Sciretta recently went on one of these voyages, and as you can see from the pic below, the cruises hold other gorgeous sights beyond just Star Wars.
Say it ain't say so, fellas: the long-running meet-and-greet with Baloo and King Louie at Disney's Animal Kingdom ended this week.
Hopefully, Jungle Book fans, you're like me and were able to squeeze in a quick visit with them on your last trip there. Otherwise, that all-important Disney parks bucket-list item, "Baloo and King Louie snapshot," might remain unchecked indefinitely.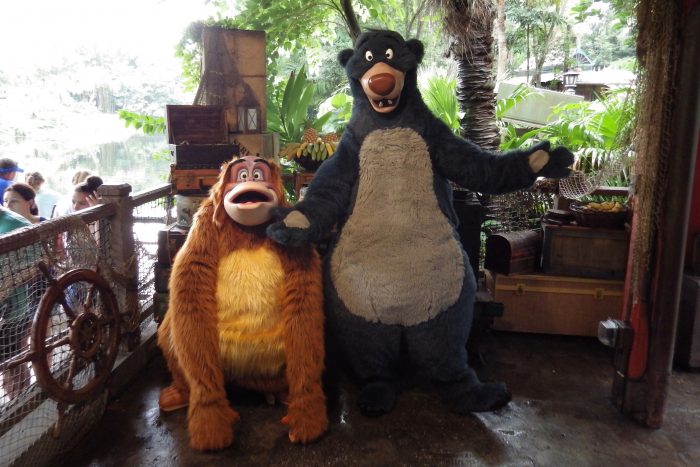 Alas, these two characters aren't the only ones bowing out of the greeting game. Flik from A Bug's Life will also be gone after April 22.
On the bright side, the new show, "UP! A Great Bird Adventure," has already begun doing soft openings at the park in the lead-up to its official opening on April 22. That's the date of Animal Kingdom's 20th anniversary, so this is why they're phasing things in and out right now.
In case you missed our story about it earlier this month, there could be a fourth park coming to Universal Orlando in the future, with Super Nintendo World and other areas themed to Lord of the Rings and Jurassic World.
While we wait to hear more news on that front, fans will have to content themselves with Fast & Furious – Supercharged, which is now conducting a technical rehearsal at Universal Studios Florida. What that means, according to the Universal Orlando Blog, is that the attraction "will be open on a limited, unscheduled basis, and some elements may not be operational as [they] continue to test and refine everything."
Time to gear up. #FastFuriousRide is now in technical rehearsal.

For full details, visit https://t.co/62lGIViMQC. pic.twitter.com/qNRwtqDDcc

— Universal Orlando Resort (@UniversalORL) April 14, 2018
Get ready to run from a Christmas goat-demon at Universal Studios Hollywood. A "Holidayz in Hell" scare zone has been announced for Halloween Horror Nights 2018, and yes, Krampus will be there to punish the naughty.
For the park's new Kung Fu Panda: The Emperor's Quest attraction, you'll only have to wait until June.
Last year, Dwayne "The Rock" Johnson popped up on the Jungle Cruise at the Magic Kingdom. This year, he's crashed the Universal Studios Hollywood Studio Tour, doing a quick drive-by of the tour tram, much to the delight of its passengers. Check it out in the clip above. What can I say except ... you're welcome?
The world could always use another Lion King musical, couldn't it? Disneyland Paris has a new one lined up now for 2019. Clearly, it can feel the love tonight.
"We all have sparks, imaginations. That's how our minds, create creations. For they can make, our wildest dreams come true. Those magic sparks, in me and you." – Dreamfinder

RIP Chuck McCann, voice of beloved Dreamfinder from Journey Into Imagination at Epcot. 💔 pic.twitter.com/AEz4KEmNbp

— Castles Capes & Clones (@CCCDisneyUni) April 9, 2018
A bit of sad news this week, as "one little spark" has gone out of the world with the passing of Chuck McCann, the voice of Dreamfinder in Epcot's classic Journey Into Imagination ride.
If this onetime Disney Imagineer had his way, North Carolina would have had its own theme park called Whirligig Woods.
Pixar Fest is now underway at Disneyland Resort and above you can see the new "Together Forever" fireworks show as well as the full Pixar Play Parade, which has been updated with new floats for this event. There's also a video up on Disney Parks Blog going behind the scenes of the parade. 
Last week also saw sites like WDW News Today and Disney Tourist Blog descend on Tokyo for the kick-off of Tokyo Disneyland's year-long 35th-anniversary celebration.
Last but not least, readers ... what's with the millennial pink? Seriously. Is it just that I'm out of touch, six months late to the party, or is anyone else mystified by the recent invasion of this color at Walt Disney World? The resort now has a slew of millennial pink treats it's unveiling, including a Millennial Pink Milkshake "topped with fluffy cotton candy and house-made Mickey-shaped marshmallows."
If you know and understand what this color craze is all about (or if you just want to puzzle over the pinkness and feel old and unhip, like your time has passed in this world), you can scroll through the pictures over on Disney Parks Blog.