Joe Manganiello's Deathstroke Research Is Transferring To Gareth Evans' Solo Movie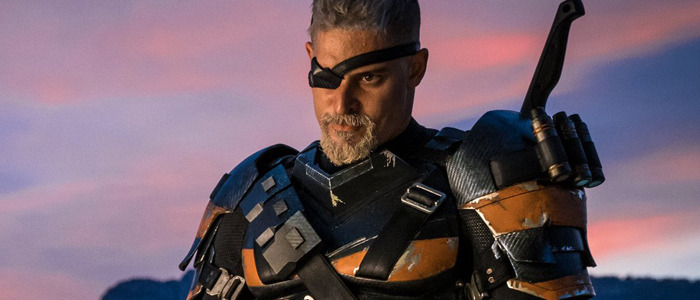 It was the summer of 2016, and Ben Affleck had just tweeted a video featuring Joe Manganiello in costume as Deathstroke. The fan community was pumped about the idea of the two of them facing off in a Batman movie directed by Affleck, but since then, we've only seen Manganiello's version of this character pop up in a post-credits scene in last year's Justice League.
Now the former True Blood star is talking about the research he did to become the DC Comics villain, and how what was originally intended to inform his work in the Batman solo movie may be rolled into a Deathstroke film that could be directed by The Raid's Gareth Evans.
Manganiello, who you may recognize from the Magic Mike movies and Dwayne Johnson's Rampage, was a guest on Chris Hardwick's ID10T podcast (via LRM Online), and the topic of Deathstroke came up:
"When I met with Ben Affleck about Batman, the meeting we were having was for Deathstroke. This is a real opportunity to figure out who this guy is on the inside. Like what he's battling with...
...From the inside, this is a person who is struggling with all types of things. I think it's really interesting to tell that kind of a story and tell the truth emotionally of a story like that when you're talking about a man who lost an eye, was betrayed, lost a son. These different types of aspects.
Then you couple that with real world military training. Then I started training at like a Ninjutsu dojo and started learning sword fighting. Started learning and understanding where those techniques come from. All of a sudden this thing starts writing itself. What I love doing is in an instance like that I'm able to, at the ground level, I'm able to go back and pitch all of my work. So I'm pitching them: "This is where I think he comes from. This is where I think he's going. This is the military background. These are some articles that I pulled for you. I also interviewed these people over here."
The Ninjustu school, there are scrolls that are written that have these ancient techniques that are not shared with students that are locked away because somebody is going to go into a bar and rip someone's head off using one of these techniques. What are those techniques? Where are they? Could there theoretically be somebody that would go around and learn these insanely offensive techniques and become this incredible killer? But I'm rooting it in the world. I'm rooting it in something honest so it feels real...
Somewhere along that way I know that it was announced where the studio – there was talks with Gareth Evans and talks about an origin movie. I'm not giving news. I spent six months prior to all of those phone calls writing a backstory that was turned into sixteen pages, which got turned into a treatment, which then led to my Skype call with Gareth."
It sounds like what he initially planned to utilize in The Batman will now be incorporated into Gareth Evans' Deathstroke movie. Of course, that's assuming Evans is actually going to officially sign on to make the film and that we ever actually see it; DC Films is in the midst of a small-scale identity crisis right now, so there's a chance we never see the Joe Manganiello Deathstroke again and the tease at the end of Justice League will join the teases of The Amazing Spider-Man movies on Hollywood's sad shelf of unfulfilled potential.
Manganiello is no stranger to the writing process, having already written a full screenplay for a Dungeons & Dragons movie, so it's not surprising that he approached his character with that level of intensity. And it may be inadvertent, but his comments about the deadly techniques of the dojo reminded me of one of my favorite episodes of Batman: The Animated Series, called "Day of the Samurai." You can read all about it here, but that concept features heavily in the episode.
Do you want to see a Joe Manganiello Deathstroke solo film? Would you rather see him as a supporting player in a Justice League sequel? Should DC just cut their losses and abandon this character altogether? Let us know what you think.