Edgar Ramirez Boards 'Jungle Cruise' Opposite Dwayne Johnson And Emily Blunt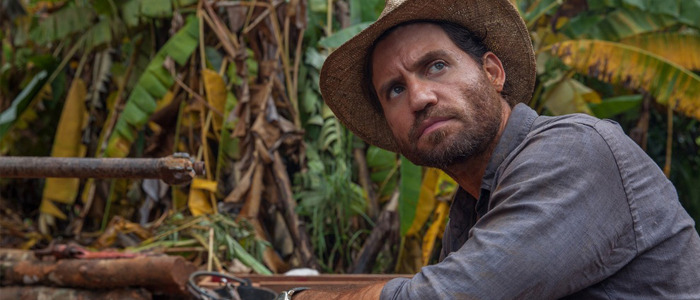 Add Edgar Ramirez's name to the ever-growing list of Disney movie villains. The Venezuelan actor has joined the cast of the Mouse House's upcoming Jungle Cruise movie, which already had the powerhouse team of Dwayne Johnson and Emily Blunt on board to star.
Learn more about the Edgar Ramirez Jungle Cruise casting below.
The Hollywood Reporter says that Ramirez, who played Gianni Versace on the most recent season of FX's American Crime Story, is the latest actor to board the studio's newest film that's based on one of their theme park attractions. He'll play "a man with a conquistador background who is one of the story's villains." This movie will be a reunion between Blunt and Ramirez, who worked together on last year's adaptation of The Girl on the Train. It'll also be a return to the jungle for him, since he recently ventured into the brush with Matthew McConaughey in the treasure-hunting movie Gold. Ramirez is an excellent actor, and I'm relieved he's on board here instead of Javier Bardem; I was afraid Disney would be eying Bardem for this role after working with him on the most recent Pirates of the Caribbean film.Jungle Cruise is based on the classic Adventureland attraction that sees guests step aboard an old riverboat and go on a guided tour of exotic locales as a guide points out all of the exciting sights along the way (making groan-inducing jokes the whole time). The movie adaptation will be a period piece set in the early 1900s in the Amazon jungle, and will star Johnson as a boat captain tasked with taking a woman (Blunt) and her brother (Jack Whitehall) to a tree that supposedly has magical healing powers.Michael Green (Logan, Blade Runner 2049, Murder on the Orient Express) wrote the most recent draft of the script, but perhaps the most exciting aspect of this film is its director. Jaume Collet-Serra, the guy who directed the Blake Lively vs. a shark movie The Shallows and practically every entertaining Liam Neeson action movie of the past decade, is behind the camera here, and I have my fingers crossed we'll get a glimpse of his insane creativity amid all of the requirements of a family-friendly Disney project.
Above all else, though, I just hope Johnson doesn't wear any khaki clothing in this movie. Someone give that man another color, for God's sake!
Jungle Cruise will begin filming this summer, and depending on how long it takes in post-production, it could be ready for an October 4, 2019 release date, which Disney has already staked out with an "Untitled Disney Live Action" project. If it can't hit that deadline, it'll almost certainly arrive in theaters on February 14, 2020, which is the next live action date Disney has locked down on the release calendar.