'The Equalizer 2' Trailer: Denzel Washington Is Back In Action Hero Mode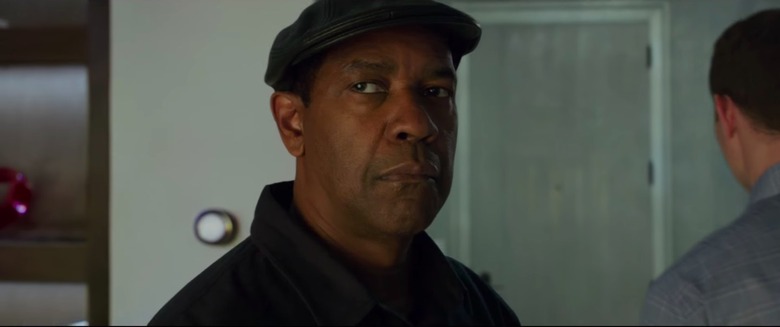 Denzel Washington is back as Larry Equalizer (alright, the character's name is actually Robert McCall) in The Equalizer 2. Once again, Washington's character finds himself delivering some vigilante justice. Watch the Equalizer 2 trailer below.
I don't know if anyone is clamoring for an Equalizer sequel, but here we are. Director Antoine Fuqua is back, as is Denzel Washington as Robert McCall, a retired CIA black ops operative who frequently finds himself drawn into other people's problems. The new Equalizer 2 trailer just arrived, and you can witness Denzel beat the crap out of some bad guys below.
Equalizer 2 Trailer 
The first Equalizer was a surprise hit, so there's bound to be an audience for this sequel. Plus, it's hard to resist seeing Denzel Washington kicking some ass. This film, like the original, was inspired by the 1980s TV series of the same name (ask your parents about it). In addition to Washington, Equalizer 2 stars Ashton Sanders, Pedro Pascal, Melissa Leo and Bill Pullman.
Back when the first Equalizer film came out in 2014, director Antoine Fuqua weighed-in on a possible sequel:
"The audience will decide [if we make a sequel]. If Denzel wants to do another one, I'm there. It's such an interesting character. It could be more international. This is a guy who could work in Home Mart one day, or go blend in while living in Italy. There's room for development and evolution."
So there you have it: the audience and Denzel Washington were obviously both down for more Equalize-ing. Speaking of Washington, Equalizer 2 has a rare distinction: it's the first sequel Denzel Washington has ever done. That's actually very surprising. Perhaps the pull of Equalizer 2 was just too good for Washington to pass up. Or perhaps someone offered him a lot of money. Either way, the sequel will soon be here for everyone to enjoy.
I can't say I was a huge fan of The Equalizer. In fact, I almost forget it existed. It came out the same year as another ass-kicking action movie, John Wick, and that film seemed to steal all of its thunder. Perhaps this sequel will be able to distinguish itself now that it doesn't have to face-off against John Wick.
The Equalizer 2 opens July 20, 2018.
Denzel Washington returns to one of his signature roles in the first sequel of his career. Robert McCall serves an unflinching justice for the exploited and oppressed – but how far will he go when that is someone he loves?