'GLOW' Season 2 Teaser: The Ladies Flash The Premiere Date Of The Netflix Wrestling Series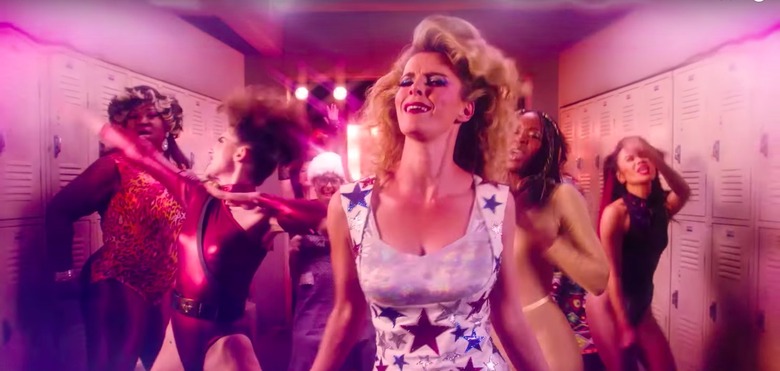 GLOW is coming back, so you better get ready to dance like a maniac. The uber-popular Netflix wrestling comedy has announced its sophomore season premiere date in a glamorous and glitzy GLOW season 2 teaser.
GLOW Season 2 Teaser
Whatta feeling it is to have GLOW soon back in our lives! And there's no better way to reintroduce us to the world of spandex and faux-wrestling than a music video of the gorgeous girls dancing to "Maniac," the Oscar-nominated centerpiece song from the 1980s film Flashdance.
While the girls don't necessarily imitate Jennifer Beals' iconic workout in a Pittsburgh warehouse, the song is perfect for the rambunctious ladies of the comedy series. GLOW is set in the '80s, based on the true story of a weird, short-lived TV show of the same name, in which 12 aspiring actresses take on the roles of women wrestlers under the guidance of washed-up director Sam Sylvia (Marc Maron).
But the teaser does more than remind us of how great GLOW is. It announces the season 2 premiere date: June 29. Who knows where season 2 will take us? But wherever it does go, it's always fun to follow the hugely charismatic ensemble cast led by Alison Brie and Betty Gilpin.
GLOW season 2 premieres on June 29, 2018 on Netflix.
Inspired by the short-lived but beloved show from the 80s, GLOW tells the fictional story of Ruth Wilder (Alison Brie), an out-of-work, struggling actress in 1980s Los Angeles who finds one last chance for stardom when she's thrust into the glitter and spandex world of women's wrestling. In addition to working with 12 Hollywood misfits, Ruth also has to compete with Debbie Eagan (Betty Gilpin), a former soap actress who left the business to have a baby, only to be sucked back into work when her picture perfect life turns out not to be what it seems. At the wheel is Sam Sylvia (Marc Maron), a washed-up, B-movie director who now must lead this group of women on the journey to wrestling super stardom.