'Maleficent' Sequel Casts Ed Skrein As Its Villain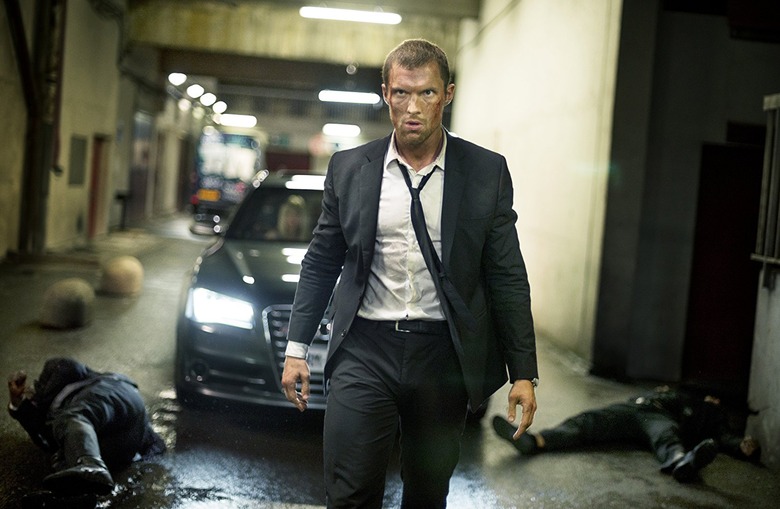 Ed Skrein may be the next actor to face off against Angelina Jolie's fallen fairy in the Maleficent sequel. The Deadpool actor is in final talks to play the Maleficent 2 villain in the film helmed by Pirates of the Caribbean: Dead Men Tell No Tales director Joachim Ronning.
Skrein is in final negotiations to play a "key role" as the villain in Maleficent 2, Variety reports.
The details about his villain are still under wraps, but it is confirmed that both Jolie and Elle Fanning, who played Aurora in the 2014 Disney film, will return for the Maleficent sequel.
Jolie played the title character in 2014's Maleficent, which presented a modern twist on an infamous villain from Disney's 1959 animated film Sleeping Beauty. The live-action reinvention of Sleeping Beauty was a bold choice that unfortunately only received middling reviews (a 51% on Rotten Tomatoes), but an impressive box office haul of $758 million worldwide. It didn't reach the record-smashing success of last year's Beauty and the Beast, but it was enough for Disney to greenlight a sequel.
What the sequel would entail is up in the air. The first film took a revisionist approach to the classic tale of Sleeping Beauty, painting Aurora's father, King Stefan (Sharlto Copley), as the true villain. In Maleficent, Jolie's title character is an innocent fairy in love with Stefan, who takes advantage of her affections by ripping off her wings and selling them for the crown. She curses his daughter as revenge, but ends up becoming fond of the princess as she watches her grow up, even taking on the role as Aurora's fairy godmother.
I've been on the fence about Disney's live-action adaptations of its animated classics, but Maleficent was an exception. As imperfect as it was, it tried a bold and radical take on a classic fairy tale, one that didn't betray the spirit of the original. More Disney live-action films should follow in its footsteps, though I doubt that they could replicate the pitch-perfect casting of Jolie as the sympathetic Maleficent.
Maleficent 2 would probably veer even further from the original Charles Perrault fairy tale, perhaps creating a wholly original story of its own. I couldn't begin to theorize who Skrein could play, though he has built out a good niche for himself playing smarmy baddies. Now he only has to go toe-to-toe with Angelina Jolie.
Production on Maleficent 2 is set to start in 2018.