Pop Culture Imports: A Spanish Space Romance, A Brazilian Crime Show From The Producers Of 'Narcos,' And French Gender-Bent Comedy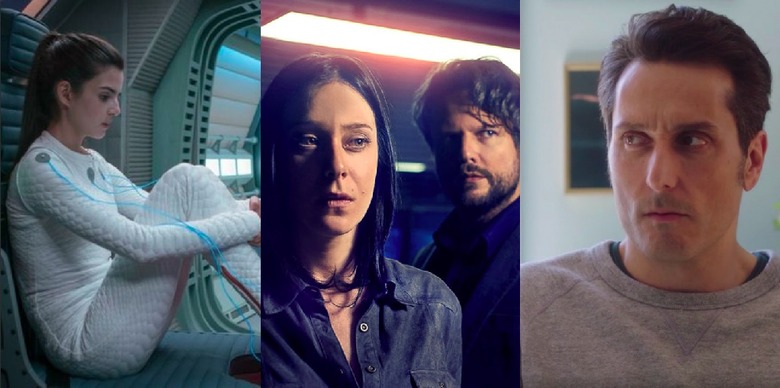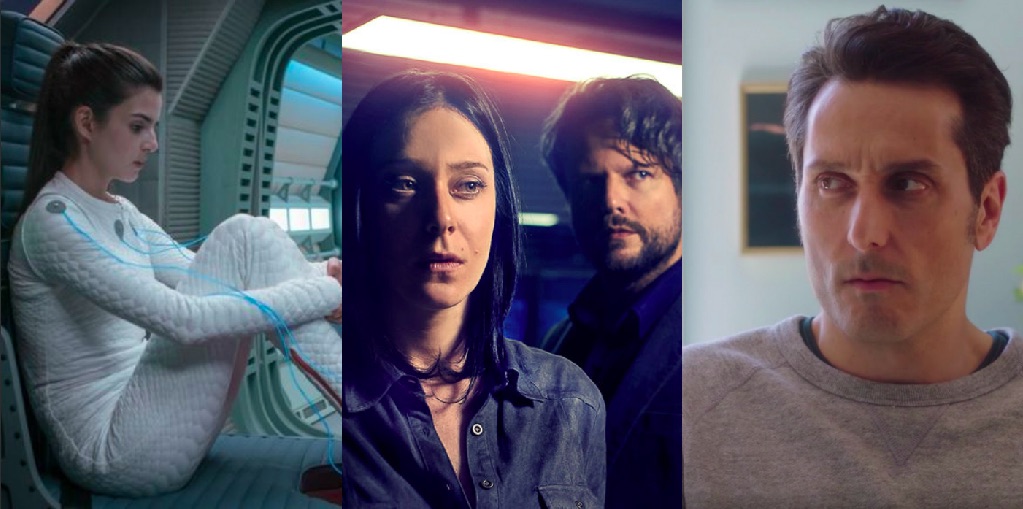 (Welcome to Pop Culture Imports, a column that compiles the best, wackiest, and weirdest foreign-language movies and TV shows streaming right now.)
You ready for your biweekly dose of subtitles? Welcome back to Pop Culture Imports, where I tell you about the foreign-language TV shows and movies that are worth watching without turning on the awkward English dubbing. This week, we have a cerebral Spanish space romance, an Israeli documentary about a Holocaust survivor that takes an unexpected turn, Brazil's answer to The Wire, an acclaimed anime series, and a (literal) gender-bent French romantic-comedy.
Let's fire up those subtitles and dive in.
1. Orbiter 9 – Netflix
Country: SpainGenre: Sci-fiDirector: Hatem Khraiche Ruiz-ZorrillaCast: Clara Lago, Álex González, Belén Rueda, Andrés Parra.
Netflix has been stockpiling the science-fiction films lately, with the hope that maybe one of them will stick. Who knew that it would be a Spanish space romance that would finally do the trick?
Orbiter 9 follows a young woman named Helena (Clara Lago) who has lived her entire life alone on a spaceship, her parents having abandoned the vessel after a technical malfunction wouldn't allow enough oxygen for all three of them to complete their 40-year trip to a colony on the planet Celeste. But her world is flipped upside down when an engineer catches her distress signal and boards for repairs. Helena is immediately enamored with the engineer, Alex (Alex Gonzalez), and the two of them fall in love. The premise sounds like a simple romantic knock-off of Moon, but the film stores a few shocking twists that will shake Helena's entire worldview and throw a wrench in Helena and Alex's budding relationship.Orbiter 9 takes a slow, steady pace that allows the film's complicated premise to unfold, but most importantly, allows Helena and Alex's relationship to simmer. Lago and Gonzalez have a refreshing chemistry that provides the anchor for a somewhat outlandish premise — even if Gonzalez's performance towards the latter half of the film has him morphing into a kind of sexy stone block. But Lago completely sells her role as a sheltered woman whose entire world is upended, and makes this Netflix sci-fi film worth the watch.Watch This If You Like: Moon, The Island, Ex Machina, watching people eat unhealthy amounts of Chinese noodles.
2. Aida's Secrets – Amazon
Country: IsraelGenre: DocumentaryDirector: Alon Schwarz, Shaul SchwarzCast: Shep Shell, Izak Sagi, Aida Zasadsinska.
Alon and Shaul Schwarz began filming Aida's Secrets to help their uncle, Izak Sagi, find his long-lost brother whom he had been separated from as a toddler at the Bergen-Belsen displaced persons camp after World War II. The problem: he didn't find out about his brother's existence until he was 67 years old, long after he had reconnected with his mom living in Canada. What begins as a heartwarming tale of a family reunited becomes a fascinating mystery as Izak and his brother Shep Shell probe their mother, Aida, about why she never spoke about Shep. But at 89, Aida remains tight-lipped about her past and about their father. "It was the best I could do," she repeated.
The documentary is a deeply intimate story of a fractured family, but becomes a sharp reminder of the massive refugee crisis that followed World War II — one that still resounds today. We never do get to find out what Aida's secrets are. But it sure is damn interesting trying to find out.
Watch This If You Like: Catfish, Philomena, One Survivor Remembers, family Thanksgivings where a long-lost uncle suddenly shows up.
3. The Mechanism – Netflix
Country: BrazilGenre: Crime drama seriesCreators: José Padilha and Elena SoareCast: Selton Mello, Caroline Abras, Enrique Díaz, Antonio Saboia, Lee Taylor, Otto Jr., Leonardo Medeiros, Jonathan Haagensen, Alessandra Colassanti, Susana Ribeiro, Ravel Cabral.
Brazil's ongoing corruption scandal, known as Operation Car Wash, has snowballed into a bonafide national crisis — its twists and turns rivaling the jaw-dropping drama of an episode of House of Cards. So it's fitting that the producers of Narcos would bring the biggest corruption scheme to plague a democratic nation in this century to Netflix.
The Mechanism is Brazil's answer to The Wire — with a dash of Taxi Driver and Narcos thrown in. It's a brutal, tense crime drama that revolves around a police taskforce bent on uncovering the widespread corruption scheme that has taken over the Brazilian government. The main scheme being Operation Car Wash, named after the real-life money laundering scheme held out of a gas station. The show goes through a series of infuriating turns as the small police force faces the entire might of the Brazilian government, but it remains fast-paced and kinetic thanks to the growly performances by Selton Mello as Marco Ruffo, the unhinged lead detective, and Caroline Abras as his grim partner Verena Cardoni.Watch This If You Like: Taxi Driver, Narcos, The Wire, growly voice-over narration.
4. Violet Evergarden – Netflix
Country: JapanGenre: AnimeDirector: Taichi IshidateCast: Yui Ishikawa, Takehito Koyasu, Daisuke Namikawa, Aya Endo, Koki Uchiyama, Minori Chihara, Haruka Tomatsu.
Based on a series of acclaimed Japanese light novels, Violet Evergarden is a stunningly animated anime about a child soldier who was bred to be a "weapon." But with the vaguely described "war" over, the titular Violet Evergarden has trouble adjusting to civilian life, especially since she has all the characteristics of an emotionless — but sexy! — robot. She finds herself working for the postal company as an Auto Memory Doll, a person tasked with writing letters for others, a job she pursued because she wants to "find out what 'I love you'" means.
The world-building is a little off-putting and convoluted at first, but Violet Evergarden comes into its own when it begins focusing on its colorful cast of characters. The supporting characters bring life to a somewhat heady and strange story, while honing in on the series' themes about love and emotion. The entire thing is a bit of a pastiche of better animes (I'm sure I wasn't the only one who suddenly felt like rewatching Fullmetal Alchemist) but Violet Evergarden has its heart in the right place.
Watch This If You Like: Fullmetal Alchemist, Death Parade, Love in the Time of Cholera, steampunk-inspired outfits.
5. I Am Not An Easy Man – Netflix
Country: FranceGenre: Romantic-comedyDirector: Éléonore PourriatCast: Vincent Elbaz, Marie-Sophie Ferdane, Pierre Benezit, Blanche Gardin, Celine Menville.I Am Not an Easy Man is based off a viral short film by director Éléonore Pourriat, and it at first feels like it could have stayed that way. But the silly premise — that a chauvinist pick-up artist knocks his head and ends up in a world where women are the dominant gender — turns into a charming romantic comedy thanks to the strengths of its lead Vincent Elbaz. He sells the physical comedy and his character Damien's frequently beleaguered expressions as this former Casanova has to make his way through a world where he's treated like a piece of meat.
Marie-Sophie Ferdane sells her role as the hotshot author and female pick-up artist who ends up falling for Damien after she initially tries to turn him into a story. There are missed opportunities, misunderstandings, and shenanigans galore in I Am Not an Easy Man but it's a fun watch, and a relatively harmless one. It's like the modern antidote to What Women Want — and better for not having Mel Gibson in it.
Watch This If You Like: What Women Want, Sliders, those YouTube videos where a woman walks around New York for eight hours and gets cat-called.