Evan Rachel Wood Is Finally Getting Equal Pay For 'Westworld' Season 3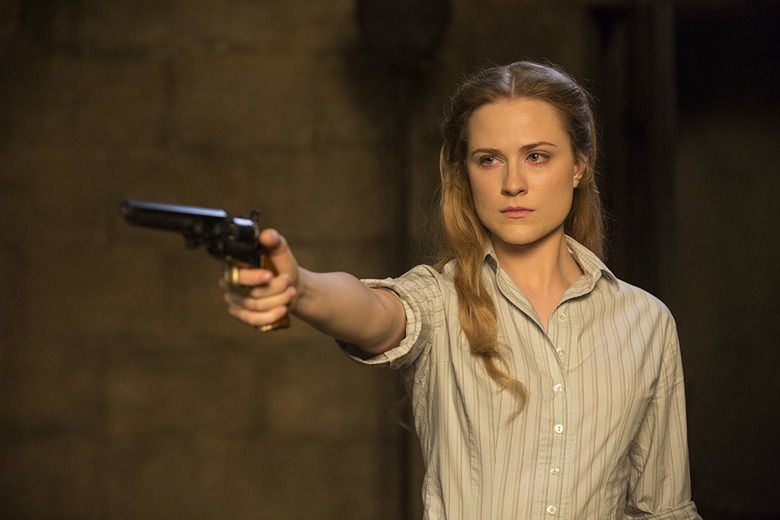 HBO's initiative to battle the pay gap is starting to pay off. In the wake of the Time's Up movement and Big Little Lies' Reese Witherspoon's campaign for gender parity, the cable network announced that it had "corrected" its show pay gaps. And it couldn't come soon enough.
The star of one of HBO's biggest hits will finally get her due. Evan Rachel Wood's Westworld paycheck will finally match that of her male co-stars come season 3 of the sci-fi series.
Evan Rachel Wood is the female lead and ostensibly the most recognizable face of the hugely popular HBO sci-fi series. But she revealed that she hasn't received the same pay as her male Westworld co-stars.
In an interview with The Wrap, Wood noted that she'll now be matched in pay with Anthony Hopkins and Ed Harris for season 3 of Westworld:
"I think I'm just now to the point where I'm getting paid the same as my male co-stars. I was just told that, you know, 'Hey, you're getting equal pay.' And I almost got emotional. I was like, 'I have never been paid the same as my male counterparts ... never, never.' I'm always fighting for that. Westworld, it's like, I get it a little more. It's like, 'Well, you're Anthony Hopkins or Ed Harris.' But I think now we're all doing equal amounts of work and really hard work."
It's honestly a little shocking that Wood didn't receive a pay raise in season 2 of Westworld, especially after the pivotal role she plays in season 1. Wood has become one of the most recognizable faces of the series, and the face that received some of the most screen time.
On the one hand, Hopkins and Harris are Hollywood elites whose names were certainly a huge draw for audiences for the first season of the series. But with the momentum that Westworld has gained online and offline, it's amazing that Wood wasn't given even a bump in her salary for season 2.
Wood didn't mention Marsden in her crusade for equal pay, but if she was paid less than him, that would have been especially egregious. Going into the series, Wood was already a recognizable actress on the same level, if not more, than Marsden. But Wood seems to take it all in stride, adding:
"There's a lot of politics, but there's a lot of things that are now being talked about in a different wayThere is a lot of stuff that goes on behind the scenes. There is a lot of trying to make things equal and trying to make things fair. I don't know, there is a lot of stuff. But this is the first time that somebody made a point of being like, 'Hey you're getting this. And you deserve it.' And that was nice."
It turns out these violent pay gaps do have somewhat pleasant ends.
Westworld season 2 premieres on April 22, 2018 on HBO.