Atom Tickets App Introduces Concession Purchases, Fandango Debuts New Rewards Program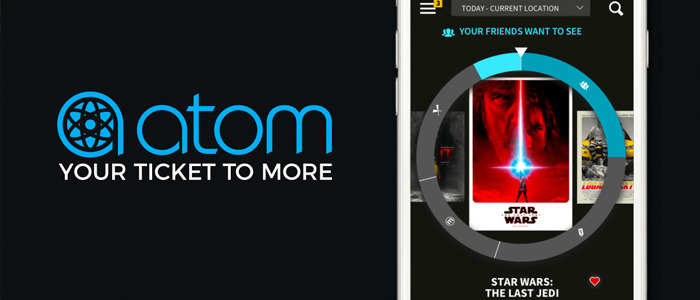 MoviePass has been dominating the conversation about the theatrical experience for months, but there are a couple other players in the theatrical space who are trying to make some waves of their own. The Atom Tickets app has introduced some new functionality: the ability to pre-purchase concessions online before you arrive at the theater. Meanwhile, Fandango has debuted a robust new rewards program. Free stuff, eh? I'm listening...
Atom Tickets
We haven't written much about Atom Tickets on /Film, but the tech startup's app revolves around making moviegoing a social experience, allowing audiences to "invite friends, buy tickets, pre-order concessions and enjoy a VIP experience at the theater." That bit about pre-ordering concessions is brand new: Variety explains that Atom Tickets has incorporated food and drink purchases into its service, offering digital pre-orders at 300 theaters nationwide and planning to add 100 more by the end of this year.
Matthew Bakal, the company's co-founder and chairman, said:
"We want movie theaters to be the same as every other aspect of consumers' lives. Domino's, Starbucks, Subway and everyone under the sun allows digital ordering...The idea is to get to a point where there's no more pulling out your wallet. It's more like an Uber- or Lyft-like experience."
They've conducted a survey in which more than half of the 3,500 responders said that long lines were the number one barrier to ordering concessions at the theater, so streamlining this process sounds like a smart move. Participating theaters will have an Atom-exclusive express concession stand line where users walk up, scan a QR code on their phone, and walk away with their order.
Fandango VIP+

Meanwhile, Fandango has launched a new rewards program in advance of this year's summer movie season. To take advantage of it, ticket buyers simply need to sign up for the company's free loyalty program. The press release explains how it works from there:
For every movie ticket purchased on Fandango, Fandango VIP members will receive 150 VIP+ Points.  Once members reach 600 VIP+ Points, they will receive a six-dollar discount code to be used towards future movie ticket purchases, digital movie purchases and rentals on FandangoNOW, or movie merchandise on Fandango FanShop.
There will be plenty of opportunities to capitalize on this at the movie theater this summer with films like Avengers: Infinity War, Solo: A Star Wars Story, Ocean's 8, Jurassic World: Fallen Kingdom, and many more coming to the big screen. You'll have to see four movies in theaters to get your first set of VIP+ points, but everybody loves free stuff, and if you're going to be seeing a bunch of this summer's movies anyway, you might as well take advantage of this.