Learn More Details About The 'Solo: A Star Wars Story' Characters And Vehicles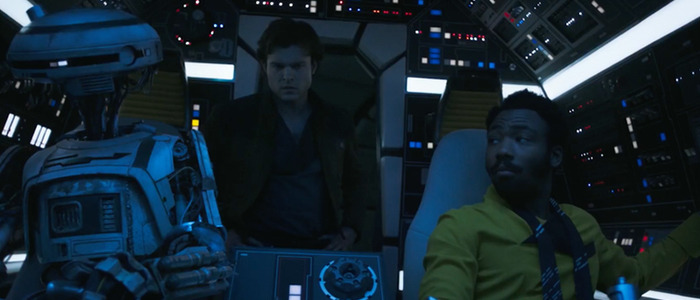 We're a little more than a month away from the release of Solo: A Star Wars Story, and we're still learning about the familiar and new characters that will star in the highly anticipated Star Wars prequel film. Now, Lucasfilm is giving us a little more information than what we've already gleaned from the trailers and images. New Solo character and vehicle descriptions have been released on StarWars.com.
StarWars.com has updated its official databank for Solo: A Star Wars Story. That includes new entries for Han, Chewbacca, Qi'ra, Val, Rio Durant (the alien character voiced by Jon Favreau), Imperial Patrol Troopers, a new class of TIE fighter, and more.
While yes, we're familiar with Han and Chewie, it doesn't hurt to find out a little more about them at this point in their lives, before they've joined the Rebellion. Here are the new character and vehicle descriptions from StarWars.com.
Han Solo: Times were tough under Imperial rule. Han, a street thief, worked for a notorious gang on Corellia, stealing goods and cutting deals on behalf of an ill-tempered crime boss.
Tobias Beckett: Beckett is a survivor, always quietly working out angles to come out ahead. He's assembled a team of specialized scoundrels to carry out risky but profitable heists.
Qi'ra: At 18 years of age, young Qi'ra is already enmeshed in a life of crime, working for a gang on Corellia.
Lando Calrissian: Smooth and sophisticated, Captain Lando Calrissian stood ready to retire from the life of a smuggler and instead become a full-time gambler (or, "sportsman" as he called it), shuffling from card game to card game across the galaxy.
Val: A no-nonsense and occasionally prickly woman who is a crack shot with a blaster rifle, Val may be the most even-headed and capable member of Tobias Beckett's ragtag crew of scoundrels.
Chewbacca: A mighty Wookiee nearly two centuries old, Chewbacca fell upon hard times during this age of the expanding Empire.
Rio Durant: Rio Durant has carried out dangerous operations alongside scoundrel Tobias Beckett for years. The good-natured Ardennian pilot is up for any challenge.
L3-37: A "self-made droid" built from astromech and protocol parts, L3-37 is an enlightened navigator who cares deeply about droid rights.
Imperial Heavy TIE Fighter: Compensating for the relative fragility of the unshielded TIE starfighter is the armored TIE/rb, a reinforced heavy starfighter with much more powerful laser cannons.
Imperial Conveyex Transport: For rapid transport of special cargo across surface distances on frontier worlds, the Empire uses heavily armored conveyex vehicles that travel along rails winding through treacherous terrain.
Corellian M-68 Landspeeder: 

Han Solo is cagey about where he scored this overpowered M-68 landspeeder, saying little beyond that its previous owner no longer had a need for it.
The one new vehicle that stands out is the Imperial Conveyex Transport, where the hugely important train heist on Vandor will supposedly take place. It will likely play a central role in Solo: A Star Wars Story, and from its description, it sounds like an intimidating vehicle to crack.
Directed by Ron Howard, Solo: A Star Wars Story stars Alden Ehrenreich, Woody Harrelson, Emilia Clarke, Donald Glover, Thandie Newton, Phoebe Waller-Bridge, Joonas Suotamo, and Paul Bettany.
Board the Millennium Falcon and journey to a galaxy far, far away in "Solo: A Star Wars Story," an all-new adventure with the most beloved scoundrel in the galaxy. Through a series of daring escapades deep within a dark and dangerous criminal underworld, Han Solo befriends his mighty future copilot Chewbacca and meets the notorious gambler Lando Calrissian, in a journey that will set the course of one of the Star Wars saga's most unlikely heroes.
Solo: A Star Wars Story opens on May 25, 2018.