Steven Spielberg's Movies Have Now Made $10 Billion At The Box Office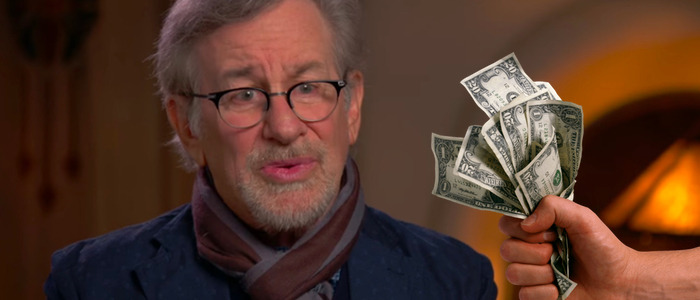 Have you ever heard of this Steven Spielberg guy? He seems like an unknown, but as it turns out, with the box office success of Ready Player One, Mr. Spielberg is now the first director in film history whose movies have topped $10 Billion at the worldwide box office. More on that sweet, sweet Spielberg box office below.
I have a feeling this young whippersnapper Steven Spielberg is going to go far. According to The Wrap, the success of Spielberg's pop culture extravaganza Ready Player One has put the filmmaker in a class all of his own. Spielberg is now the only director in the history of film to ever gross more than $10 billion at the worldwide box office. This puts Spielberg $3 billion ahead of the next all-time earning director: Peter Jackson, who has a total worldwide gross of $6,520.7 billion. Peter Jackson better churn out some more Hobbit sequels if he wants to compete. Or he could always make The Frighteners 2.
According to BoxOfficeMojo, Ready Player One has earned more than $475.1 million worldwide since its release, which makes it Spielberg's top-grossing film in nearly a decade. I'll be blunt: I hated Ready Player One, but I'm also a huge Spielberg fan, so I'm happy to see the director earn this distinction. Box office isn't everything, of course, but Spielberg is the filmmaker who practically invented the blockbuster with Jaws. He's pretty much been on top ever since.
Per The Wrap, "Spielberg's all-time top performer was 1993's Jurassic Park, which grossed $983.8 million worldwide. That was followed by 2008's critically reviled Indiana Jones and the Temple of the Crystal Skull ($786.6 million) and the 1982 classic E.T. – The Extra-terrestrial, which earned $717 million — without adjusting for inflation."
The biggest opening weekend ever for Mr. Spielberg? Why, it's everyone's favorite Spielberg movie: Indiana Jones and the Kingdom of the Crystal Skull. Most of Spielberg's work in the 21st century has been excellent, and while the bulk of these 21st films were technically hits, they didn't exactly set the box office on fire. Ready Player One seems to be a return to blockbuster form for Spielberg.
That's fine – but a part of me hopes that now that he has that out of his system, he'll return to the weirder, more personal films he's been cranking out for most of the 21st century. I might have to wait a while for that, though. Next up, the filmmaker has a remake of West Side Story and the fifth Indiana Jones movie in the works.