See Spider-Man Kick Thanos In The Face In New 'Avengers: Infinity War' TV Spot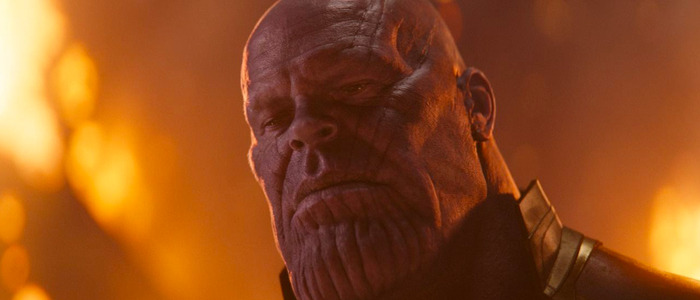 Avengers: Infinity War smashes into theaters next week (!), but if you can't wait that long, here's some exciting new a footage. A new international Infinity War TV spot just arrived online, and it has more of earth's mightiest heroes in action.
Hey, kids – you want to see your friendly neighborhood Spider-Man kick Thanos in the face? Then this new international Avengers: Infinity War TV spot is for you!
Infinity War TV Spot
We're crazy close to the release of Avengers: Infinity War. It's just a little over a week away, people. And while there's new footage in this TV spot, I have to hand it to Marvel: they've done a pretty darn good job keeping most Infinity War details a secret. Sure, we know the basic story – Thanos shows up and wants to destroy the world, the Avengers try to stop him, and some of those Avengers inevitably die. But beyond that, the details are slim, and that's good. The less we know, the more thrilling and entertaining Infinity War will be.
Of course, next week, all bets are off. Screenings for Infinity War start Monday night, April 23, and trickle into April 24. While most members of the press will do their best to avoid outright spoilers, I wouldn't be surprised if some jerk decides to let a few specific details slip. I'm only telling you this so you can be aware – watch yourself out there, people. The spoilers are coming.
For now, though, enjoy this pretty spoiler-free TV spot, and replay the moment when CGI Spider-Man kicks CGI Thanos right in his big, stupid, purple CGI face.
Avengers: Infinity War, starring Robert Downey Jr., Chris Hemsworth, Mark Ruffalo, Chris Evans, Scarlett Johansson, Benedict Cumberbatch, Don Cheadle, Tom Holland, Chadwick Boseman, Paul Bettany, Elizabeth Olsen, Anthony Mackie, Sebastian Stan, Danai Gurira, Letitia Wright, Dave Bautista, Zoe Saldana, Josh Brolin, Pom Klementieff, Karen Gillan, Benedict Wong, Peter Dinklage, Chris Pratt, Carrie Coon, and maybe Jeremy Renner, kicks theaters right in the face on April 27, 2018.
Iron Man, Thor, the Hulk and the rest of the Avengers unite to battle their most powerful enemy yet — the evil Thanos. On a mission to collect all six Infinity Stones, Thanos plans to use the artifacts to inflict his twisted will on reality. The fate of the planet and existence itself has never been more uncertain as everything the Avengers have fought for has led up to this moment.