'Night Court' Star Harry Anderson Dead At 65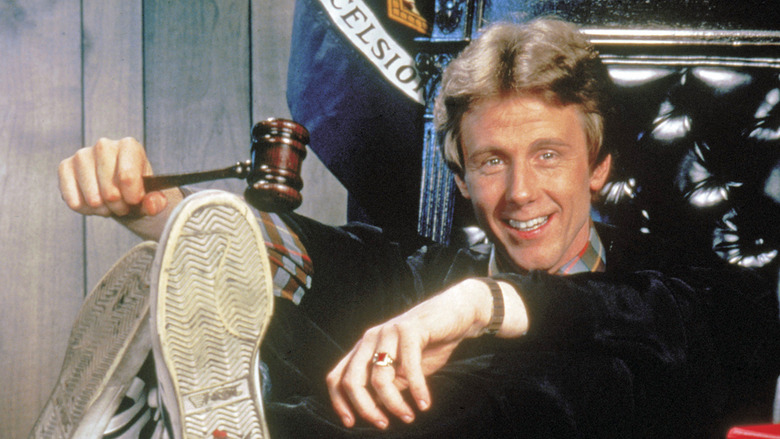 Harry Anderson, the magician-turned-actor who presided over the NBC sitcom Night Court, has died at age 65.
Anderson passed away on Monday at his home in Asheville, North Carolina, according to Variety. His cause of death is unknown, though authorities have ruled out foul play.
Anderson was best known for his starring role as the quirky Judge Harry Stone in Night Court, which ran on NBC from 1984 to 1992. The actor earned consecutive Emmy nominations for his performance as the eccentric, kind-hearted young judge who presided over a fictional Manhattan night court that saw its share of oddballs.
Anderson injected much of his zany personality and love of jazz into his beloved character, sharing with him a love of colorful ties, magic tricks, and the music of Mel Tormé.
While he saw success as an actor, Anderson never saw himself as such. "I'm a magician, or a performer, by nature, and that's always what I've been," Anderson told WGN-TV in Chicago in 2014. "I was never really an actor," he said. "I was a magician who fell into a part on Cheers."
Anderson broke into the acting industry with a recurring role on Cheers as the swindler Harry (the Hat) Gittes in the early 1980s. The part would lead to his breakout role in Night Court, which he would star in for nine seasons.
Born in Rhode Island in 1952, Anderson spent much of his childhood on the move, sometimes performing on the streets for money. He moved to California at the age of 16 where he became a street performer, sparking his passion for magic. Anderson would make his way to L.A.'s prolific Magic Castle, where he would connect with an agent, according to TCM.com. This got him a few appearances on Saturday Night Live. And after the success of Night Court, Anderson finally hosted SNL in 1985.
Aside from Night Court, Anderson is probably best known to genre fans as the older Richie Tozier in the 1990 ABC miniseries adaptation of Stephen King's It. Later in his career, Anderson starred as columnist Dave Barry in the '90s CBS comedy Dave's World for four seasons, and made guest appearances in Tales From the Crypt and HBO's Tanner '88, Parker Lewis Can't Lose, and The John Larroquette Show.
Anderson's passing prompted an outpouring of grief from his Night Court co-stars and other celebrities on social media.
"Harry Anderson. He was wicked smart. He was wicked funny. He had a big laugh. He had a big heart," Night Star co-star John B. Larroquette said on Twitter. "He delighted in legerdemain especially when he caused someone to scratch their head and proclaim; How the hell did you do that? And he could eat a hamster like no one I ever knew."