'Jurassic World: Fallen Kingdom' Trailer: Life Finds A Way, Again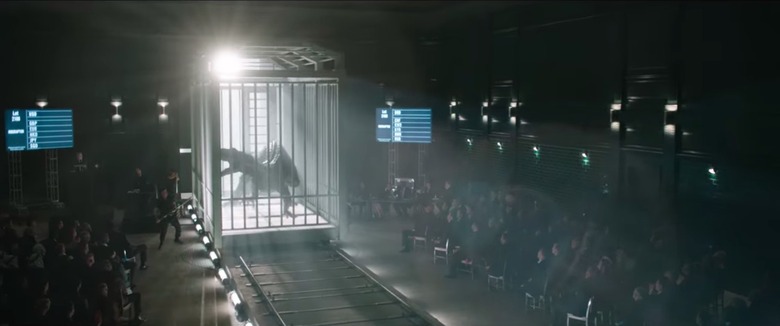 The Indominus Rex has got nothing on the Indoraptor.
The new Jurassic World Fallen Kingdom trailer gives us an up close and personal look at the dangerous new dinosaur hybrid cooked up by the crazy scientists in the Jurassic World sequel. While we don't know much about this new dinosaur breed, one thing we do know: hiding under your bedcovers won't save you.
Jurassic World Fallen Kingdom Trailer
We've only gotten a few nightmarish glimpses of the new dinosaur before, but now we get to see the terrifying  hybrid in all its scaly glory. Owen and Claire face off against the Indoraptor (director J.A. Bayona revealed the name in a tweet) on a rainy rooftop, just as its about to pounce. But this isn't the only encounter that the group will have with the Indoraptor — there will be several more heartstopping close calls, including an unexpected nighttime visit to a little girl's bedroom.
Jurassic World: Fallen Kingdom follows Owen (Chris Pratt) and Claire (Bryce-Dallas Howard) on a noble mission to save the dinosaurs from an impending volcano eruption on Isla Nubar. However, in the process they uncover a conspiracy that may overrun the Earth with dinosaurs once again.Chris Pratt, Bryce-Dallas Howard, and B.D. Wong reprise their roles from Jurassic World. Jeff Goldblum also makes a highly anticipated return as Dr. Ian Malcolm from the original Jurassic Park series. The cast is rounded out by James Cromwell, Ted Levine, Justice Smith, Geraldine Chaplin, Daniella Pineda, Toby Jones, Rafe Spall, and Isabella Sermon.Jurassic World helmer Colin Trevorrow produced and co-wrote Jurassic World: Fallen Kingdom, and will return to direct the third installment.
Here is the official synopsis to Jurassic World: Fallen Kingdom:
Four years after the destruction of the Jurassic World theme park, Owen Grady and Claire Dearing return to the island of Isla Nublar to save the remaining dinosaurs from a volcano that's about to erupt. They soon encounter terrifying new breeds of gigantic dinos while uncovering a conspiracy that threatens the entire planet.
Jurassic World: Fallen Kingdom opens in theaters on June 22, 2018.