Neill Blomkamp Cancels His Crowdfunded Movie 'Firebase' [Updated]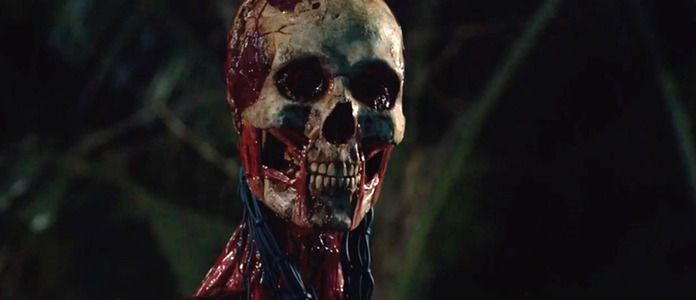 Update: That was fast. After planning to crowdfund his new movie Firebase, director Neill Blomkamp has decided to nix the whole idea. Blomkamp took to Twitter to announce that the idea was dead after not raising enough funds.
I'm assuming Blomkamp will try something again, soon.
The original story follows below.
***
After a stint making movies the traditional way, Chappie director Neill Blomkamp wants to turn to crowdfunding to make his next film, Firebase. Blomkamp isn't interested in offering a lot of perks, or using money frivolously. He just wants to put all the money up on the screen, and use it to generate even more money for even more features. Unfortunately, the demand just wasn't there, and Blomkamp has given up on the idea.
Neill Blomkamp needs your help. After helming District 9, Elysium and, of course, Chappie, the filmmaker would like to take a non-traditional approach to filmmaking. Since 2017, Blomkamp's Oats Studios has created short films distributed via YouTube and Steam, in order to "gauge the community for interest as to which of them are viable for expansion into feature films."
Now, Blomkamp wants to take it to the next level. He wants to crowdfund his next film, Firebase.
Firebase
"This isn't really a situation where we're unable make something in the Hollywood system," Blomkamp says. "This is, 'let's actively choose to build something different.'" Here's how the Oats Studios site breaks it down:
We want to build a 21st century studio that is funded directly by fans. The more people online that support us the more content we will put out. We want to create an ecosystem where we are directly fueled by the community. Our goal now is the next FIREBASE film. Help fuel us here. We want to grow and expand, but we need the community's help. We will create the FIREBASE film tailored to the incoming dollar amount. If we raise $40 dollars we will film a firebase "Cat" video. If we raise $100 million we will shoot a FIREBASE feature trilogy.
Each backer will receive:
• Your name in the credits as a backer.
• Three "behind the scenes" updates over the duration of the production of the film, Pre production, production and Post.
• A private link to the final film or access to a members portal where you can view the film.
• A PDF of all the concept art generated for the film.
That seems to be it as far as "perks" go. In the video, Blomkamp admits that perks aren't really on his radar for this endeavour. Rather, he's interested in "dollars coming into the company [that are turned into] dollars that go up on the screen." Beyond this, Blomkamp says that backers will be the first to see the film, before the film is put on a platform that's monetized. There, it will generate more cash that Blomkamp can put into future films.
If you're a fan of Blomkamp's work, and the short films he's been working on for Oats Studios, this might be something you'll want to get involved with. Cutting out the studio system middleman and just raising the money to make what he wants to make is probably the best route for Blomkamp, who has had some trouble getting projects off the ground – most notably his proposed Aliens sequel.