'Hotel Artemis' Trailer: Jodie Foster Sets The Rules At A Hospital For Criminals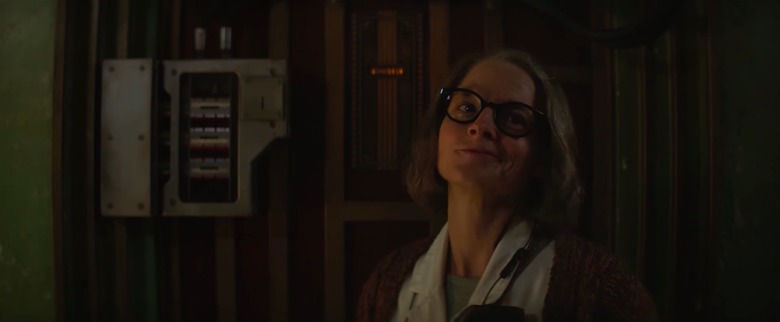 Iron Man 3 co-writer Drew Pearce makes his directorial debut with the stylish, star-studded action thriller Hotel Artemis. Written and directed by Pearce, the film revolves around a secret hospital in near-future Los Angeles that caters to the criminal element. Under control of The Nurse (Jodie Foster), it has a strict set of rules that forbid killing, weapons, and other violence. Sound familiar? Perhaps the first Hotel Artemis trailer will ring a few bells.
Hotel Artemis Trailer
At first glance, Hotel Artemis seems like a thinly-veiled John Wick knock-off, basing its premise around a strictly regulated hotel that caters to the criminally inclined — much like the Continental hotels in those pulpy Wick flicks. But damn, if Hotel Artemis doesn't have a stellar cast.
Sterling K. Brown finally gets his due as the lead in a blockbuster film, playing a semi-retired criminal who gets pulled back in to the business for one! Last! Job! But a bank heist goes awry and Brown's character is forced to make a call to the Hotel Artemis, which opens its doors for Brown's wounded brother (Atlanta breakout Brian Tyree Henry). But the supposed safety of the hotel — which forbids murder, weapons, and rudeness to the staff — is threatened when a priceless vault enters the game, and several competing elements come knocking at The Nurse's door.
Yeah, it feels like a bit of a shameless grab at the passionate John Wick fanbase, but if hearing Jeff Goldblum utter the line, "Guess my ballroom days are over, baby," doesn't make you immediately want to see this film, I don't know what will.
Alongside Brown, Golblum, Henry, and Foster, the film also stars  Sofia Boutella, Jenny Slate, Zachary Quinto, Charlie Day, and Dave Bautista.
Here is the official synopsis for Hotel Artemis:
In HOTEL ARTEMIS, set in riot-torn, near-future Los Angeles, Jodie Foster plays The Nurse, who runs a secret, members-only emergency room for criminals. Surrounded by an all-star cast that includes Sterling K. Brown, Sofia Boutella, Jeff Goldblum, Bryan Tyree Henry, Jenny Slate, Zachary Quinto, Charlie Day, and Dave Bautista, HOTEL ARTEMIS is a stylish, high-octane action-thriller written and directed by Drew Pearce (writer of IRON MAN 3, MISSION: IMPOSSIBLE – ROGUE NATION, SHERLOCK HOLMES 3).
Hotel Artemis is set to hit theaters on June 8, 2018.