'Avengers: Infinity War' Casts 'The Leftovers' Star Carrie Coon As Proxima Midnight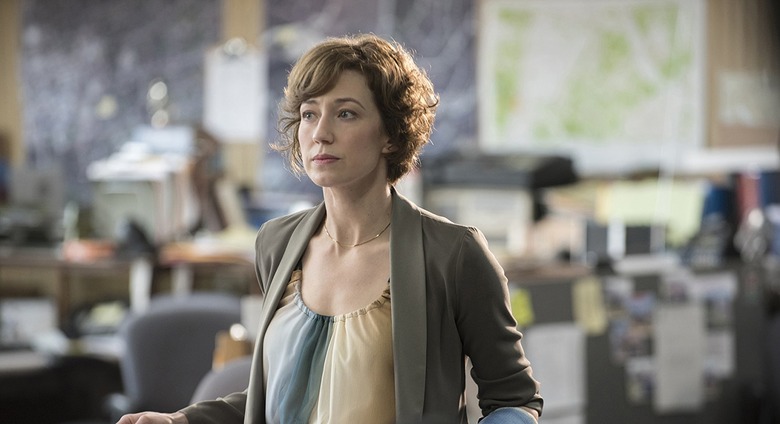 The cast of Avengers: Infinity War is growing to impossible numbers, adding new members every day (though it just can't seem to make
). And now directors Joe and Anthony Russo have revealed three new cast members that we hadn't yet known about. One of them is Emmy-nominated actress and Film Twitter favorite, Carrie Coon.
The Avengers: Infinity War cast has swelled to dozens of characters, but as we get closer to the Marvel movie's release date, we're still learning about a few more. The main mystery was the identity of the
, Thanos' henchman and some of the Biggest Bads in the movie.
Co-director Joe Russo revealed in a new video interview with the
 that "Carrie Coon is Proxima Midnight. And you may know her from season three of Fargo or the Leftovers."
Know her we do. Carrie Coon is the uber-talented, oft-snubbed actress at the center of HBO's critically acclaimed The Leftovers, which just ended its three-season run last year. But she remains in our hearts as one of the best actresses working right now, recently starring in Gone Girl and The Post. And now she will add to the wellspring of talent that is the Infinity War cast.
The Russo brothers also revealed the identities of the two other Black Order henchmen. Irish actor Tom Vaughan-Lawlor plays telekinetic villain Ebony Maw while Terry Notary (War for the Planet of the Apes, Kong: Skull Island) will play the largely silent Cull Obsidian.
"He's one of the most gifted movement specialists in the world right now," Joe Russo said of Notary. "He played a character who we've called Cull Obsidian, who was in the books known as Black Dwarf. So it's kind of an all-star cast of baddies."
But the directors remained mum about the identity of the fourth Black Order member, Corvus Glaive. Glaive wields an immortality-giving glaive and is the default leader of Thanos' menacing crew.
Avengers: Infinity War also stars Robert Downey Jr., Chris Hemsworth, Mark Ruffalo, Chris Evans, Scarlett Johansson, Benedict Cumberbatch, Don Cheadle, Tom Holland, Chadwick Boseman, Paul Bettany, Elizabeth Olsen, Anthony Mackie, Sebastian Stan, Danai Gurira, Letitia Wright, Dave Bautista, Zoe Saldana, Josh Brolin, Pom Klementieff, Karen Gillan, Benedict Wong, Peter Dinklage, and Chris Pratt.
The huge superhero ensemble movie, directed by the Russo brothers, hits theaters on April 27, 2018.
Iron Man, Thor, the Hulk and the rest of the Avengers unite to battle their most powerful enemy yet — the evil Thanos. On a mission to collect all six Infinity Stones, Thanos plans to use the artifacts to inflict his twisted will on reality. The fate of the planet and existence itself has never been more uncertain as everything the Avengers have fought for has led up to this moment.