'Full Metal Jacket' Actor R. Lee Ermey Dead At 74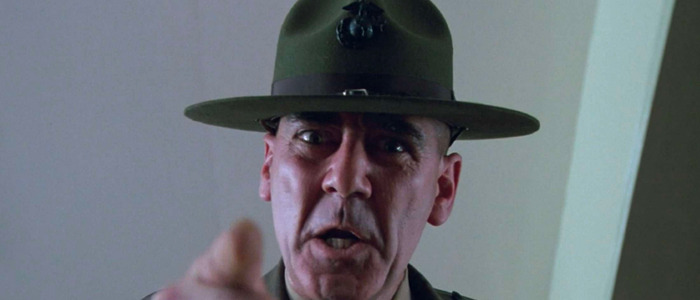 R. Lee Ermey, the gruff character actor probably most remembered for his scene-stealing, vulgar-laced turn in Stanley Kubrick's Full Metal Jacket, has died at age 74. Ermey was a United States Marine Corps staff sergeant and drill instructor who broke into acting, and spent a long career playing authority figures.
The official R. Lee Ermey Twitter account has announced that actor R. Lee Ermey has died. "It is with deep sadness that I regret to inform you all that R. Lee Ermey ("The Gunny") passed away this morning from complications of pneumonia. He will be greatly missed by all of us," the statement reads.
Ermey joined the Marine Corps at age 17 in 1961. He would eventually become a United States Marine Corps staff sergeant and an honorary gunnery sergeant, and serve as a drill instructor. He broke into acting in with a supporting part in Sidney J. Furie's 1978 film The Boys in Company C. After that, he served as a technical advisor on Francis Ford Coppola's Apocalypse Now, and had an uncredited role in the film.
After a few more small roles, Ermey's acting career truly took off in 1987 when Stanley Kubrick cast him as Gunnery Sergeant Hartman in Full Metal Jacket. Ermey was originally hired as only a technical advisor on the film, but Kubrick was so impressed with Ermey he cast the Marine in the film, replacing actor Tim Colceri. Kubrick was usually not very keen on actors improvising in his films, but he was so taken with Ermey that he allowed him to improv and write much of his own dialogue for the part. In the film, Ermey's Hartman makes life a living hell for a group of Marine Corps recruits.
"Kubrick ate it up," Ermey said. "He loved it. He just let me go crazy. He said, 'do it and do it right, that's all I care about'. That's all I cared about too, was getting it right."
Full Metal Jacket
Ermey would go on to have a lengthy, successful career in films, usually playing military men and gruff authority figures. "I generally do play authoritative roles," Ermey said in 2007. "My demeanor happens to be a bit more authoritative and film directors, producers want to capitalize on that. I do occasionally play sentimental or gentle or emotional characters. It's no problem. It just depends what the script calls for."
Ermey's long list of acting credits include memorable parts in Mississippi Burning, Murder in the First, Leaving Las Vegas, Seven, The Frighteners, Starship Troopers, Saving Silverman, the Toy Story films, The Texas Chainsaw Massacre remake, and many more. From 2002 to 2009, Ermey hosted the history channel series Mail Call, where he read and answered viewer questions regarding weapons, equipment, customs, and terminology used by the U.S. military now and in the past.
On Ermey's Facebook page, his manager Bill Rogin wrote:
"He will be greatly missed by all of us...It is a terrible loss that nobody was prepared for. He has meant so much to so many people. And, it is extremely difficult to truly quantify all of the great things this man has selflessly done for, and on behalf of, our many men and women in uniform. He has also contributed many iconic and indelible characters on film that will live on forever. Gunnery Sergeant Hartman of Full Metal Jacket fame was a hard and principled man. The real R. Lee Ermey was a family man, and a kind and gentle soul. He was generous to everyone around him. And, he especially cared deeply for others in need...There are many Gunny's, but this one was OURS. And, we will honor his memory with hope and kindness. Please support your men and women in uniform. That's what he wanted most of all."