New 'Solo' TV Spot: Han Solo Has A Really Good Feeling About This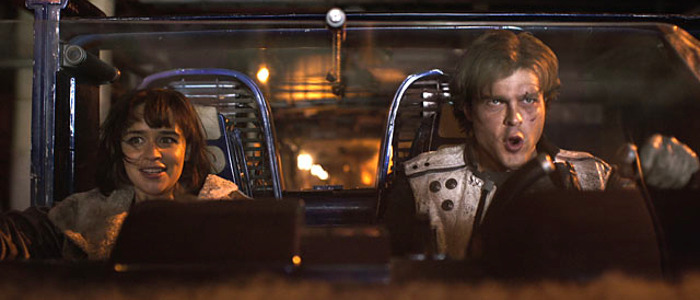 A new Solo TV spot is here, offering even more exciting footage of the highly-anticipated Star Wars Anthology film. Best of all: this TV spot finally allows Alden Ehrenreich's Han Solo to get a word or two in.
Expect the marketing for Solo: A Star Wars Story to increase substantially the closer we get to release. A new TV spot for the Star Wars film is here, and it looks pretty darn good. The two previous trailers coupled with the footage here suggests that director Ron Howard may defy the odds and pull this somewhat troubled film off.
Solo TV Spot
The biggest takeaway from this TV spot: Solo can talk! The previous Solo trailers seemed to dance around actor Alden Ehrenreich's portrayal of everyone's favorite Star Wars smuggler. Ehrenreich had a few words here and there in previous trailers, but there was a sense that the trailer editors were cutting around his performance, which only seemed to lead to more wild speculation. During Solo's production, word broke that an acting coach was brought in to help Ehrenreich nail down his performance. Later, an anonymous source close to the film said, "Alden's not a bad actor — just not good enough."
But I have my doubts about that source, especially because Ehrenreich's previous performances (particularly in Hail, Caesar!) suggest he is "good enough", and more so. Thankfully, this TV spot shows off more of his Solo performance, and it looks good. I'll admit that Ehrenreich acts and sounds nothing like Harrison Ford's Han Solo. But it's important to keep in mind that this film is set a few years before Han Solo becomes the Han Solo we know from A New Hope. Ehrenreich confirmed this himself in a recent interview, where he said that the Han we see in Solo is "younger, [and] more of an idealist; he has a romantic vision [of his criminal lifestyle]."
All in all, Solo looks like it's going to be a lot of fun, and I can't wait to see it.
Solo: A Star Wars Story, starring Alden Ehrenreich, Woody Harrelson, Emilia Clarke, Donald Glover, Thandie Newton, Phoebe Waller-Bridge, Joonas Suotamo, and Paul Bettany, opens May 25, 2018.
Board the Millennium Falcon and journey to a galaxy far, far away in "Solo: A Star Wars Story," an all-new adventure with the most beloved scoundrel in the galaxy. Through a series of daring escapades deep within a dark and dangerous criminal underworld, Han Solo befriends his mighty future copilot Chewbacca and meets the notorious gambler Lando Calrissian, in a journey that will set the course of one of the Star Wars saga's most unlikely heroes.