Gabriel Luna Is The New 'Terminator' In Sequel From Tim Miller And James Cameron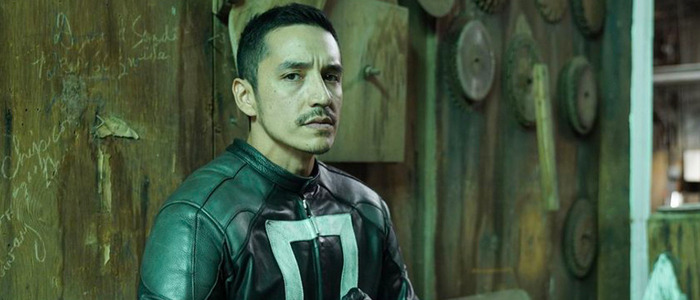 Tim Miller's Terminator sequel has found its new Terminator: Agents of S.H.I.E.L.D. actor Gabriel Luna. The new Terminator sequel is due out in 2019, with original Terminator director James Cameron back to produce. More on the new Terminator sequel casting below.
According to Deadline director Tim Miller and producer James Cameron have cast Gabriel Luna as the new Terminator in the still-untitled Terminator sequel.  The Luna is perhaps best known for playing Ghost Rider on Marvel's Agents of S.H.I.E.L.D. Luna joins a cast that includes Diego Boneta, Natalia Reyes, Linda Hamilton, Mackenzie Davis and, of course, Arnold Schwarzenegger.
The film will serve as yet another reboot of the franchise. The previous Terminator sequel, Terminator: Genisys, was also intended to be a reboot, with two sequels planned. Both sequels were abandoned after the film underperformed. Deadpool director Tim Miller will helm the film, and the idea for the story was dreamed up by Miller and original Terminator grandaddy James Cameron. Miller and Cameron's new film is being billed as a direct sequel to Terminator 2: Judgement Day, with the other sequels being virtually ignored.
"This is a continuation of the story from Terminator 1 and Terminator 2. And we're pretending the other films were a bad dream," Cameron said. "Or an alternate timeline, which is permissible in our multi-verse. This was really driven more by [Tim] than anybody, surprisingly, because I came in pretty agnostic about where we took it. The only thing I insisted on was that we somehow revamp it and reinvent it for the 21st century."
Specific details about the film are still a mystery. While this news confirms Luna is playing a new Terminator, it's not clear if his Terminator will be a villain, like Schwarzenegger's character in the first movie, or heroic, like Schwarzenegger's character in the sequel.
Luna's addition to the film as a new Terminator confirms what Cameron mentioned in the past: the idea of passing the franchise's torch to a new generation of characters. "A lot of this is handing off the baton to a new generation of characters," Cameron said. "We're starting a search for an 18-something young woman to essentially be the new centerpiece of these stories. And then a number of other characters around her and characters from the future. We still fold time in the story in intriguing ways. But we have Arnold's character and Linda's character to anchor it. Somewhere across there, and I won't say where, the baton gets passed, so to speak."
The new Terminator sequel will open November 22, 2019.