Hulu's 'Catch-22' Cast Adds Kyle Chandler; George Clooney Switches Roles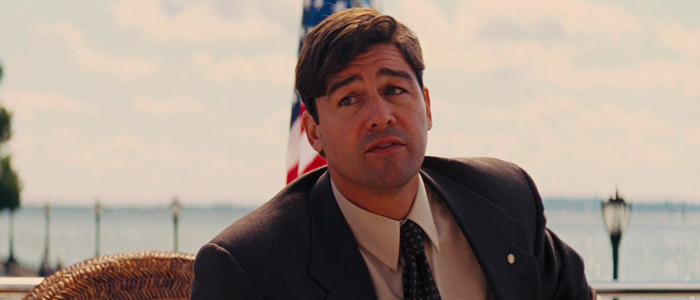 Stop the presses, there's been a Catch-22 casting shakeup! But as far as shakeups go, this one is fairly pleasant. Kyle Chandler has joined the cast of the Hulu adaptation, taking over a role previously inhabited by producer George Clooney. Clooney, meanwhile, has decided to take on a different part entirely.
Hulu and George Clooney's adaptation of Joseph Heller's Catch-22 has a new Colonel Cathcart. Friday Night Lights and Bloodline actor Kyle Chandler will take over the part of Cathcart, described as a "squadron's commanding colonel, who wants to be a general, he keeps raising the number of missions needed to complete a tour of duty. Cathcart has a fear of failure while yearning for success." This was a part that Clooney was originally going to play himself, but Deadline reports that Clooney will now play a character named Scheisskopf. This is a much smaller part, which will give Clooney more time to focus on directing and producing the limited series.
Catch-22 is based on the acclaimed, satirical Joseph Heller novel about an Air Force pilot's madcap struggles set against the backdrop of World War II. In addition to Clooney and Chandler, the series stars It Comes At Night's Christopher Abbott and House's Hugh Laurie. The Hulu adaptation is being written by Luke Davies and David Michôd, with Clooney and producing partner Grant Heslov both producing and directing the series. Here's the series synopsis.
Based on Joseph Heller's seminal novel of the same name, Catch-22 is the story of the incomparable, artful dodger, Yossarian (Christopher Abbott), a US Air Force bombardier in World War II who is furious because thousands of people he has never met are trying to kill him. But his real problem is not the enemy, but rather his own army which keeps increasing the number of missions the men must fly to complete their service. Yet if Yossarian makes any attempt to avoid his military assignments, he'll be in violation of Catch-22, a hilariously sinister bureaucratic rule which specifies that a concern for one's own safety in the face of dangers which are real and immediate is the process of a rational mind; a man is considered insane if he willingly continues to fly dangerous combat missions, but a request to be removed from duty is evidence of sanity and therefore makes him ineligible to be relieved from duty.
This cast is shaping up nicely. Clooney, Chandler, Abbott and Laurie are all very good actors, and as Catch-22 has a long list of characters, I'm curious to see who else ends up joining the cast.