Exclusive 'Winchester' Clip Introduces You To The Recreated Winchester Mystery House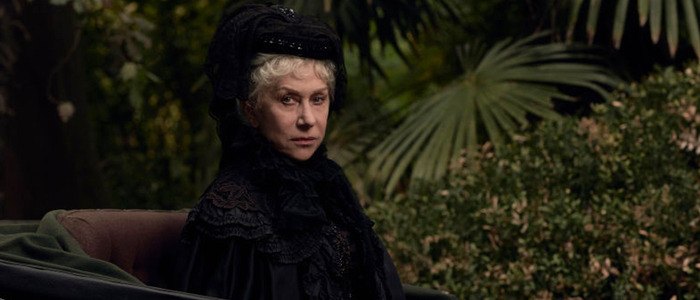 Winchester, the horror film starring Helen Mirren as heiress Sarah Winchester, arrives on digital and Blu-ray very soon. In anticipation of the home video release, we have an exclusive Winchester clip that takes you behind-the-scenes of the haunted house film.
You probably could've guessed this, but most of Winchester was shot on sets, not in the actual Winchester Mystery House. But the production behind the haunted house film worked diligently to recreate the real house for the film, and in the exclusive clip below, you can see just how much work went into recreating large portions of the real Winchester Mystery House.
Exclusive Winchester Clip
Winchester is based on the true story (only, not really) of Sarah Winchester and her mysterious, eccentric house. Legend has it that Winchester – heir to the Winchester rifle fortune – was forced to continually rebuild her strange house, or else face the wrath of some very pissed-off ghosts. Winchester was directed by The Spierig Brothers (Jigsaw, Predestination) and co-written by Tom Vaughan and The Spierig Brothers. The cast includes Helen Mirren, Jason Clarke, Sarah Snook, and Angus Sampson.
The clip above is an excerpt from the larger, longer featurette, "Driven by the Spirits: The Making of Winchester", which will be available on the digital and Blu-ray release. Winchester arrives on digital April 17, 2018 and on Blu-ray Combo Pack and DVD on May 1, 2018. If you're feeling particularly brave, you can also visit the real Winchester Mystery House in San Jose, California – the spookiest city on earth!
The Winchester Mansion's sinister secrets are revealed in Winchester, arriving on Digital April 17 and on Blu-ray Combo Pack (plus DVD and Digital), DVD, and On Demand May 1 from Lionsgate. Directed by The Spierig Brothers (Jigsaw, Predestination) and co-written by Tom Vaughan and The Spierig Brothers, Academy Award-winner Helen Mirren (Best Actress, The Queen, 2006) stars as the infamous and eccentric heiress Sarah Winchester, who stops at nothing to protect her family from the evil spirits haunting them. The hair-raising thriller also stars Jason Clarke (Zero Dark Thirty, Mudbound, Chappaquiddick), Sarah Snook (Steve Jobs, Predestination), Angus Sampson (Mad Max: Fury Road, Insidious), and newcomer Finn Scicluna-O'Prey (TV's "True Story with Hamish & Andy").
Inspired by true events, Winchester is set on an isolated stretch of land outside of San Francisco where there sits the world's most haunted house. Seven stories tall with hundreds of rooms, the house has been under construction for decades. But heiress Sarah Winchester (Mirren) is not building for herself, for her niece (Snook), or for the troubled doctor (Clarke) she has summoned. She is building it as an asylum for hundreds of vengeful ghosts.The Winchester Blu-ray Combo Pack and DVD includes a never-before-seen "making of" featurette, which includes cast and crew interviews.