'Mary Shelley' Trailer: Meet The Woman Who Created Frankenstein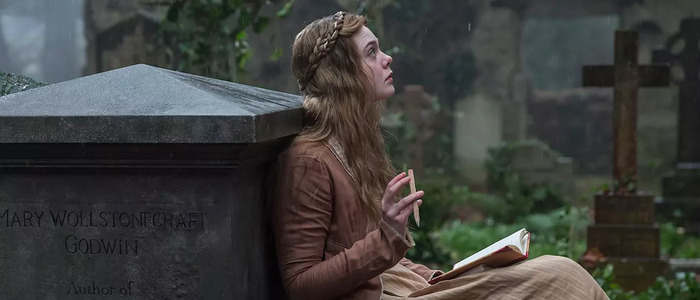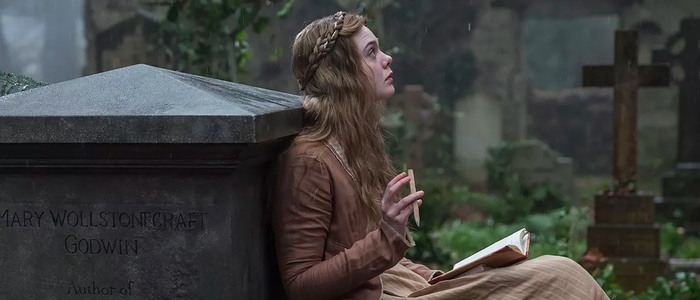 The story of the writer of Frankenstein gets the biopic treatment in Mary Shelley. Elle Fanning plays the young author as she struggles with hardships and relationships, all while penning her masterpiece. Watch the Mary Shelley trailer below.
Uh-oh, this looks...not great. The story of Mary Shelley, writer of Frankenstein, daughter of political philosopher William Godwin, and philosopher and feminist Mary Wollstonecraft, and wife of Percy Bysshe Shelley, is worth telling. But the biopic Mary Shelley looks a little flat, at least based on this trailer. Elle Fanning plays Mary Shelley, and her accent seems a bit wobbly. Here's the trailer.
Mary Shelley Trailer
In case you're unaware of the basic story behind the creation of Frankenstein: one weekend during the Year Without a Summer, Mary, her lover Percy Bysshe Shelley and her step-sister Claire Clairmont visited the villa of writer Lord Byron. Also staying at the villa was a man named John Polidori. During a dark and stormy night, Byron proposed everyone pen their own ghost story. Mary's story ended up becoming Frankenstein. These events were previously chronicled in Ken Russell's film Gothic.
Mary Shelley looks to be covering the same ground, while also delving deeper into Mary's life. In addition to Fanning, the film features Douglas Booth as Percy Bysshe Shelley, Bel Powley as Claire Clairmont, Ben Hardy as John William Polidori, and Tom Sturridge as Lord Byron. Game of Thrones' Maisie Williams is also in the film, but she doesn't appear in this trailer for some strange reason.
I want this movie to be good. I'm a fan of Frankenstein, Mary Shelley, and all things gothic. I also think the cast of this film is super talented. Yet everything on display in this trailer looks curiously bland. It just sort of lays there, like a corpse someone forget to reanimate with a good jolt of electricity. Perhaps this is just a case of bad marketing, and the real film will be much more enjoyable. Or not. Mary Shelley played at last year's TIFF, and I don't remember hearing much praise about it there.
Mary Shelley opens on May 28, 2018.
Mary Wollstonecraft's family disapproves when she and poet Percy Shelley announce their love for each other. The family is horrified when it finds that the couple has eloped, accompanied by Mary's half-sister, Claire. While staying in the home of Lord Byron at Lake Geneva, the guests are challenged to write a ghost story, which leads Mary to conceive her novel "Frankenstein."