Steven Soderbergh Will Shoot A Panama Papers Movie Called 'The Laundromat' Next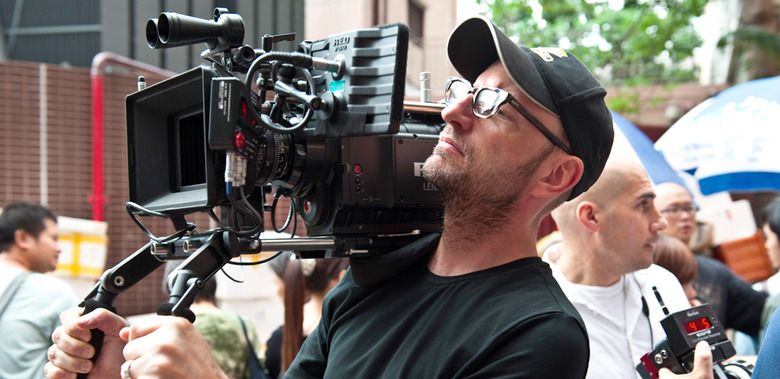 Steven Soderbergh is busier than ever. Within just the past eight months, the director has released an experimental app tied to an HBO miniseries (Mosaic), two feature films (Logan Lucky and Unsane), and he reportedly has another one called High Flying Bird that's almost finished. But he's showing no signs of stopping: a new report says the Ocean's trilogy director will next step behind the camera to direct a Panama Papers movie called The Laundromat. Read more about the project below.The Playlist has a detailed report about Soderbergh's latest projects, including the fact that his sports drama High Flying Bird, which shot only two months ago, is basically already finished. That movie has quite the pedigree behind it: it's written by Tarell Alvin McCraney (Moonlight) and stars André Holland, Zazie Beetz, and Kyle MacLachlan. But it sounds like it could be a while before we see that one hit theaters. In the meantime, Soderbergh is staying busy by diving right in to his next project, a Panama Papers movie from writer Scott Z. Burns (Contagion, Side Effects) called The Laundromat.
The Panama Papers refers to the largest leak of corporate data in history, when 11.5 million documents from Panamanian law firm Mossack Fonesca were revealed back in 2015 and detailed the various legal and illegal ways powerful people and corporations hide their money in offshore accounts. The film will be based on Secrecy World, a book by Pulitzer Prize-winning journalist Jake Bernstein, and examine the web of money laundering and other criminal activity revealed in the data leak.
Soderbergh has been attached to this film for a little while now, but this is the first confirmation we have that he'll be directing it himself instead of just producing. Also worth noting: he shot Unsane on an iPhone, and he previously indicated that it would take "a pretty good reason" for him to return to using traditional cameras again. Well, apparently he's found a good reason: The Playlist says that "because of the epic scale of the movie, which will shoot in six countries, he'll be back using the latest RED Cameras."
The report proclaims that The Laundromat is "gearing up for a fall shoot" and promises that "a powerhouse cast is waiting in the wings", though exactly which actors will be involved remains a mystery for now.
As if all this wasn't enough to keep Soderbergh occupied, he's also reuniting with Lem Dobbs (Haywire, The Limey) for a six-part TV miniseries called Emin Pasha. Head over to The Playlist to read more about that show, and we'll keep you posted with more info about The Laundromat as soon as we can.