'The Predator' Reshoots Have Altered The Majority Of Its Third Act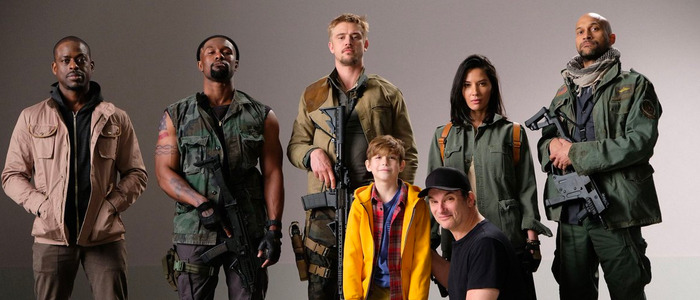 We've been waiting for years to see writer/director Shane Black's sci-fi sequel The Predator, and this fall, we'll finally get to see his take on the iconic alien race of big game hunters. Now one of the movie's actors has revealed that recent reshoots have significantly changed a majority of the film's final act. Find out what we know about The Predator reshoots below.
In an interview with actor Keegan-Michael Key, CinemaBlend asked how the reshoots were going and the former Key & Peele star offered a surprising response:
"We just finished [reshoots] last week, and just about three-quarters of the third act was rewritten. And Shane Black is... he's just a consummate professional, and a consummate writer. He's a wordsmith! It was a really, really exhilarating experience, and I think that he's still one of our most vibrant writers of cinema."
We initially found out about The Predator reshoots from co-writer Fred Dekker, who posted a photo from the movie's Vancouver set a few weeks ago during what he called "touch-ups" for the film. Three quarters of the third act being rewritten sounds slightly more laborious than just mere "touch-ups", but perhaps he was just trying to downplay the seriousness of the reshoots in order to avoid adding a stink to the movie before we even see a trailer.
Reshoots still seem to carry a negative stigma despite being a common part of the creative process. The fan community seems to have this strongly-held belief that if any movie or TV show diverts from its original conception, it's somehow a lesser version of itself. But changes – even last minute ones – can totally save a movie. Evolution and adaptation are a natural part of the process, and smart filmmakers can use reshoots to make a good movie even better. Think of how much worse The Force Awakens might be without Finn and Rey's relationship the way we know it now. That banter was the result of a drastic overhaul of their relationship, and was only possible because of reshoots.
Black has been in this business long enough that he knows when something isn't working and needs to be reimagined, and I think his laundry list of incredible credits (Lethal Weapon, Kiss Kiss Bang Bang, Iron Man 3, etc.) has earned him the benefit of the doubt.
The Predator hits theaters on September 14, 2018.