Now Stream This: One Of 2017's Best, Michael Mann's Masterpiece, A Modern Animated Classic, A Killer Fetus, And More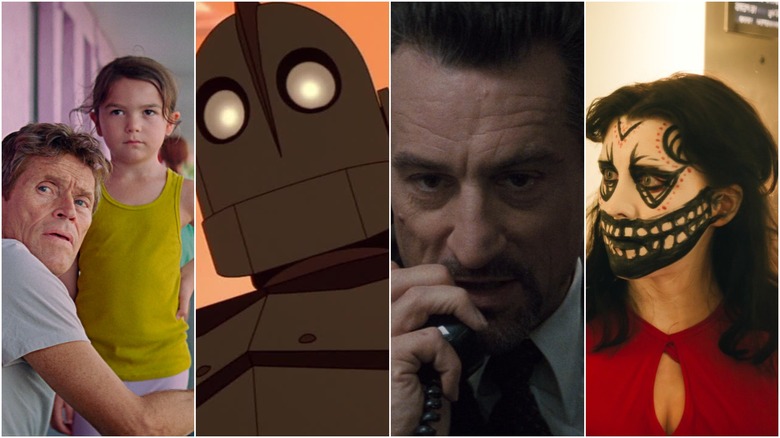 (Welcome to Now Stream This, a column dedicated to the best movies streaming on Netflix, Amazon, Hulu, and every other streaming service out there.) 
Hello, streamers. Are you ready for another round-up of great movies you can stream right now? I sure as hell hope so, or else I compiled this list for nothing. In this edition of Now Stream This, we have one of last year's best movies, a Michael Mann masterpiece, Dustin Hoffman vs. a Nazi dentist, a modern animated classic, Richard Gere trying to solve spooky mysteries, a killer fetus, and more!
These are the best movies streaming right now. Let's get streaming.
The Best Movies Streaming Right Now
Now Streaming on Amazon Prime Video
Release Date: 2017Genre: Indie DramaDirector: Sean BakerCast: Willem Dafoe, Brooklynn Prince, Bria Vinaite, Valeria Cotto, Christopher Rivera, Caleb Landry Jones
Hey, look – the best movie of 2017 is now streaming! The Florida Project is a magical, heartbreaking indie film from Tangerine director Sean Baker, set on the outskirts of Disney. Six-year-old Moonee (Brooklynn Prince; crazy good here) lives in the run-down Magic Castle motel with her mom (Bria Vinaite). Moonee spends her days running wild with her friends, while the motel's manager, played by Willem Dafoe, giving what is probably the best performance of his career, watches wearily. On the surface, The Florida Project doesn't have a consistent narrative – it's a series of vignettes stitched together. But Baker is building towards something here, and he's presenting the film in a no-nonsense yet fantastical style that works even though it really shouldn't. It all culminates in an ending that is all but guaranteed to make you break down into ugly, racking sobs. If you slept on this movie in 2017 (real talk: this was A24's best last year, not Lady Bird, and I wish A24 had pushed it harder come awards season), here's your chance to finally see what you've been missing
For fans of: Beasts of the Southern Wild, The Little Rascals, Escape from Tomorrow, Willem Dafoe being amazing.
Now Streaming on Netflix
Release Date: 1995Genre: Crime EpicDirector: Michael MannCast: Al Pacino, Robert De Niro, Val Kilmer, Tom Sizemore, Diane Venora, Amy Brenneman, Ashley Judd, Mykelti Williamson, Wes Studi, Ted Levine, Jon Voight
You ever hear of this movie Heat? It's pretty good! Okay, look – I feel a bit silly including Heat here. When I compile this list, I try to avoid picking the most obvious choices, with the hopes of introducing readers to brand new things. But Heat is now streaming on Netflix, and gosh darn it, that's too good to pass up. Even after all the years of hype, Michael Mann's crime epic still holds up. It's just as good as it always was, and maybe better. Al Pacino is a cop prone to yelling and Robert De Niro is a master thief trying to pull off a few big scores before he retires. The two men end up in each other's crosshairs, and what follows is a saga that's like a great American novel, in film form. Even if you have seen Heat, it's worth revisiting just to witness what a well-oiled machine this thing is. The film's 170 runtime might seem intimidating, but Mann makes every minute count, creating a cast of characters with rich complexities. The film's big climactic shoot-out is a miracle of scene staging – it feels epic and all-consuming in ways big blockbusters with even bigger budgets can't come close to touching. And yet at the same time, this film is oddly intimate.
For fans of: Thief, Miami Vice, Copland, Al Pacino screaming "GIMME ALL YOU GOT!!!!" at the top of his lungs.
Now Streaming on Hulu
Release Date: 1976Genre: ThrillerDirector: John SchlesingerCast: Dustin Hoffman, Laurence Olivier, Roy Scheider, William Devane, Marthe Keller
The film that made dentistry somehow even less appealing than it already is, Marathon Man is the type of taut thriller they really don't make anymore. Dustin Hoffman is a timid Ph.D student and Roy Scheider is his tough brother who just happens to be a secret agent. After Scheider turns up dead, Hoffman gets sucked into an increasingly disturbing situation involving stolen diamonds and a fugitive Nazi war criminal (Laurence Olivier) with a fondness for drilling into people's teeth. Hoffman is great here, playing a character growing more and more unhinged as the danger grow, and Olivier steals the show as the evil Nazi dentist. The script, by master writer William Goldman, is as tight and tension-filled as it possibly can be.
For fans of: Three Days of the Condor, The Boys from Brazil, The French Connection, the soothing sound of dental drills.
Now Streaming on Netflix
Release Date: 1999Genre: Animated Sci-Fi Fantasy That Will Make You CryDirector: Brad BirdCast: Jennifer Aniston, Harry Connick, Jr., Vin Diesel, James Gammon, Cloris Leachman, Christopher McDonald, John Mahoney, Eli Marienthal, M. Emmet Walsh
Warner Bros. did a terrible job marketing The Iron Giant when it hit theaters in 1999, and the film underperformed. Thankfully, home video and TV syndication helped audiences realize what a special film this is. The Incredibles' Brad Bird helms this animated flick about a young boy in the 1950s who befriends a giant robot from outer-space. The pair grow close, but of course, the minute the government finds out about the giant, things get complicated, and dangerous. This is a beautiful, heart-felt film, full of an aching, unapologetic humanity that's nearly impossible to resist. The animation – hand-drawn in a classic style – is gorgeous, and Bird creates cinematic, fluid sequences that other animation directors can't touch.
For fans of: E.T., Wreck-It Ralph, How to Train Your Dragon, being who you choose to be.
Now Streaming on FilmStruck
Release Date: 1990Genre: Indie Chamber DramaDirector: Whit StillmanCast: Carolyn Farina, Edward Clements, Taylor Nichols, Christopher Eigeman, Allison Rutledge-Parisi, Dylan Hundley, Isabel Gillies, Bryan Leder, Will Kempe, Elisabeth ThompsonWhit Stillman's Metropolitan is a film about privileged-class college kids who wax intellectually about things they don't even really understand. I know that doesn't sound like the most exciting kind of film, but Stillman crafted a fascinating indie film here, one that somehow makes people sitting in rooms talking inherently cinematic. At the center of Metropolitan is Tom Townsend (Edward Clements), a middle-class guy who says he hates parties. And yet, he seems to keep ending up at one party after another. Tom falls in with an upper-class crowd, where a young woman named Audry (Carolyn Farina) develops a crush on Tom. Tom, meanwhile, is hung-up on his ex-girlfriend, who has clearly moved on. Metropolitan is a film of moments captured over several nights. The characters are still young, yet so sure in their own existences and beliefs. We should grow to loathe these characters...and yet, we don't. Their youthfulness softens their snobbery. The fact is, they have their whole lives ahead of them, and there's something innocent about that — about the fact that no matter what wrongs they feel they suffered, or what romance they felt, it won't really matter because there's still seemingly so much time left. We should all be that lucky.For fans of: The Last Days of Disco, Love and Friendship, Damsels in Distress, offering up comments on books without having actually read them.
6. The Mothman Prophecies
Now Streaming on Shudder
Release Date: 2002Genre: Richard Gere Solving Spooky MysteriesDirector: Mark PellingtonCast: Richard Gere, Laura Linney, Will Patton, Debra Messing, Lucinda Jenney, Alan Bates
Based on a true story (but not really), The Mothman Prophecies is a super spooky mystery about a supernatural being haunting a West Virginia town. The creature, dubbed the Mothman, seems to signify impending doom, and Richard Gere, playing a Washington Post writer grieving the death of his wife, wants to get to the bottom of it all. When you get down to the bare bones of it all, The Mothman Prophecies is basically a feature-length episode of The X-Files, with Gere standing in for Mulder and Laura Linney, playing a local cop, standing in for Scully. But director Mark Pellington loads this thing up with so much style and so much menace that it's easy to get wrapped-up in it all. On top of that, there are a handful of genuinely creepy scenes that will give you the heebie-jeebies.
For fans of: The X-Files, Primal Fear, Arlington Road, Mimic, ChapStick.
Now Streaming on FilmStruck
Release Date: 1994Genre: Hyper-Stylized, Hyper-Violent Black ComedyDirector: Oliver StoneCast: Woody Harrelson, Juliette Lewis, Robert Downey, Jr., Tommy Lee Jones, Tom SizemoreOliver Stone's Natural Born Killers generated a lot of controversy when it hit theaters in 1994, and perhaps understandably so – the film is unhinged, and feels at times as if its coursing with some sort of poisoning venom that's on the verge from spraying out of the screen right into your eyes. But even if you don't like Stone's film (and I'm honestly not entirely sure if I do), there's something to be said about the artistry on display here. Stone blends styles, film stock, and tones, crafting a brutal (and sometimes surprisingly funny) portrait of two very bad people, played by Woody Harrelson and Juliette Lewis, who embark on a cross-country killing spree. Natural Born Killers isn't really about the murders, though – it's more about how society reacts and, sometimes, ghoulishly celebrates such actions. Stone (working from a story by Quentin Tarantino) isn't always successful in getting this point across, but the film deserves credit for its over-the-top attempts.For fans of: True Romance, U-Turn, Henry: Portrait of a Serial Killer, Robert Downey, Jr. using a terrible Australian accent.
Now Streaming on Hulu
Release Date: 2010Genre: MockumentaryDirector: Matthew AvantCast: Matthew Avant, Hal Maynor IV, Dave PotterLunopolis is a funny, highly entertaining faux documentary that proves you don't need a budget to be creative. Two documentary filmmakers get wrapped up in a story involving a fringe religion known as the Church of Lunology (a blatant satire of the Church of Scientology). According to the cult, countless famous (and infamous) historical figures actually came to earth from the moon. It only gets weirder from there. What makes Lunopolis work is how it simultaneously takes itself and its  mythology seriously while also acknowledging how silly it all is. This is a film with flying cars, a time machine, and a mysterious moon rock. There is a scene where a character yells, with grit and determination, "You can stop the charade – we have your moon rock!" You can't beat unapologetic silliness like that. Bonus: here's the tagline for the film: "There are people on the moon, they're from the future, and they're running our government." Yes, that entire thing is the tagline. Please, watch this movie.For fans of: Operation Avalanche, What We Do In the Shadows, The Last Exorcism, magic moon rocks.
Now Streaming on Amazon Prime Video
Release Date: 2017Genre: MysteryDirector: Gilles Paquet-BrennerCast: Glenn Close, Terence Stamp, Max Irons, Stefanie Martini, Julian Sands, Honor Kneafsey, Christian McKay, Amanda Abbington, Gillian Anderson, Christina Hendricks
A business tycoon dies, and almost any member of his flat-out insane family could've done the deed. That's the set-up of this bawdy Agatha Christie adaptation that assembles an incredible cast, puts them all in wigs, and lets them run wild. You might be able to solve the mystery a lot sooner than the film's detective character, a milquetoast dweeb played by Max Irons, but that doesn't matter. You'll be having too much fun watching Crooked House allow all these actors to crank up the volume to 11. The best of the bunch is Gillian Anderson, who wears a vampire wig and spends the whole film drunk, flirty and hurling insults.
For fans of: Murder on the Orient Express, Clue, Murder by Death, wigs galore.
Now Streaming on Shudder
Release Date: 2017Genre: Fetal Horror-ComedyDirector: Alice LoweCast: Alice Lowe, Gemma Whelan, Kate Dickie, Jo Hartley
Here's something you don't see every day: a movie about a woman ordered to kill people by her unborn baby. Alice Lowe wrote, directed and starred in this horror-comedy (while pregnant herself), and she deserves awards for coming up with such a bonkers premise and pulling it off. Lowe plays Ruth, a pregnant woman whose partner died in a climbing accident. Except, maybe it wasn't an accident. Taking orders from her unborn baby, Ruth tracks down people who were possibly involved in her husband's death, and brutally dispatches them. What a strange, clever movie this is. More indie horror like Prevenge, please.
For fans of: It's Alive, Sightseers, High-Rise, bossy fetuses.