'Dark Crimes' Trailer: Jim Carrey Is Back, And He's Deadly Serious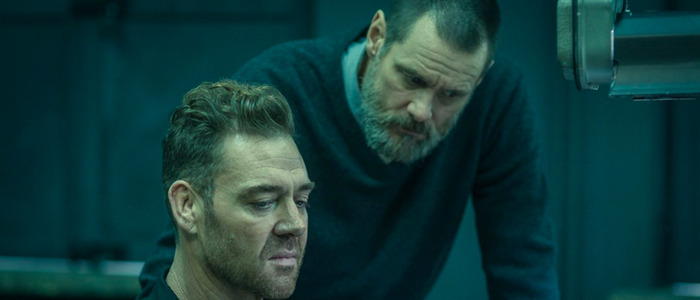 Jim Carrey hasn't taken the lead a film in four years, but he's back with Dark Crimes. The film, based on an actual murder mystery, has Carrey in serious mode, playing a cop with a beard trying to solve a murder. Watch the Dark Crimes trailer below.
I'm not quite sure what to make of this. On one hand, I'm glad to see Jim Carrey back in action, and I like it when Carrey shows off his dramatic chops. On the other hand, this trailer makes Dark Crimes look like a cross between The Girl With the Dragon Tattoo and The Snowman, but starring Jim Carrey. That might end up being interesting in the long run, but based on this trailer, I'm not so sure. On top of all that, Carrey appears to be doing some sort of accent here, and it really doesn't work. See for yourself.
Dark Crimes Trailer
Dark Crimes is based on an incredible true story (chronicled here) about a cop who believed a writer's violent novel held the key to an unsolved murder. Dark Crimes obviously fictionalizes things, and throws in a few car chases for good measure. Carrey plays a cop named Tadek who connects an unsolved murder to a novel by author Krystov Kozlow, played Marton Csokas. Charlote Gainsbourgh also stars – which only increases The Snowman vibe, since Gainsbourgh appeared in that film as well.
The last time Jim Carrey lead a film was 2014's Dumb and Dumber To. Since then, he's mostly kept a low-profile. He had a supporting role in Ana Lily Amirpour's The Bad Batch, and appeared in the Netflix documentary Jim & Andy: The Great Beyond.
I'm willing to give Dark Crimes a shot simply because I want to see how Carrey handles this material. But this trailer leaves a lot to be desired. Carrey is definitely able to deliver great non-comedic performances – just look at his work in The Truman Show. But then there's the super-serious Carrey film The Number 23, which was all kinds of awful. Dark Crimes was apparently completed in 2016 and has been sitting on a shelf somewhere since then, which isn't the best sign.
Dark Crimes arrives on DirecTV April 19 2018, and hits limited theaters/VOD on May 11.
A murder investigation of a slain business man turns to clues found in an author's book about an eerily similar crime. Based on the 2008 article "True Crimes – A postmodern murder mystery" by David Grann.