'Black Adam' Movie Could Begin Filming In 2019, Says Dwayne Johnson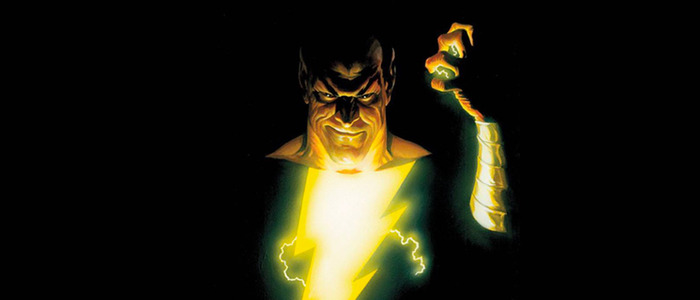 Dwayne "The Rock" Johnson is making the press rounds for his new video game movie Rampage, and it was only a matter of time until someone asked him about his slated appearance as the DC Comics anti-hero Black Adam. In a new interview, Johnson says his Black Adam movie is aiming for a 2019 production start – but if the Shazam movie falters at the box office, will Black Adam happen at all?
Johnson has been attached to play the DC Comics character Black Adam in a live-action movie since 2007. In a new interview with Yahoo, the Rampage star says that after over a decade of waiting, production might finally start on his solo film next year:
"The script came in, it's great, we're working on it. We're very excited about it. If things come together in the way we anticipate them coming together, that feels like a 2019 movie in production."
I have no doubt this film will happen at some point, but whether Johnson will be able to fit it into his busy schedule next year remains to be seen – especially when the project doesn't even have a director attached. (I would not be remotely surprised if Rampage and San Andreas director Brad Peyton came on board, because Johnson loves working with familiar collaborators.)
The actor also spoke about the challenges of bringing Black Adam to the big screen:
"It's a challenging thing because when Marvel is doing such an incredible job of universe building and building out, and DC is doing a great job in finding the footing and tone of their movies – certainly with Wonder Woman, for example, I look forward to James Wan's movie coming out with Aquaman – so Black Adam is this phenomenal opportunity for us to nail the tone and make sure he's badass. Make sure that we're serving the mythology properly. But then also making sure that we can have intrinsic DNA tied to a lot of other properties in DC. It's not an easy thing to do, but I think we're going to nail it."
Will The Black Adam Movie Happen If Shazam Bombs?
DC's cinematic stumbles have been well-documented at this point, but if you're wondering if this film will still happen if the Zachary Levi-starring Shazam film bombs, it's almost guaranteed that the answer is yes. (To be clear, there's nothing to suggest Shazam won't perform well, so this is just a hypothetical.) Black Adam has traditionally been a character who butts heads with Shazam in the comics, but by Johnson's own admission, he's looking to tie the character to "a lot of other properties in DC." In addition to the interconnected world-building aspect DC Films is going for, that tactic also provides something of a safety net for this character – if one movie fails, he could pop up elsewhere instead.
ComingSoon says that Johnson has previously teased "a really cool surprise in terms of where we will see Black Adam being introduced," and relays speculation that he might first appear in Suicide Squad 2, which is going before cameras later this year. Another theory says the character might show up as early as Aquaman, which arrives in theaters this December. We'll have to wait and see, but even if Shazam is a total stinker, you can bet that Johnson isn't going to let one bomb offset more than ten years of preparation for playing his first big comic book character.Shazam hits theaters on April 5, 2019.