'Annihilation' Director Alex Garland's Haunted House Script 'The Toymaker's Secret' Is Getting Made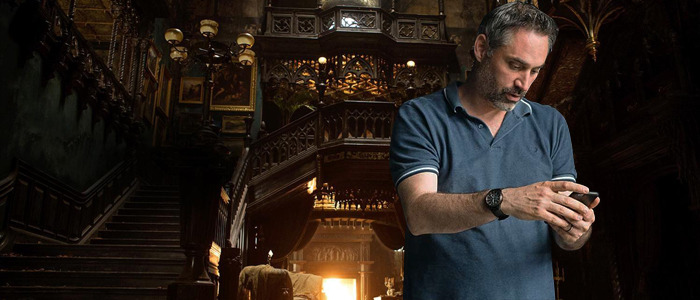 Alex Garland is known for directing heady sci-fi movies like Ex Machina and Annihilation, but his latest project marks a shift in the career of the English filmmaker. TriStar Pictures has acquired the rights to The Toymaker's Secret, a haunted house script written by Garland that's being described as "family friendly," which is not exactly the first thing you think of when you think about his existing movies. Read more about this new film below.Variety reports that The Toymaker's Secret "tells the story of an American family who moves into an old Victorian house in London and begins to believe it might be haunted."
While Garland wrote the script for the upcoming film, he won't direct this one. Instead, BAFTA and Annie Award winner Paloma Baeza will step behind the camera for the first time to direct. Baeza is a writer and animator known for her work on a stop-motion short film called Poles Apart, which features the voice talents of Helena Bonham Carter and Joseph May. Check out that trailer below:
I'm excited to see Baeza (who happens to be Garland's wife) moving into the director's chair for The Toymaker's Secret. In a statement to Variety, she seemingly revealed that the film will be a combination of live-action and animated storytelling, saying, "This project will join my love of animation with a live-action world, and it's fantastic to be bringing this story to life."
TriStar Pictures president Hannah Minghella beat out several other buyers for this project, and a statement from her reveals that she has particularly high hopes for this movie:
"The Toymaker's Secret is an original movie with such heart and humor and magic that it is sure to become an instant classic for the whole family. We are thrilled to be working with Paloma on her debut feature and with Alex and Andrew who are both long-time friends and creative partners."
Garland, who wrote movies like 28 Days Later, Sunshine, Never Let Me Go, and Dredd, would be one of the last people I'd peg to ever write a family-friendly movie, but I'm very curious to see how his script unfolds and whether this will open him up to a whole new avenue of storytelling. He'll be busy writing and directing his new tech thriller TV series Devs for FX (read more about that here), and who knows – maybe he'll end up directing a Swamp Thing movie for DC.