10 Gateway Anime Movies For Studio Ghibli Fans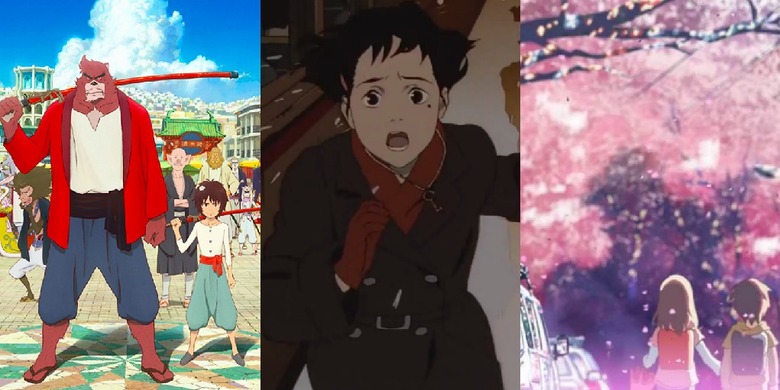 (Welcome to Let's Get Animated!, a column that spotlights the best of film animation. In this edition: the best anime movies to watch if you're a fan of Studio Ghibli movies.)
It felt like a big, gaping hole was left in the animation industry when Studio Ghibli temporarily shuttered its doors in 2014. The game-changing studio's co-founder and the greatest animation director of this generation, Hayao Miyazaki, had just retired (again). And with that, Disney was back to dominating the animation market, with quality alternatives few and far between.
For years, Studio Ghibli was an animation titan that not only offered a refreshing foil to Hollywood's frenetic, action-packed animated movies, but was a genre unto itself. Fans of the works of Miyazaki, Isao Takahata, Hiroyuki Morita, Gor? Miyazaki, and Hiromasa Yonebayashi didn't have to say they liked anime — they liked Ghibli. Which is a shame, because Japan's anime industry has so much more to offer.
Now, you could wait for Ghibli to re-open its doors when Miyazaki goes through his third un-retirement with his upcoming feature film, How Do You Live?, set for release in 2020. Hell, you could hop on over to Japan right now to see Miyazaki's new short film Boro the Caterpillar. But I assure you, there's more to anime movies than Ghibli.
Anime as a catch-all genre is kind of daunting, to say the least. But have no fear. If you're a Studio Ghibli fan who wants to dive into anime, here are a few stellar gateway anime movies that you will love.
The Boy and The Beast
For fans of: Spirited Away, The Cat Returns
For the first 15 minutes of The Boy and the Beast, this Mamoru Hosoda fantasy adventure seems to trace an exact parallel of Spirited Away, right down to the strains of the tripping orchestral score. Kyuta, a young boy who runs away to live on the streets of Shibuya after his mother dies, accidentally stumbles into a fantastical world populated by beasts and spirits. He sees all manner of strange sights before he runs headlong into Kumatetsu, a churlish warrior bear who reluctantly takes him in as a pupil. The two hotheads clash immediately and frequently, but eventually strike up a wary but trusting relationship — teaching each other how become better people and fighters over the course of nine years.
Yes, this movie takes place over nearly a decade — and by the time we reach its second half, Kyuta is barely a boy anymore. And the movie has already taken countless twists and turns from the wacky "lost boy" action-adventure it first appeared to be.
How to describe The Boy and the Beast? Shades of The Karate Kid and The Lion King proliferate the film as much as Hayao Miyazaki's works inform it — who Hosoda credits with sparking his love for the craft. But ultimately, buried beneath the splashy fight scenes and soaring visuals, The Boy and the Beast is a deeply felt parable about fatherhood. The interplay of Kyuta's fantastical found family and his real-life broken family speak powerfully to issues in current-day Japan, and ultimately, feels more rooted in reality than many of Miyazaki's films.
Your Name
For fans of: From Up on Poppy Hill, Castle in the Sky
I've written plenty about Your Name (it was on my best of 2017 list — twice), but let me rave about it again. A quirky body-switch comedy, a wistful coming-of-age romance, and a metaphysical celebration of life all at once, Your Name is one of the best anime films to come out of Japan in the past decade. It's also the only anime film that has ever unseated the highest-grossing Studio Ghibli film at the Japanese box office.
Your Name follows a two high school students — one a city boy from Tokyo and the other a girl living in the countryside — who suddenly wake up to find themselves in the other's body. Confused and annoyed at first, the pair eventually grow used to the random body swaps, even finding ways to help each other with grades, chores, or local crushes. They soon fall in love and set out to finally meet — until tragedy strikes.Your Name is both Makoto Shinkai's most accessible film yet and his most impressive. Balancing his penchant for bittersweet missed connections with wacky hijinks, Your Name effortlessly flows from one genre and one emotion to another. While it touches on the universal pangs of first love or first heartbreak, Your Name manages to challenge your perceptions of time and reality in a stunning third act that few live-action films would dare to tackle.
Tokyo Godfathers
For fans of: Porco Rosso
I can't talk about anime films without mentioning the other master: Satoshi Kon. A visionary filmmaker whose impact has reached Hollywood auteurs like Darren Aronofsky and Christopher Nolan, it seems almost unfair to include him on a list of anime upstarts. But few people outside of hardcore anime fans and cinephiles know of his works — and maybe those who have read Aronofsky's gushing interviews leading up to Black Swan. Throughout his short but illustrious career, Kon tested the limits of editing and timing in animation, pouring so much information onto the screen that it threatened to overwhelm the viewer. But while he's most known for his trippy and cerebral dream adventure Paprika, we're going to pare it back a bit with one of his most underrated films, Tokyo Godfathers.
Loosely based on Peter B. Kyne's novel Three Godfathers Tokyo Godfathers is a Frank Capra-esque dramedy that follows three homeless people — a depressed alcoholic named Gin, a trans woman named Hana, and a runaway teen named Miyuki — who discover an abandoned baby on Christmas Eve. Armed with only a bag of clues leading to the parents' identity, the trio decide to find the baby's parents. Tokyo Godfathers is an unrelenting exploration of the seedy underbelly of Tokyo and its homeless — worlds away from the warm fantasies of Ghibli films. But Tokyo Godfathers does have one thing in common: it's bursting to the seams with empathy. The film doesn't sacrifice the harrowing visual flairs that Kon is known for, but it may be his most sentimental movie. As a movie that's all about the miracle of Christmas, how could it not be?
5 Centimeters Per Second
For fans of: Whisper of the Heart, Only Yesterday
For fans who shed tears of happiness at the end of Your Name, prepare to be utterly crushed by 5 Centimeters Per Second, Makoto Shinkai's elegiac, unassuming predecessor to his hit 2016 anime film. The 1-hour film will be one of the most stunning pieces of animation you'll ever see — each setting immaculately rendered in photorealistic detail. But the story is astonishingly ordinary, and probably the only film on this list that doesn't have a fantastical twist or conceit.
5 Centimeters Per Second is a love story told in three vignettes. Takaki and Akari are elementary schoolmates who become fast friends until Akari moves away upon graduation. Though the two write letters to each other constantly, promising to see the cherry blossoms together again, they start to drift apart and — after one fateful meeting as teens — never see each other again. 5 Centimeters is a lilting ode to loss and regret, one that feels like it plays out in the real-time trudge of life. It's a movie that washes over you, until you're borne along on a wave of melancholic nostalgia.
Here is Shinkai unleashed, not bothering to make the film accessible or even satisfactory to his viewers. Some may accuse 5 Centimeters Per Second of being more style over substance, but it is perhaps the most substantial in how tragically mundane it is.
The Girl Who Leapt Through Time
For fans of: Kiki's Delivery Service, The Cat Returns
The second entry on this list directed by Mamoru Hosoda, The Girl Who Leapt Through Time is by far Hosoda's best film — and probably the one the least like a Ghibli film. I guess it should be noted that both Hosoda and Shinkai have been dubbed "The Next Miyazaki," though both filmmakers have long proven that their films are unlike any Miyazaki film. The Girl Who Leapt Through Time is the perfect distillation of that.
The film follows a headstrong teenage girl named Makoto who has a no-good, horrible day: she fails a test, spills hot oil on herself, and gets accidentally tackled by a classmate. Things go from bad to worse when the brakes on her bike fail just as she's about to hit an oncoming train — then suddenly, she finds herself transported to a few hours before. Makoto discovers that she has the ability to leap through time, and uses it for idiotic tasks: acing that test, eating her favorite dinner, spending a few extra hours at karaoke with her two best friends. But Makoto's life suddenly grows complicated — not because of time travel shenanigans, but because of the intrusion of reality. Her best friend Chiaki begins falling for her, while Makoto finds herself growing apart with their other friend Kousuke.
The Girl Who Leapt Through Time is a lovely, enchanting, and profoundly funny movie that sweeps you up in the story of an ordinary girl who finds herself with an extraordinary power — and decides to do nothing with it.
In This Corner of the World
For fans of: Grave of the Fireflies, The Wind Rises, Arrietty
An intensely gorgeous and profound film, In This Corner of the World is the best World War II-set anime film since Grave of the Fireflies. But don't worry, it's not nearly as utterly bleak.
In This Corner of the World follows the life of Suzu, a young Japanese girl who lives in the seaside town of Eba near Hiroshima. Naive and dreamy, Suzu loves nothing more than to draw, but her rosy childhood is cut short by the proposal of a strange man from Hiroshima. The phantom of the atomic bombing of Hiroshima hangs in the backdrop as Suzu obliviously goes about her life — lending an air of inevitably tragedy to the entire film. But tragedy is not what In This Corner of the World is interested in: it's the small, lovely episodes that happen in between.
It can be seen in director Sunao Katabuchi's soft, airy animation — there are no harsh lines or angles. Everything is painted with loving care. And Suzu is the wonderful, frustrating, charming protagonist through whose eyes we can realize the beauty in life.
Summer Wars
For fans of: Ponyo, Pom Poko, My Neighbors the Yamadas
Mamoru Hosoda cut his teeth as a director on a series Digimon movies, and you can tell in his dazzling cyber-adventure, Summer Wars. Part heartfelt family comedy, part sci-fi action flick, Summer Wars is perhaps Hosoda at his most anime. What do I mean by "his most anime?" Summer Wars is a bombastic movie that revels in its excesses — over-the-top visual flairs, reactions, twists — and yet remains almost painfully restrained. But most importantly, it's just pure fun.
Summer Wars follows high school student Kenji, a mathematics genius and dedicated member of the popular computer-simulated virtual reality world OZ, who gets asked to take on a peculiar job by his upperclassman Natsuki. Traveling to Natsuki's quaint family home in Ueda, Kenji is surprised when Natsuki lies to her entire extended family that he is her college fiancé. But his welcome to the family gets rudely interrupted by a massive hack of OZ — for which he is framed. The hack wreaks havoc on the country's entire infrastructure, downing traffic lights, crossing wires, and confusing the general public. But the mass chaos has nothing on the drama that ensues in Natsuki's family when Kenji is outed as a fake boyfriend.
The animation is distractingly striking, anchored by a sweet and timeless story about family hijinks. There is no equivalent to it in Studio Ghibli's catalogue — the studio has never quite gone so modern — but Summer Wars is probably the closest we'll get to a good War Games remake.
Millennium Actress
For fans of: The Tale of Princess Kaguya, The Wind RisesMillennium Actress is Satoshi Kon's greatest film. There, I said it. More than Paprika, more than Perfect Blue, Millennium Actress is a glorious realization of Kon's greatest talents and ambitions as a director. And unfortunately, because it came out in 2001 right alongside Miyazaki's Oscar-winning Spirited Away, it's been horrendously overlooked.Millennium Actress is a decades-spanning tale about a famed Japanese actress Chiyoko Fujiwara who, as a young girl, fell in love with a handsome revolutionary she briefly saved from capture and spent her entire lifetime chasing his memory. But the lines between reality and fiction blur as Millennium Actress effortlessly cuts between Chiyoko and the characters she play — all chasing something, all in love with a man at the end of the road. It's a sublime, sweeping melodrama elevated by Kon's dexterous manipulation of time. And no film feels as deeply personal to Kon as Millennium Actress does. The eternal artist, always chasing something.Millennium Actress can probably find its equivalent in Ghibli's most devastating dramas such as The Tale of Princess Kaguya, though it doesn't feel like a single powerful blow to the heart as it does a slow chipping away at your soul.
A Letter to Momo
For fans of: My Neighbor Totoro, PonyoMy Neighbor Totoro inevitably comes to mind as A Letter to Momo opens. A nature-filled island town, folklorish spirits that involve the protagonist in all sorts of shenanigans. The piercing pain of grief.
But A Letter to Momo is like if you took Totoro and turned the zaniness up to 11. Momo is an 11-year-old girl reeling from the death of her father, who moves to her mom's small island hometown. Resentful of her mom for uprooting them from Tokyo, Momo almost doesn't notice when mysterious sounds and movements start happening around the house. But then she runs into three goblins that have been holing up in her house — sent to protect her by her father's spirit. Unfortunately, they're not great at the whole protecting thing and end up causing more trouble for the beleaguered Momo.
Directed by Hiroyuki Okiura, A Letter to Momo is a heartfelt and sweet film that pairs perfectly with a Ghibli double feature.
Tekkonkinkreet
For fans of: Nausicaa of the Valley of the Wind, Princess MononokeTekkonkinkreet is the only anime film to be directed by an American filmmaker. But that doesn't mean that Michael Arias' adaptation of the bonkers Taiyo Matsumoto manga series is anything like what we see in Western animation. Rather, Tekkonkinkreet has all the visual decadence and the perverse weirdness typical of an anime film. But it cuts close to what make Ghibli movies shine the most: heart.Tekkonkinkreet follows a pair of scrappy orphans, Kuro and Shiro, in the fictional Takaramachi (Treasure Town) as they go up against rival child gangs and yakuza for dominion over the city. When a corporation that controls the yakuza decide they've had enough of the pesky Kuro and Shiro, they hire a team of near-superhuman hitman to take them out. The film spirals into a brutal and bloody head-trip, with the overprotective Kuro falling into madness when the innocent Shiro nearly gets murdered.
Vicious, crude, and sleazy, Tekkonkinkreet feels as far from the relative chastity of Ghibli movies as could be. There's a reason I put it last on the list — it's a riveting, beautifully animated film, but one that is the last "step" in the list to become a bonafide anime fan.
If You're Ready to Ascend to Next-Level Anime Movies
Before you yell at me for not including anime classics like Akira and Paprika, wait a second. Anime is a varied genre — and anime movie even more so. What I'm saying is, those movies get a little weird, and may be hard to digest for the anime newbie. But if you've blown through all the above movies and have a hankering for more, here are some next-level anime movies to watch.
Paprika
Akira
Ghost in the Shell
Metropolis
Mind Game