'Fabled' Trailer: Zosia Mamet And Gugu Mbatha-Raw Put A Feminist Twist On Fairy Tales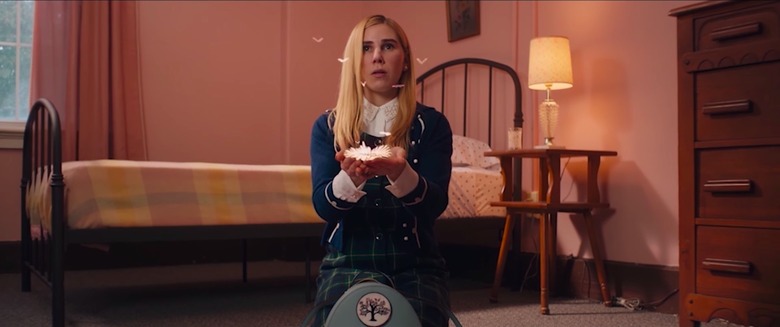 Once upon a time, Jennifer Morrison starred as the daughter of Snow White and Prince Charming. Now, she directs a feminist revisionist take on fairy tales in the fantasy anthology series Fabled.
The Fabled trailer promotes the first episode of the new anthology series, directed by Morrison and starring Zosia Mamet and Gugu Mbatha-Raw as two young women who dream big and witness even bigger, magical miracles.
Fabled Trailer
Prepare for a feminist twist on fairy tales. Fabled is an anthology series from Refinery29 that sets out to reimagine classic fairy tales in different realities — tackling issues of age, race, sexuality, gender, and relationships along the way. And naturally, it's the girls from Girls and Once Upon a Time who are bringing us these modern, feminist fairy tales.
Mamet, who co-wrote and executive produced the series, stars alongside Mbatha-Raw in the first episode of Fabled, "Anodyne." Directed by Once Upon a Time's Jennifer Morrison, who just made her directorial debut with the zippy Sun Dogs, "Andonyne" imagines what would happen if Alice from Alice in Wonderland crossed paths with Dorothy from The Wizard of Oz.
Mamet and Mbatha-Raw's characters, Allie and Dee, are described (via Entertainment Weekly) as "creative young women that blaze their own trails and stray away from societal norms. They crave adventure and dream bigger than what the world tells them is acceptable. After meeting at an extensive behavioral therapy center, they find solace and fortitude in one another. Their bond illustrates the strength of friendship and the power that women can harness when they come together."
Mamet conceived of the idea for Fabled alongside Evan Jonigkeit, who also writes and produces. Jonigkeit told EW how the project came about:
"Zosia and I were on a drive to Vermont and saw a postcard with Alice from Alice in Wonderland and Dorothy from The Wizard of Oz on it, and it gave us the idea to build a series around the idea of fairy tales and myths in different context. Alex Gayner, Zosia, and I developed the idea from there by picking apart the gender roles of these childhood stories, and I got to writing! Men and women both need to do their part in helping equality become the norm, and we all saw the world of Fabled as an opportunity to help to do that in a small way, through storytelling."
Norbert Leo-Butz and Paul Wesley also star in "Andonyne," which premieres at this year's Tribeca Film Festival.