Isaac Asimov's 'Foundation' Is Being Made Into An Apple TV Series By David Goyer And Josh Friedman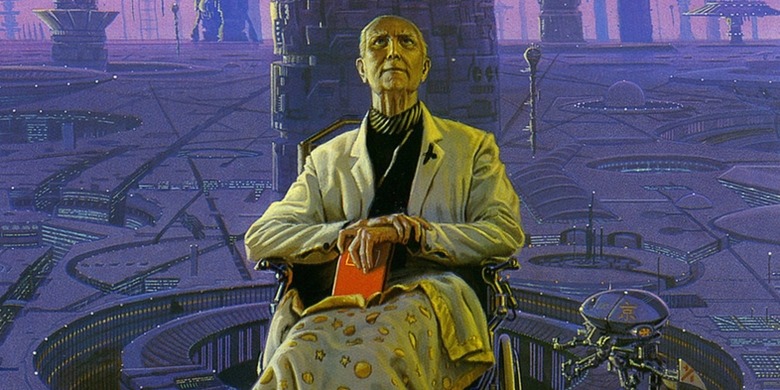 Apple is slowly establishing itself as a TV network to watch, announcing a steady stream of high-profile projects led by some of the biggest names in Hollywood. Now, Apple just made its growing oeuvre even more interesting with the announcement of a sci-fi series that was previously thought to be unadaptable.
A Foundation TV series from Batman v Superman writer David S. Goyer and War of the Worlds writer Josh Friedman has landed at Apple. An adaptation of Isaac Asimov's landmark sci-fi novels has eluded filmmakers for decades, but Apple just won the rights to the highly influential series.
Deadline reports that Apple landed the rights to an adaptation of a Foundation TV series after a highly competitive bidding war for the project.
Skydance Television made a deal with the Asimov estate and put together the deal in 2017, tapping writers/producers Goyer and Friedman to adapt the series. The show will fly under the Apple banner, joining other highly anticipated series like an M. Night Shyamalan thriller, an "innovative drama" from La La Land director Damien Chazelle, and Jennifer Aniston and Reese Witherspoon's still-untitled morning show drama.
Foundation was originally written by Isaac Asimov — widely known as one of the most influential science-fiction writers in history — as a series of short stories published in Astounding Magazine between 1942 and 1950. The story would eventually grow to a five-novel series, plus two prequels.
The dense and complex saga follows humans scattered across the galaxy on different planets ruled by the Galactic Empire. Sound familiar? Shades of Foundation can be found in George Lucas' original Star Wars movies and has even impacted public figures like Paul Krugman and Newt Gingrich.
Hollywood has been attempting to nail an adaptation of Foundation for years. Fox, Warner Bros., and Sony each have made their own attempts at a Foundation film adaptation, with filmmaker Roland Emmerich toying with the idea as recently as 2013.
Foundation came close to becoming a TV series in 2014, when now-Westworld executive producer Jonathan Nolan signed on to develop a series for HBO.
But Goyer and Friedman seem like a capable team to take on the un-adaptable adaptation. Goyer is mainly known for penning ambitious comic book adaptation for the big screen, including The Dark Knight, Man of Steel, and Batman v Superman: Dawn of Justice. Meanwhile, Friedman is best known for his work on the small screen, working as the writer for the sci-fi TV series Terminator: The Sarah Connor Chronicles. But he's also adapted another classic sci-fi novel, H.G. Wells' War of the Worlds, for the big screen — to mixed but mostly positive results. They might just be able to pull this off.