Sequel Bits: 'Bumblebee', 'Frozen 2', 'Jurassic World', 'It 2', 'Creed 2', The Grudge' And More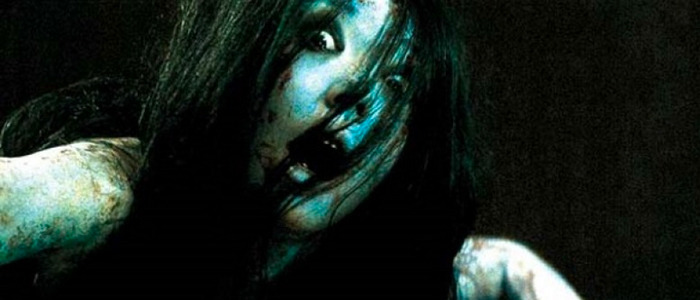 In this edition of Sequel Bits:
John Cena says Bumblebee is going to be good
An update on Frozen 2
Emily Carmichael discusses Jurassic World: Fallen Kingdom and Jurassic World 3
Neil Patrick Harris still hopes for a Dr. Horrible sequel
Andy Muschietti is ready for It 2
Brigette Nielsen might appear in Creed 2
A very xtreme poster for Sicario 2
An international poster for Mission: Impossible – Fallout
The Grudge reimagining/sequel gets a release date
Toy Story 4 also gets a release date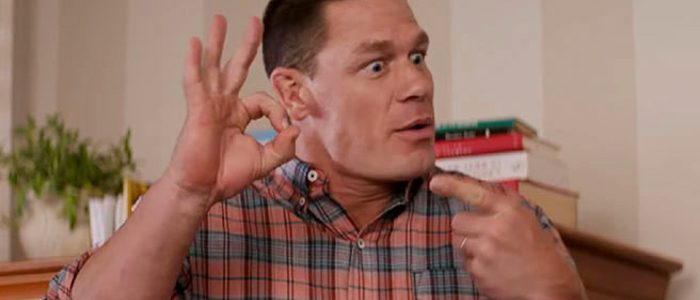 John Cena, who can currently be seen trying to stop his teen daughter from having some sex in Blockers, spoke with Entertainment Weekly about the Transformers spin-off Bumblebee. As Cena tells it, the film is going to be a "wonderful piece of this franchise" and that the role he plays is "intriguing":
"It's going to be a wonderful piece of this franchise that I think people are going to enjoy," promises Cena. "I was very intrigued being able to meet the team around the movie. [Director] Travis [Knight] is such a passionate man. The role they were talking to me about doing was very intriguing to me because it's a road I've never been down before, but a road I felt like I could accomplish. And then put that together with the context of the movie, the way that the consumer will now view Bumblebee, all of that stuff was very interesting to me. And then they were stupid enough to say yes."
Bumblebee: The Movie opens December 21, 2018.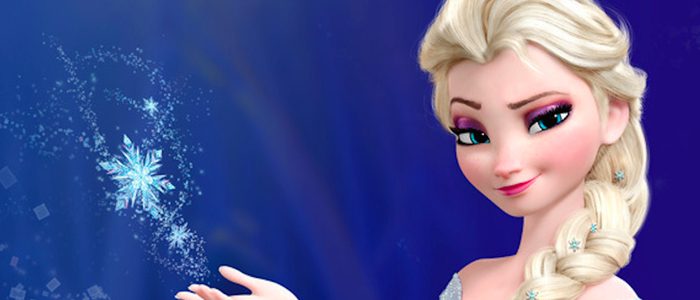 Frozen is currently running on Broadway – but what of Frozen 2? At the Broadway opening, Frozen screenwriter and director Jennifer Lee offered an update on the film sequel. "We've done amazing stuff on Frozen 2, and have a couple of songs already that are blowing my mind," Lee told Variety. "We do about six screenings that we hand draw, and so I'm on the second draft, second screening. There's no shortcut. What we have today hopefully will be 10% of what we have when it opens." At the same opening, songwriters Kristen Anderson-Lopez and Robert Lopez revealed they had recently recorded a new song for the film with Kristen Bell. Speaking of Kristen Bell, she offered an update on the film of her own. Speaking with The Ellen Degeneres Show, Bell said:
"I have recorded the movie. There will be edits before it's finished but I know the songs, I know the story, it's very good — I can't say much more than that or I'll get in trouble!"
Frozen 2 opens November 27, 2019.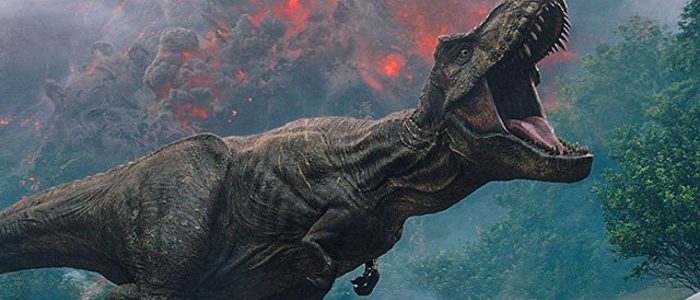 Emily Carmichael's star is on the rise. The writer of Pacific Rim Uprising was recently announced to pen the script for Jurassic World 3. She also has several other high-profile projects in the works, including a remake of Disney's The Black Hole. Speaking with ComingSoon, Carmichael had only positive things to say about Jurassic World: Fallen Kingdom while offering up almost no real info on Jurassic World 3 (which makes sense, since the second film hasn't even come out yet):
"I predict that fan reaction to the second one will be pretty ecstatic. Second one is a great movie, so I'm expecting the second one will be very well received and the third one will have quite the high bar to succeed."
Carmichael had a bit more to say about her approach to the Black Hole remake:
"There is a big change that Justin Springer, one of the producers, introduced to the script, which is a cool time synchronicity effect happening. Time passes more slowly when you're in the vicinity of a hyper-massive object, which allows our characters to separate and re-enter in interesting ways and at unexpected times. I would say it is no longer about a crew that finds a madman who disappeared into the wilderness many years ago. Our film gives you a chance to catch up with them right after he absconds with the ship, in the spirit of more forward motion. It is still about an enigmatic man with really strong feelings about what happens when you fly a ship through a black hole, and he's very determined to do that!"
It's been 10 years since Joss Whedon's Dr. Horrible's Sing-Along Blog made us all depressed with a surprisingly dark ending. Ever since, there's been some word about a follow-up, but little has come of such talk. Now, Dr. Horrible himself, Neil Patrick Harris, has weighed in, saying that he really would like a sequel soon. Speaking with Newsweek, Harris said that a sequel is unlikely simply because Joss Whedon is so busy, but if the opportunity presents itself, he's in:
"I would be so excited if that were to ever come to pass. From what I hear, Joss Whedon has a couple other irons in the fire. He's busy doing other massive, time-suck, financially remarkable endeavors. But if there's ever another writers' strike, I'll certainly sign up for the sequel."

It 2 is going to start shooting very soon, and director Andy Muschietti seems more than ready (I'm more than ready too; I wish It 2 were coming out this year). Muschietti posted the above image on his Instagram account, with the hashtag "#itchapter2" – which seems to indicate the sequel is very much on his mind. The original Losers' Club will be replaced with older versions of the characters – none of whom have been officially cast yet. The closest indication we have to casting is the word that Jessica Chastain is in talks to play the grown-up version of Bev, the lone female in the group. Hopefully official casting will start rolling in soon – it's going to have to, if the film really is going to start shooting this summer. It 2 will bring Pennywise back to theaters September 6, 2019.
Previously unannounced @brigittenielsen flew into @PHLAirport this morning to appear in #creed2 She is GORGEOUS without make up as well, super sweet too. #TeamDerek and I welcomed her to Philly. pic.twitter.com/aFl97AsARa

— PhillyChitChat (@HughE_Dillon) April 3, 2018
Is Brigitte Nielsen in Creed 2? Maybe! The above tweet reveals Nielsen flew into my home town of Philadelphia, where Creed 2 is currently filming. Nielsen appeared in Rocky IV as Ludmilla Drago, wife of Ivan Drago. Ivan Drago, played by Dolph Lundgren, plays a big part in Creed 2, so it certainly would make sense for Nielsen to have some sort of cameo in the film. Michael B. Jordan stars in the follow-up to Ryan Coogler's fantastic Creed. The film is due out November 21, 2018.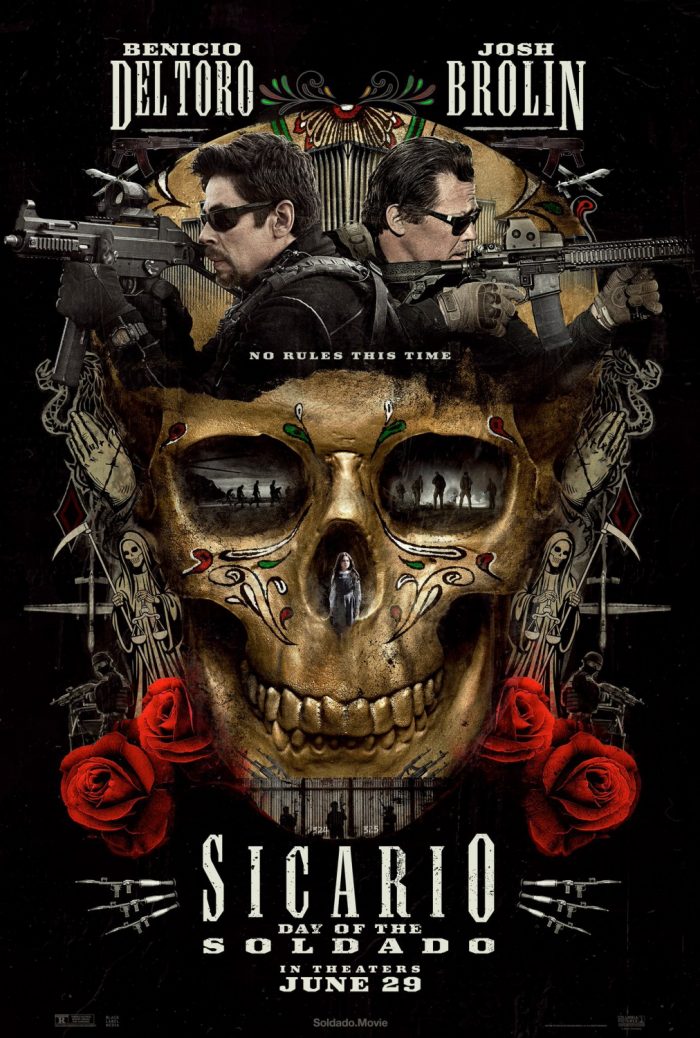 Sicario 2, which is now called Sicario: Day of the Saldado, has had some...strange posters. The latest is no exception. It seems as if the poster designer for this film is going for a "badass T-shirt you make your parents buy you at the boardwalk" vibe. Lots of skulls, lots of roses, lots of guns. Is Ed Hardy designing these posters? Who knows. Weird posters aside, Sicario: Day of the Soldado looks promising, even if it is committing a mortal sin by not bringing Emily Blunt back. Josh Brolin and Benicio Del Toro are back, though, and they're clearly up to no good again. The film opens June 29, 2018.
FBI agent Matt Graver calls on mysterious operative Alejandro Gillick when Mexican drug cartels start to smuggle terrorists across the U.S. border. The war escalates even further when Alejandro kidnaps a top kingpin's daughter to deliberately increase the tensions. When the young girl is seen as col
lateral damage, the two men will determine her fate as they question everything that they are fighting for.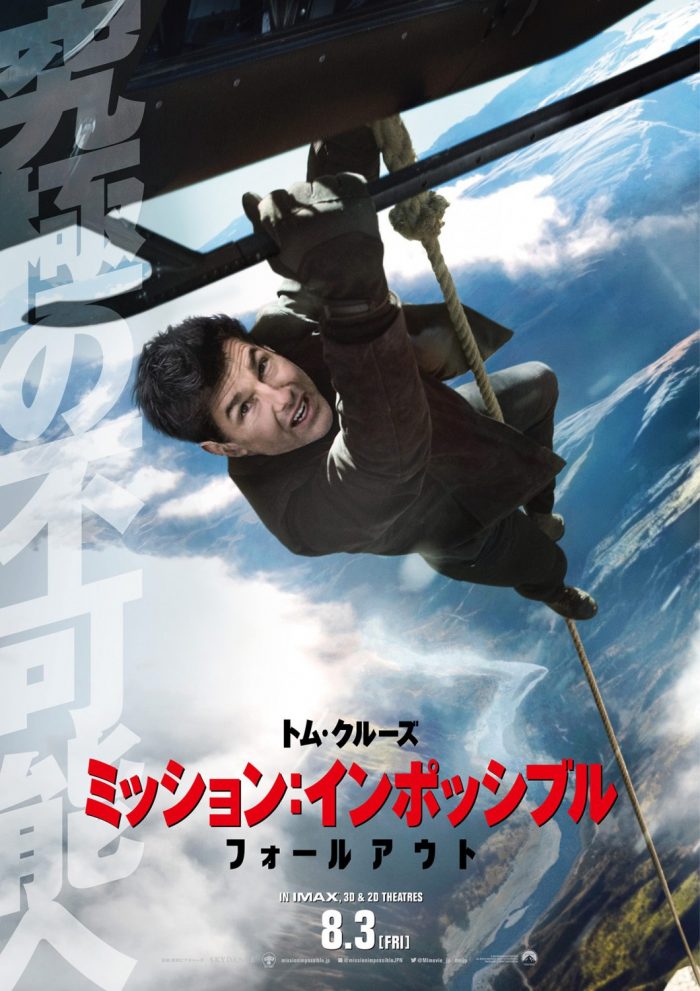 Speaking of posters, here's a Japanese poster for Mission: Impossible – Fallout. It features Tom Cruise doing what he does best: risking his life for our entertainment. I feel like not enough people are excited for this film. Perhaps the excitement will pick up the closer it gets to release, but I think this looks great. Somehow, this franchise has continued to go strong while others run out of steam. Mission: Impossible – Fallout opens July 27, 2018.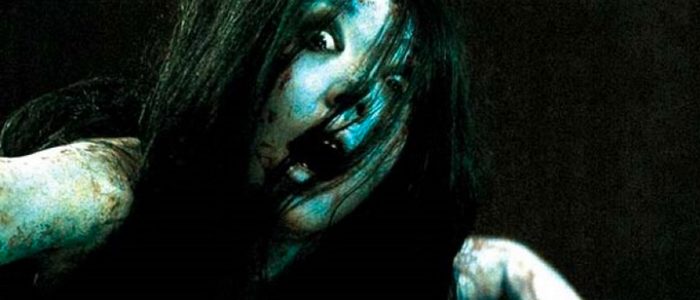 Sony is getting ready for their big reboot/sequel to The Grudge. The Eyes of My Mother director Nicolas Pesce is helming, with a cast that includes Andrea Riseborough, John Cho, Lin Shaye, and Demian Bichir. Sony just set a release date for the film: August 16, 2019. "We are so excited about this new adaptation," producer Sam Raimi said. "We went back to the original source material to deliver a relentless supernatural thrill ride that explores the horrors of American suburbia."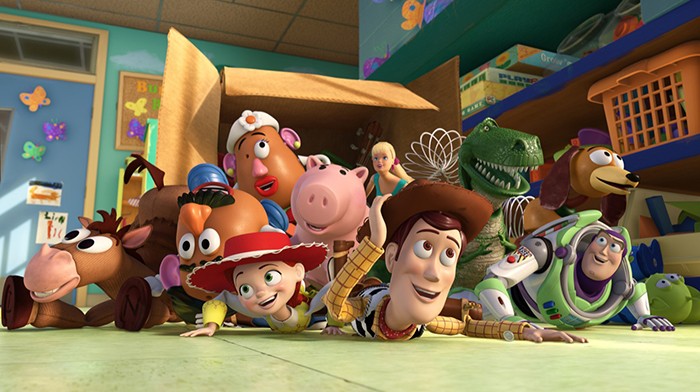 Toy Story 4
, the sequel we 
definitely
do not need after 
Toy Story 3
wrapped everything up perfectly, recently confirmed its release date:
June 21, 2019
. Director 
Josh Cooley
confirmed this on
Twitter
, and while I'm sure this is exciting for some people, I remain genuinely baffled as to why Disney and Pixar are doing this. I mean – I know
why
they're doing this: money. But the previous 
Toy Story
film concluded things so perfectly that another sequel really seems pointless. Oh well.