'Isle Of Dogs' Toys First Look: These Collectible Action Figures Are Very Good Dogs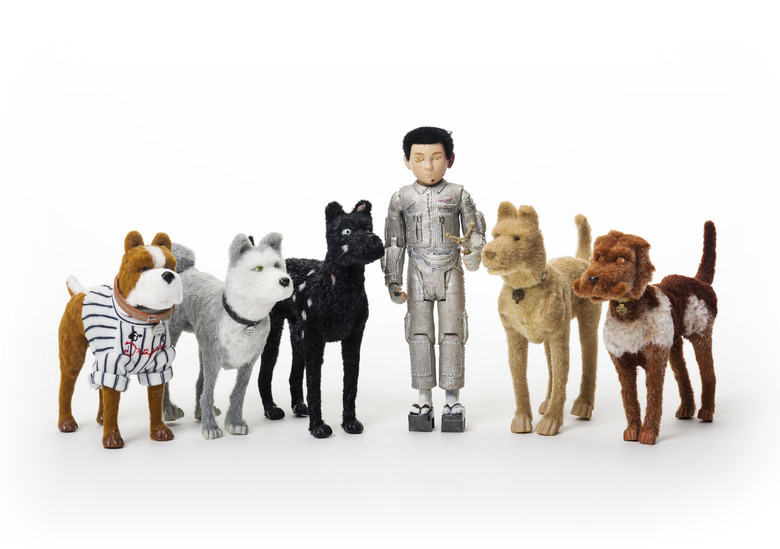 Love or hate Isle of Dogs, you can't deny that it is filled with Good Dogs. And yes, I mean capital Good.
Which is why it's genius that a line of collectible Isle of Dogs toys is being released in conjunction with the new stop-motion Wes Anderson movie. And you'll definitely want to...fetch yourself at least one of these cute little puppers — though maybe not as a chewable toy for your own dog.
This is only Anderson's second stop-motion animated film, but the symmetrical auteur has already established himself as the source of some of the coolest collectible movie tie-in toys. 2009's Fantastic Mr. Fox spawned several beautiful collectible toys which are now virtually impossible to find, unless you're willing to shell out cash on eBay. So it's probably a good idea to snap up these lovely Isle of Dogs pieces before they scamper off.
Fox Searchlight is releasing this set of collectible Isle of Dogs toys. The pack includes the — ahem — pack of dogs who help guide the young injured pilot Atari Kobayashi (Koyu Rankin) as he searches for his lost dog Spots (Liev Schreiber) on Trash Island.
The dogs Chief (Bryan Cranston), Rex (Edward Norton), King (Bob Balaban), Boss (Bill Murray), and Duke (Jeff Goldblum) are rendered in immaculate detail, right down to the bristles of their hair and the embroidery on their tiny baseball jerseys. There's also a pretty great action figure of Atari sporting his signature black eye and slingshot.
We can all agree that as culturally insensitive as Isle of Dogs is, the dogs were at least super cute, right? Fox Searchlight hasn't yet announced when these toys are going on sale, but I'm sure they'll offer a fetching price.
Update: Here's some info on how to get your hands on these very good dogs:
Only 100 sets (5 dogs & Atari in each set) were made, each box is hand numbered.
They will NOT be sold in any stores.
These figures were designed and hand finished in London by the same puppet makers who created the puppets for the film.
These aren't available for purchase; you have to win them through partnership giveawayshappening worldwide.
All proceeds in the U.S. are going to Best Friends Animal Society.
Isle of Dogs is currently playing in select theaters across the U.S.
When, by executive decree, all the canine pets of Megasaki City are exiled to a vast garbage-dump called Trash Island, 12-year-old Atari sets off alone in a miniature Junior-Turbo Prop and flies across the river in search of his bodyguard-dog, Spots. There, with the assistance of a pack of newly-fou

nd mongrel friends, he begins an epic journey that will decide the fate and future of the entire Prefecture.