Damian Lewis Is Suiting Up To Play Former Toronto Mayor Rob Ford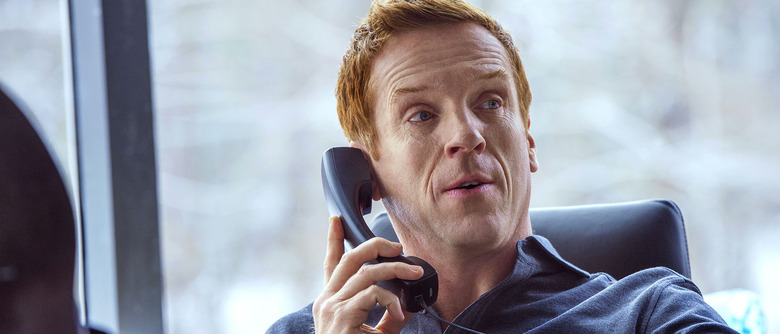 Before his death in 2016, Rob Ford made headlines across the globe as the crack-smoking mayor of Toronto. Now his real life exploits are being dramatized in a Hollywood movie, and Homeland and Billions star Damian Lewis will suit up to play Ford in a drama called Run This Town. That's odd casting, isn't it? Read more about the Rob Ford movie below, including the other actors who will appear and what roles they'll play.
Kit Magazine published an interview with Lewis that revealed the actor will be donning a prosthetic to look like Ford for the movie. The Hollywood Reporter says, "the film is understood to follow a reporter (Ben Platt) who attempts to expose a scandal involving a politician who doesn't play by the rules. The politician's aides, played by Nina Dobrev and Mena Massoud, try their best to handle him and keep the story suppressed."Scott Speedman (Underworld) and Jennifer Ehle (Zero Dark Thirty) are reportedly also on board, though we aren't sure who they'll be playing yet. According to IMDb, Run This Town will be the feature directorial debut of actor/producer Ricky Tollman (The Strain, Big Sky).
Ford was the mayor of Toronto from 2010-2014, and a highly controversial figure due to the multiple domestic violence allegations against him and his long history with drug addiction. Not only that, but THR says he had a "history of public intoxication" and "was accused of sexual assault". In 2013, footage surfacing of Ford smoking crack cocaine while in office. He took a brief break from his mayoral duties, sought treatment for substance abuse, returned to the job, and was somehow polling in second place for reelection before ultimately withdrawing from the race due to the discovery that he had a cancerous tumor. He died in 2016 at age 46.
An unconventional politician with a shoot-from-the-hip approach and a past littered with criminal behavior? I can't possibly fathom why that would be a relevant story in 2018. Especially in America. I mean, we're doing great over here. No problems at all. Nope, nothing remotely similar to this happening in our country's highest office!
On Twitter, reporter Robyn Doolittle pointed out an unfortunate fact about Run This Town:
Doolittle herself is the female reporter in question, having investigated Ford during her time at the Toronto Star. She even wrote a biography about him in 2014 called Crazy Town: The Rob Ford Story. THR does leave themselves some wiggle room by saying that the film is "understood" to feature a reporter played by Ben Platt who blows the case wide open, so I suppose there's technically a chance that there was some miscommunication somewhere along the line and the film could actually be featuring a female journalist in that role. But if the filmmakers did change it to a male reporter for no reason, that is not a good look and this movie will be fighting an uphill battle before we even see a trailer.