'A Quiet Place' Writers Already Have Several Ideas For A Sequel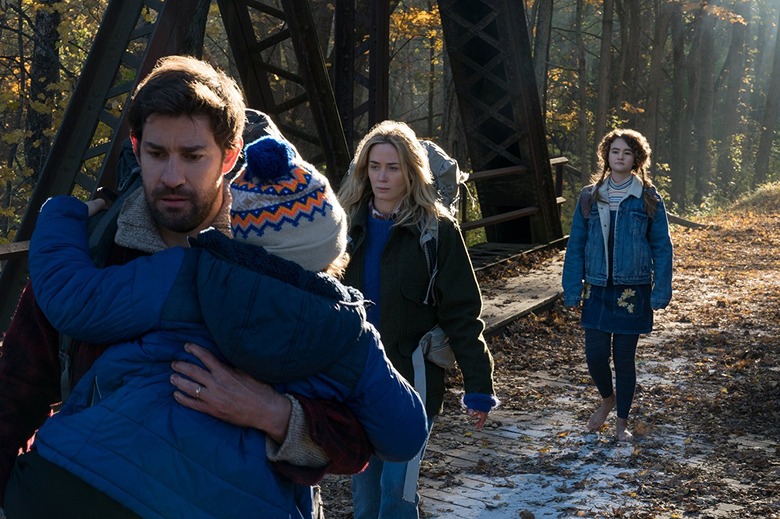 A Quiet Place not-so-quietly crept up to the top of the box office this weekend, scoring the second-best opening ever for an original horror movie and earning actor-turned-director John Krasinski accolades. So naturally, people are already buzzing over whether this horror hit could turn into a successful franchise.
And the writers of A Quiet Place are already on board — theoretically. Though it has yet to be greenlit, screenwriters Bryan Woods and Scott Beck already have a handful of A Quiet Place sequel ideas.
Whenever there's a horror movie that's a smash hit, you can count on seeing at least two sequels, a video game, and maybe a theme park ride. A Quiet Place hasn't gone so far yet, but we can at least anticipate a sequel — but not a Cloverfield tie-in.
In a press conference for the movie, A Quiet Place screenwriters Bryan Woods and Scott Beck played with the idea of a sequel to the critically acclaimed horror movie.
"It's such a fun world," Woods tells Fandango in an interview. "There are so many things you could do."
The open-ended conclusion of A Quiet Place offers plenty of options to follow the characters we met in the first movie, but Woods wouldn't be against telling the story of an entirely different family battling the same creatures in the post-apocalyptic wasteland. That's a very similar approach to The Purge series, which went from being a low-budget home invasion film to a surprising piece of social commentary.
Beck added that he and Woods have plenty of stories and set pieces on the backburner that could be tweaked for a sequel:
"There are so many discarded set pieces, too, just hiding out on Word documents on our computer. So, yeah, there are certainly so many stories you could tell. It's just really, at the end of the day, who are the characters in this and what does this situation mean to that dynamic?"
It's only a matter of time before Paramount greenlights A Quiet Place sequel. The horror movie's production company is already undergoing a pivot thanks to the film's success — ironically toward more original movies — and I would be shocked if Paramount didn't tap into A Quiet Place's moment.
Would you want to see A Quiet Place sequel?