Dave Bautista Is Teaming Up With Kumail Nanjiani And 'The Raid' Star Iko Uwais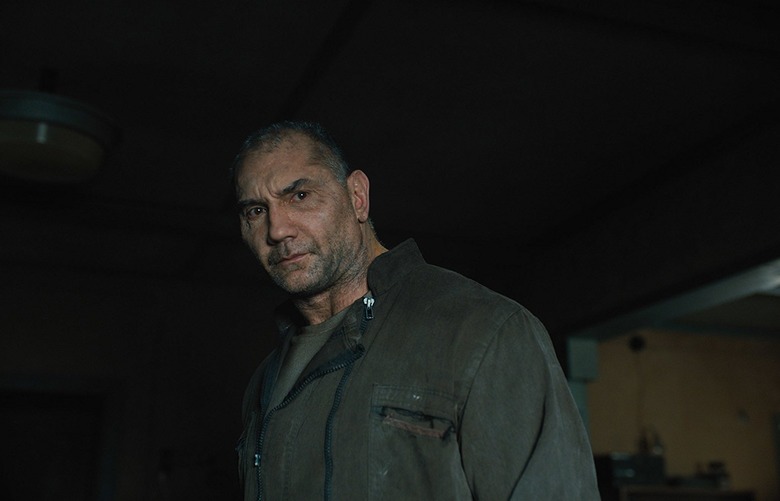 Dave Bautista has proven to be a stellar supporting actor in all manner of blockbusters — whether it be as a grim former soldier in Blade Runner 2049 or his lovable meathead Drax in Guardians of the Galaxy. But now, Bautista is ready to step into leading man territory.
Bautista will star in not one, but two action-comedies. The first is an mismatched buddy-detective comedy from 20th Century Fox co-starring Kumail Nanjiani, while the second is a Jon and Erich Hoeber-penned STX comedy.
Unlike his fellow WWE wrestlers-turned-actors like John Cena and Dwayne Johnson, Bautista tested the acting waters a bit with supporting performances before diving into the leading man roles. But now he's ready to sink or swim.
20th Century Fox's Stuber
In a double-whammy of Dave Bautista news, Deadline revealed that the actor will team up with Kumail Nanjiani (The Big Sick) and Iko Uwais (The Raid 2) for an action-comedy titled Stuber. Here is the description of Stuber, via Deadline:
"Fox acquired the Tripper Clancy-penned spec in April 2016 about a determined detective (Bautista) who commandeers an unsuspecting Uber and its driver named Stu (Nanjiani) over one night of hijinks and mayhem. Details of Uwais' character are under wraps."
Stuber sounds like a hilarious buddy-comedy that will be sure to stretch Bautista's comedic chops that he showed off so well in Guardians of the Galaxy Vol. 1 and 2.
STX Entertainment's Untitled Action-Comedy
The news of the next Bautista movie comes from ComingSoon.Net. Bautista will star as "a hardened CIA operative who finds himself at the mercy of a precocious 9-year-old girl, having been sent undercover to surveil her family," ComingSoon writes.
Jon and Erich Hoeber, the screenwriting duo behind the 2010 action-comedy Red, will pen the movie. The movie is currently untitled, but it is only one of several projects STX is developing with Bautista. Another project includes a recently-announced short-form action-comedy VR series from the company's immersive content division, STXsurreal.
It seems like Bautista has found his niche, and it's in the intersection of action and comedy. And it's no surprise, given his breakout role as Drax. Bautista has shown to have a knack for comedic timing and slapstick alike, and I'm glad his next movies will take advantage of that. If it weren't for Drax, it's likely that Bautista would have made a career playing grizzled henchmen or B-movie villains. Now, he could very well be Hollywood's next action-comedy star.