New Blu-Ray Releases: 'Phantom Thread', 'The Greatest Showman', 'All The Money In The World' And More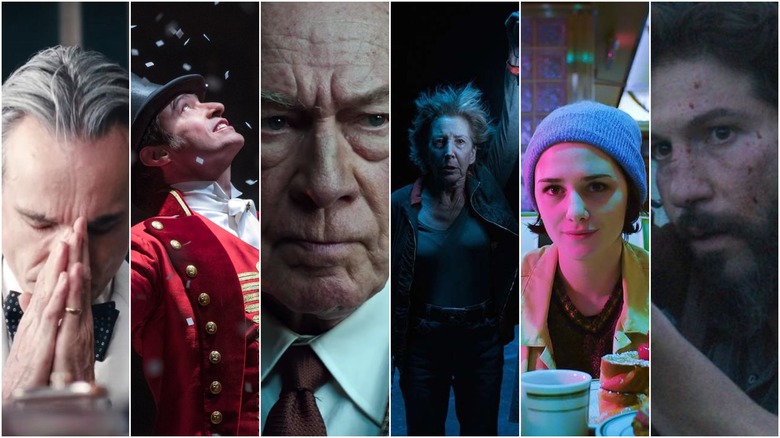 (Welcome to Not Dead Yet, a feature dedicated to new Blu-ray releases and what special features you should be excited about. Because yes, some of us still like to own physical copies of our movies.)
What physical media awaits you this week? Why, it's one of the best films of last year – Phantom Thread! Also: a musical featuring Hugh Jackman and CGI elephants; a Ridley Scott thriller more known for its reshoots than its story; the supposedly last entry in a horror franchise; and two very different indie films.
Here are the new Blu-ray releases and their special features you should check out this week.
Phantom Thread
Paul Thomas Anderson's Phantom Thread clearly rubbed some people the wrong way – see the recent think-piece in the New Yorker that completely misses what the film is actually about, for instance. (Better yet, don't see it; just ignore it). But if you're in tune to Anderson's wavelength here, you're in for a treat. Trailers sold Phantom Thread as a stuffy costume drama, but what Anderson has actually created is a hilarious-but-dry comedy about two people who were seemingly made for each other.Daniel Day-Lewis, in his supposedly final performance, is Reynolds Woodcock – a fussy, obsessive compulsive fashion designer. Vicky Krieps is Alma, the waitress Reynolds plucks from obscurity and turns into his muse. At first, it seems like Phantom Thread is going to bet yet another meditation on the tortured, abusive male artist who gets away with his awfulness due to his brilliance. But slowly and surely, Anderson pulls the rug out from the viewer and reveals that Phantom Thread has a lot more on its mind, and there's a lot more to Alma that meets the eye.
As fantastic as Day-Lewis is here (when is he not fantastic?), the film really belongs to Vicky Krieps, who delivers a complex, funny, alluring performance as the mysterious Alma. Also great: Lesley Manville, as Day-Lewis' reserved-yet-fierce sister Cyril. Phantom Thread is ultimately one of the best films of Anderson's already fantastic career, and something worth savoring. Speaking of which: don't watch this film on an empty stomach.
Special Features To NoteI would've loved more features for a film like this, but the extras here are still a treat. There's a delightful series of camera tests, narrated by Anderson, showing off all the prep work Anderson and his crew put in to create the unique look of the film. These camera tests are somehow better than full modern movies, at least in term of artistry. In addition to this, there's a collection of deleted scenes. Like previous Anderson Blu-rays (The Master, for instance), the deleted scenes aren't presented individually. Instead, Anderson has edited them all together into a montage. The montage unfolds mostly without dialogue, while Jonny Greenwood's gorgeous score plays. There's also a cheeky "fashion show" segment which takes the fashion show seen in the film and adds a humorous, pompous narration. Special Features Include
Camera Tests – With audio commentary by Paul Thomas Anderson
For the Hungry Boy – A collection of deleted scenes. Music by Jonny Greenwood
House of Woodcock Fashion Show – Fashion Show narrated by Adam Buxton
Behind the Scenes Photographs – Photographs from the film by Michael Bauman with demo versions of Jonny Greenwood's score
The Greatest Showman
"There's a sucker born every minute," is a quote often attributed to P.T. Barnum. Well, this time, the sucker is me, because gosh darn it, I really enjoyed The Greatest Showman. As I sat there watching Michael Gracey 100% historically inaccurate musical biopic of Barnum, I kept waiting for my built-in cynicism to kick in.
And it never did.
Instead, I highly enjoyed this cornball experience that blends story beats as old as time itself with a super modern sensibility. The songs are catchy as hell, and Gracey is smart enough to stage them with big, show-stopping performances. In other words, this isn't Tim Burton's Sweeney Todd, where everyone just stood perfectly still while singing. At the center of it all is a simplistic but worthwhile message of acceptance. The real P.T. Barnum may not have actually been a champion of acceptance and tolerance, but that doesn't really matter here. Hugh Jackman plays Barnum with all the energy we've come to expect from the actor, and the supporting cast – from Zac Efron as Barnum's young partner, to Zendaya as a high-wire artist, to Michelle Williams as Barnum's loving wife who sort of vanishes from the back end of the film – all bring their A-game. Bonus: Paul Sparks shows up as a miserable theater critic who just doesn't "get it." He's great.
The Greatest Showman doesn't bring anything new to the musical genre, but it has heart, and sometimes that's enough. At one point, Williams' character tells Jackman, "You don't need everyone to love you. Just a few good people." I can get behind a message like that.
Special Features To Note
The Greatest Showman Blu-ray includes a director's commentary a sing-a-long version of the film (I may or may not be taking advantage of this in the future), and a making-of documentary. There are also individual featurettes that examine every song in the film. These featurettes are the best of the bunch – they track the songs from their conceptions, to their rehearsals, to the choreography used to bring them to life. It's a fascinating approach to a musical, and I wish more musical releases would follow this example. Surprisingly enough, director Michael Gracey says the second-to-last number in the film, "From Now On", is his favorite song. It's a good song, sure, but come on – you can't beat "This Is Me." 
Special Features Include
The Family Behind The Greatest Showman
The Songs
The Spectacle
Music Machine with Sing-Along
Director's Audio Commentary
All The Money In The World
You get two Michelle Williams movies this week! Lucky you! Ridley Scott's All the Money in the World is probably more well-known for its surprising, unprecedented decision to reshoot all of Kevin Spacey's scenes with Christopher Plummer mere weeks before the film was to be released. Once you get past that, though, you'll find a sturdy, if slightly uninspired, thriller.
Perhaps most surprising is how much Plummer is in the film. When the word broke that Scott was going to reshoot Spacey's scenes with Plummer in just one week, I assumed that this meant the part was relatively small and that this would be a piece of cake. But Plummer's part of J.P. Getty is relatively large – he's in a good portion of the film, and he's great. Plummer had very little time to prepare for the part, but he still nails it. The story focuses on the real-life kidnapping of Getty's grandson, John Paul Getty III (Charlie Plummer). The eldest Getty declines to pay his grandson's ransom, setting off a chain of events that might cost the young Getty his life. In the middle of it all is John Paul Getty III's mother, played by Williams. Also involved is the elder Getty's head of security, played by Mark Wahlberg. Wahlberg seems utterly bored through the whole film, but Williams is clearly having a blast, letting her somewhat goofy accent do most of the heavy lifting.
All the Money n the World won't set the world on fire, but it's an inherently watchable adult thriller, and it's another testament to how talented a filmmaker Ridley Scott is.
Special Features To Note
The All the Money in the World Blu-ray has your standard by-the-numbers making-of featurette, and some needless deleted scenes. Nothing special there. What is special, though, is the featurette titled "Recast, Reshot, Reclaimed". Here, Scott and the cast and crew talk about the whirlwind decision to reshoot Kevin Spacey's scenes following the sexual assault allegations that were levied agains the actor before release. I had assumed that the Blu-ray would virtually ignore this decision – I was wrong. Instead, Scott and company openly talk about the reshoots (they never actually say Spacey's name, though). Everyone involved says they were intrigued by Scott's decision, and Plummer says he was more than happy to take on the challenge. Scott, for his part, seems utterly cocky and sure of himself – it doesn't seem to occur to him how crazy this all is. But perhaps his calm is warranted. As the crew explains, the scenes that needed to be filmed were technically already shot in and in the can. As a result, Scott and company had a detailed reference point – they could look back at the original Spacey footage and instantly know how the scene being re-shoot needed to be dressed and lit. They were literally just copying the work they already did. Still, this is a fascinating featurette and worth the purchase alone. 
Special Features Include
8 Deleted Scenes
"Ridley Scott: Crafting a Historical Thriller" – Director Ridley Scott and the cast and crew discuss
the fast-paced and exciting way he filmed this epic movie.
"Hostages to Fortune: The Cast" – A look into the award-winning actors and their connections to
their real-world characters.
"Recast, Reshot, Reclaimed" – This piece follows the unprecedented recasting of the character J. Paul Getty a little over a month before the film's theatrical release.
Insidious: The Last Key
What a strange franchise Insidious became. It began as a clever, creepy Poltergeist knock-off with James Wan's effective, entertaining first film. Then it...kind of went off the rails. Now, here we are, with the supposedly final film in the series. At least, I certainly hope so, because Insidious has run out of ideas. It's clear that Insidious was never really planned as a series, because the first film killed off the character Elise (Lin Shaye), only to then decide they wanted her to become the franchise's main character. As a result, every Insidious sequel (except Insidious Chapter 2) has been a prequel.
Insidious: The Last Key delves further into Elise's background, and reveals her abusive childhood. It also has her dealing with a scary demon known as Keyface (!). Insidious: The Last Key is a bit of a mess. So much so that the film throws in a subplot about a would-be-serial-killer, then quickly wraps it up the minute we find out about it midway through the film. Still, if you've stuck with this franchise this long and have continued to enjoy it, you'll likely find something to like here. There are one or two effective scares here, and Shaye continues to make a compelling, unlikely lead. But please, let this series shuffle back off to The Further now. Enough is enough.
Special Features To NoteAmong the special features on the Insidious: The Last Key Blu-ray is an alternate ending set in the "Further Prison." It's not much better than the film's actual ending. Beyond that, you'll find 8 deleted scenes and three featurettes. One is devoted solely to Lynn Shaye and her performance, and it's the best featurette of the bunch. Shaye really does seem like one of the nicest people on earth, and it's refreshing that the Insidious franchise made an older woman their lead character, as opposed to most other horror franchises which tend to gravitate towards much younger leads. 
The worst feature on this disc is something called "Franchise Recap: 'Dive Into the Insidious Universe'". Holy hell, is this bad. This video is intended to catch viewers up on the entire Insidious franchise, but it's presented in this smug, condescending way that I suppose is meant to be funny, but is really just annoying. A high octane narrator starts off the video by screaming, "Remember the Insidious movies?! The post-millennial intelligent cocktail that gave a whole new meaning to waiting in limbo?!" It doesn't get any better from there. Skip it. 
Special Features Include
Alternate Ending
8 Deleted Scenes
Franchise Recap: "Dive Into the Insidious Universe"
Three Featurettes:
"Becoming Elise"
"Going Into the Further"
"Unlocking Keyface"
Like Me
What to make of this film? On one hand, Robert Mockler's Like Me is a stylish, hypnotic, commendably weird film. It's bustling with energy, and loaded with jaw-dropping, neon-drenched cinematography. On the other hand, Like Me made me want to bang my head against a wall and rip my hair out. This is not an easy film to watch, and there's a part of me that wants to write the entire damn thing off as an exercise in style over substance.
Still, there are hints of greatness here. The cinematography by James Siewert is truly remarkable – there are shots in Like Me that will take your breath away. The story focuses on a mentally unbalanced young woman (Addison Timlin) on a crime spree. Timlin's character films one of her crimes and uploads it to YouTube, and, surprise surprise, it becomes a huge hit and turns her into an internet sensation. Soon, Timlin's character sets out on a road trip, dragging along a character played by indie horror filmmaker and producer Larry Fessenden. Fessenden's performance is wonderful, and might be worth the price of admission alone. Still, Like Me is often incredibly frustrating, and there are long stretches filled with loud, nerve-shattering moments that might try your patience. I'd recommend seeing it just to experience how strange it all is, but don't say I didn't warn you.
Special Features To Note
There's not much here. Just a rough making-of documentary that tracks the progress of the low-budget production. You won't find anything revelatory here – some of it is even shot on an iPhone in portrait mode. But if you're interested in a up close and personal look at making a low budget film, this behind-the-scenes footage might be worth your time. Like the film itself, the moments that contain Fessenden end up being the most memorable. He's a national treasure, folks.
Special Features Include
Making-of documentary
Photo gallery
Trailers
Sweet Virginia
I wanted to devote a little space to this movie, because it'll get lost in the shuffle. There are no special features on the disc (boo to that), the film itself had almost no marketing presence, and I doubt it will make much of a blip on anyone's radar. But Shout! Factory has released Sweet Virginia to Blu-ray, and it's worth checking out. This is a slow-burn drama-thriller, cut from the same cloth as Blue Ruin (though not as good). Jamie M. Dagg directs this indie set in a small town in Alaska. Jon Bernthal is a former bull rider who now runs a motel. Christopher Abbott is a drifter who takes up residence at the motel, and develops something of a friendship with Bernthal's character. But Abbott's character has a dark, violent secret, and as the film opens, his character engages in an act of violence that sets all the film's events in motion.
Sweet Virginia isn't a flashy film. While Bernthal has built up a reputation through his solid work over the years, and might be somewhat well-known due to The Punisher, he's not quite a big name, so the film doesn't exactly have star power. Yet it's a well-acted, gorgeously filmed drama, and Bernthal brings a quiet rage to his performance that's often astonishing.