Zoe Saldana Slams Hollywood "Elitists" Who Look Down On Marvel Movies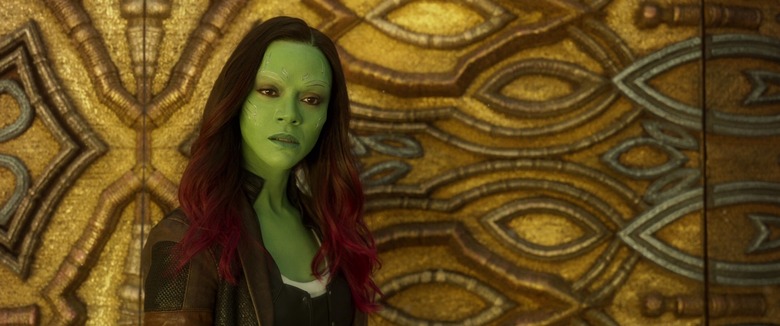 You hear a lot of griping on the internet about how superhero movies and sequels are destroying the movie industry. But Zoe Saldana has a few choice words for people who hate on Marvel movies.
The Guardians of the Galaxy Vol. 2 actress has starred in her share of prestige flicks, indies, and blockbusters. And she's not alone. Half of the actors who appear in Marvel Studios movies boast at least one Oscar nomination. Some of the best actors of our generation have vamped it out as a Marvel villain. But Hollywood still thinks of them as "sell-outs," Saldana says. And she's sick of it.
In an interview with Net-A-Porter (via The Hollywood Reporter), Saldana reveals that even actors appearing in the highest-grossing movies in America get looked down on in Hollywood.
"I've been in rooms with people in this industry who are great at what they do, but they're absolutely elitist and they look down at movies like the Marvel films or actors like myself. They think we're selling out in some way. Every time they speak I feel so disappointed in them, because whenever you see pictures of people in this industry who donate their time to children in need, it's these actors that live in the world that you feel is selling out."
But these actors are doing an important service by playing a superhero, Saldana argues. Whether it's because of representation, or visiting sick kids in hospitals, superheroes are a shining source of inspiration for kids all over the world. "That actor takes time out of their life and sits down with that five-year-old and says, 'I see you, I hear you, and you matter," Saldana says. "Those elitists should be a little more cognizant about what playing a superhero means to a young child. Because you're not just dissing me, you're dissing what that child considers important in their world."
Just look at the importance of Black Panther, which provided black kids with a superhero who looked just like them. Or look at the crowdfunding campaigns to get underprivileged kids to see Black Panther or Avengers: Infinity War. Superheroes have the word "hero" in them for a reason. And Saldana is proud to play one of those heroes, Gamora in Guardians of the Galaxy:
"I feel so proud to be living in space, to be playing green and blue aliens, to inspire, primarily, the younger generations. I remember what it was like to be young and to feel completely excluded out of the mainstream conversation of life because I was just little and unimportant and 'other.'"
It should be noted that Marvel superhero movies skew more critically acclaimed than not. Only three of the Marvel films have fallen below the 75% certified fresh rating, and films like Black Panther prove that these action-packed films can wrestle with powerful, socially-conscious themes. Marvel movies are more than just a paycheck — and even when they are, they can fund the actors and directors' prestige or indie passion projects.