Exclusive 'The Endless' Clip: A Strange Taste Of One Of 2018's Best Horror Movies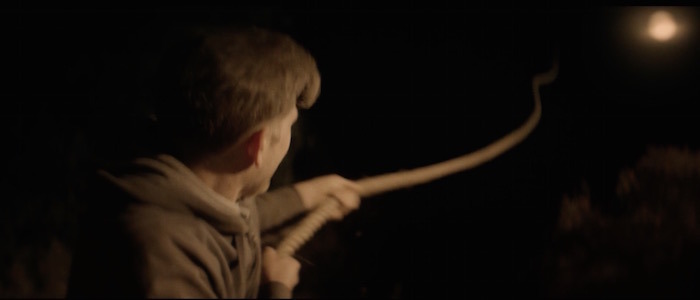 Justin Benson and Aaron Moorhead are two of the most interesting and inquisitive voices echoing throughout today's cinematic landscape, and their latest title The Endless showcases precisely why. Two creators likened to disciples of Richard Linklater and H.P. Lovecraft, blazing a dialogue-driven trail of twisty genre exploration. Theirs is a style that's cerebral and striking in ways others have fumbled clumsily, ponderous but still so engagingly addictive. Resolution rocks, Spring rolls and The Endless shows no slowing of momentum.
With that said, it's our honor to debut a new clip from The Endless that spoons an ominous taste of what to expect from their third release.
The Endless Clip
Jamie Righetti reviewed Benson and Moorhead's latest for /Film when it premiered last year at the Tribeca Film Festival, heaping on equal praise:
"I could simply begin and end this review with one simple phrase: what are you waiting for? But let me explain. The Endless isn't just terrific – it's poised to be that breakout genre hit that It Follows and The Babadook were in past years. This isn't just hype. The film is sharply written, smart and funny. It's tense and uncertain at moments, but it's not overtly scary, which actually works in its favor. There's no pressure to deliver big scares and there's no let down when it doesn't and it allows the film to just be really good."
Agreed.
I chose this specific clip to premiere because of how well a mere two minutes summarizes the tone and feel of 2018's newest cult oddity. Camp Arcadia is a place of comfort for some, but to Justin and Aaron, their memories of being one with the commune come rushing back doubled with thick layers of doubt. Men searching for answers and purpose, tricks of the mind playing dead-weighted constants. A tug-of-war with the night's sky is one of many talking points you'll raise after the credits roll, so if this clip sparks your curiosity, there's plenty more surprises in store.
In addition to serving at the film's co-directors, Benson and Moorhead also star as brothers Justin and Aaron in a continuation of their characters from the film Resolution. Benson gets the writing credit and Moorhead served as the film's cinematographer, and I'm sure they also supplied craft services too. Also featured on the cast are Callie Hernandez, Lew Temple, Tate Ellington, Kira Powell, and Shane Brady.
The Endless is already out in New York City and opens in Los Angeles on April 13, 2018. It will be expanding wider in the coming weeks.