'Solo: A Star Wars Story' Trailer Breakdown: I've Got A Good Feeling About This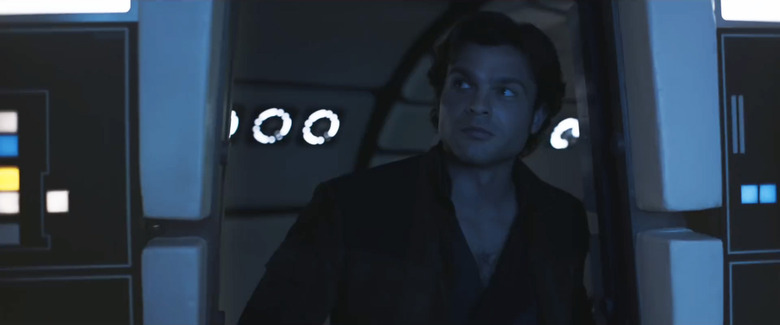 Last night brought the debut of the latest trailer for Solo: A Star Wars Story, which featured almost entirely new footage from the forthcoming origin story of everyone's favorite scoundrel. So far, the footage from the latest one-off story that takes place in a galaxy far, far away hasn't been overwhelmingly impressive, but it hasn't been downright terrible either. The latest trailer is more of the same: it looks like a purely entertaining sci-fi western, but there's the concern that Alden Ehrenreich isn't being showcased all that much in a movie that's supposed to be about his character.
Let's dig in with our Solo: A Star Wars Story trailer breakdown.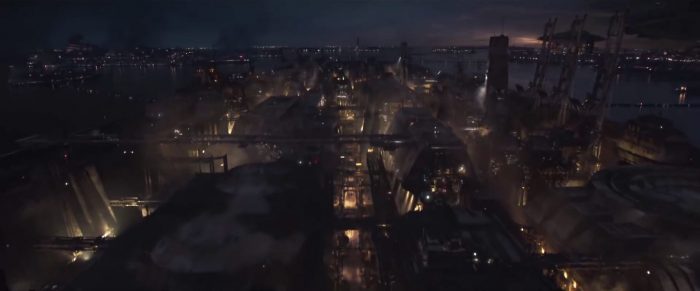 The trailer begins in an industrial facility, and we're betting that this is on Han Solo's home planet of Corellia. It's one of the better known planets from the Star Wars universe that we've yet to see on the big screen. What makes us think this is Corellia? Well, we know that there are Imperial shipyards on Corellia, and the next shot shows us...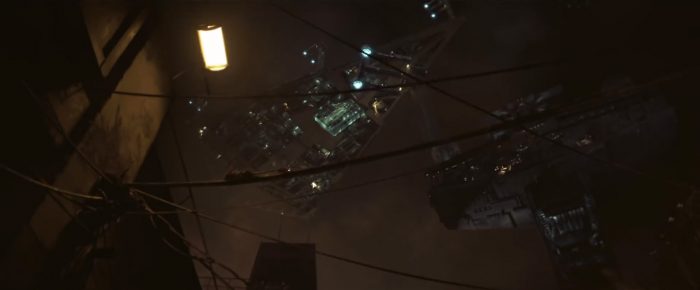 An Imperial Star Destroyer is being constructed in the sky. You can see the familiar triangle shape still has many exposed areas. Meanwhile, the bridge of the ship is seen on the far right, being raised into the sky during construction.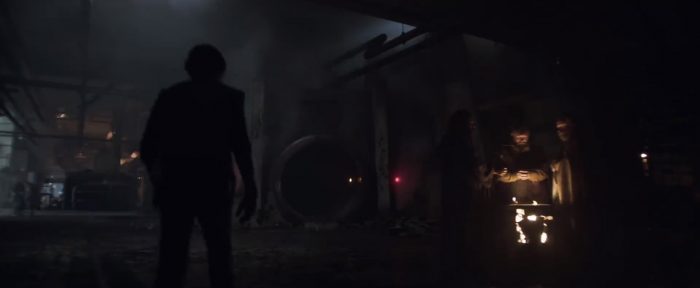 In what appears to be a section of the aforementioned industrial area, a familiar silhouette moves near a group of what appear to be homeless citizens. What's Han doing in this area? In voiceover after this shot and through the next few shots, we hear Emilia Clarke as Qi'ra say "You're after something. Is it revenge? Money? Or is it something else?" We're not entirely sure what the answer is, but maybe it's all three?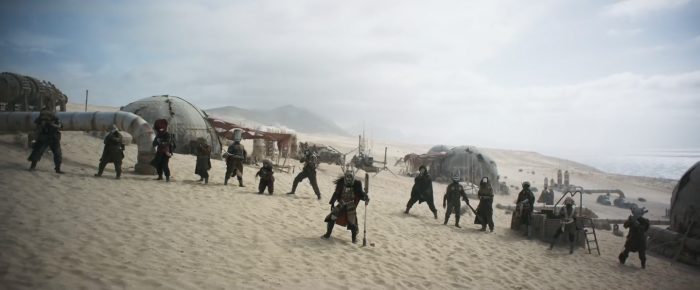 A new wide shot of this beachside village shows villain Enfys Nest standing with some other loyal warriors. This is presumably the Cloud-Rider gang we heard about not too long ago. They're said to terrorize the skies from their flying swoop bikes, but there must be more to them than meets the eye. Maybe they're a group that seems villainous from the outside, but Han comes to learn they're actually doing some good.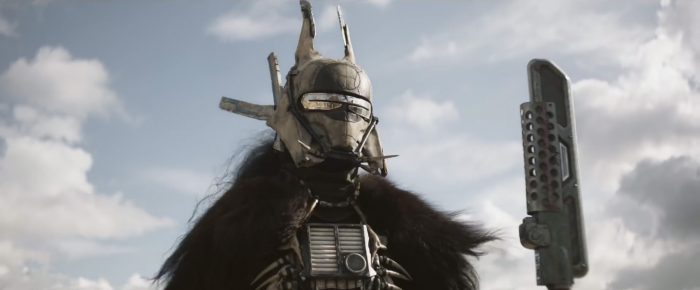 It wouldn't be a new Star Wars villain without some cool new helmet and armor. We're not sure who lies underneath that armor, but a recent piece of information indicates that it's a woman under that helmet. The question is who will that woman be? Will it be a character we're familiar with from Star Wars Legends, the secret identity of a character we're meeting in Solo: A Star Wars Story, or someone else entirely? We likely won't find out until we're in theaters.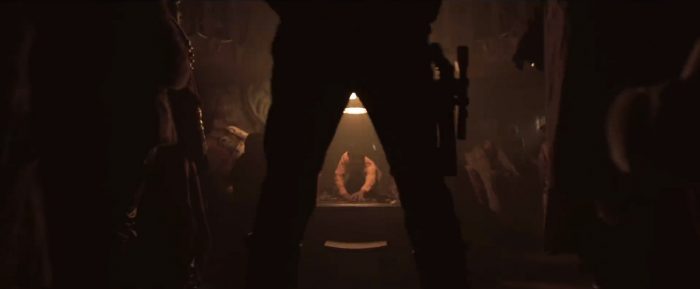 It's shots like this that continue to give me hope that Solo will turn out to be all right. This is such a great shot, and one that has origins in the western genre. Han Solo has just arrived in this seedy bar, and there's Lando Calrissian involved in some gambling in the middle of a pack of a bunch of new aliens. We'll get a better look at them later.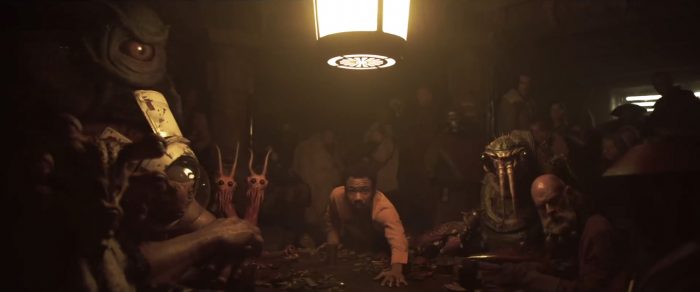 Or maybe right now. There's a lot of chips changing hands, and this appears to be where Han and Lando get acquainted. If there was a record scratch during this shot, it would have been all too appropriate. But records don't seem to exists in the Star Wars universe, so something else would need to scratched to get the same effects.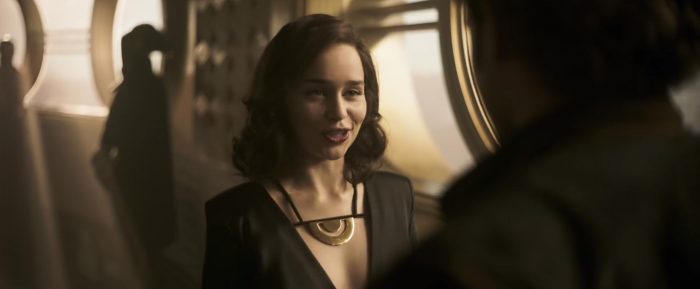 Here's a new shot of Emilia Clark as Qi'ra, looking a little cheeky and flirtatious as she tells Han that he looks good, but also a little rough around the edges. That's the Han Solo way.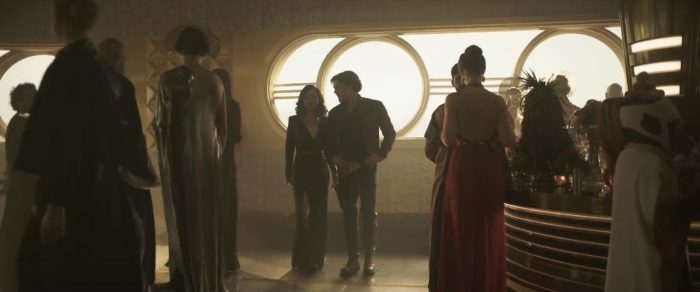 This seems to be the first time these two have seen each other in awhile. Perhaps it's even the first time they've seen each other since he made that daring speeder escape with her by his side, as seen in the previous trailer. Speaking of Qi'ra being by his side...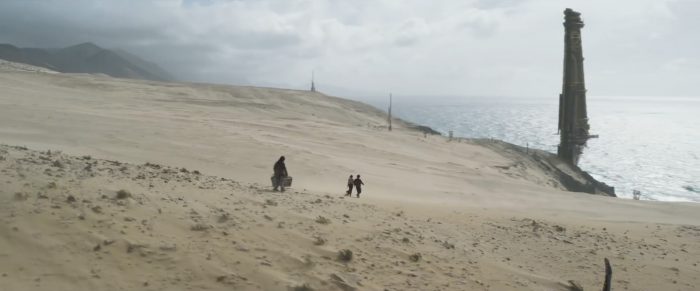 That just might be who is walking beside Han in this shot. The figure of the person on the left is certainly more petite and could easily be Emilia Clarke. Interestingly enough, this was a shot that we saw in the first trailer, but that version did not include what appears to be Chewbacca carrying a couple of cases of something. Have they just pulled off a little heist of some sort?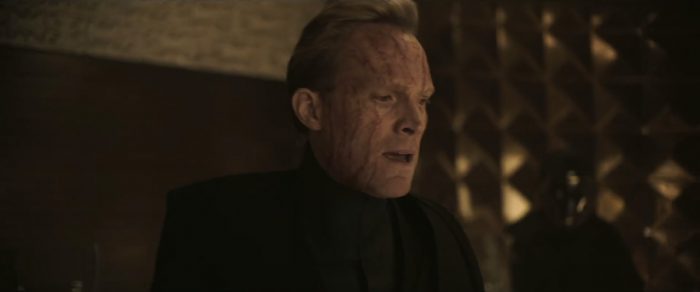 That beachside location appears to be the same spot where Tobias Beckett (Woody Harrelson) tells his protege about a new job they can pull off. It comes from a big time gangster, and that's Paul Bettany's character, Dryden Vos, described as being way deeper in the crime world than anyone else in the movie. One wonders if he'll have ties to another notorious gangster by the name of Jabba the Hutt...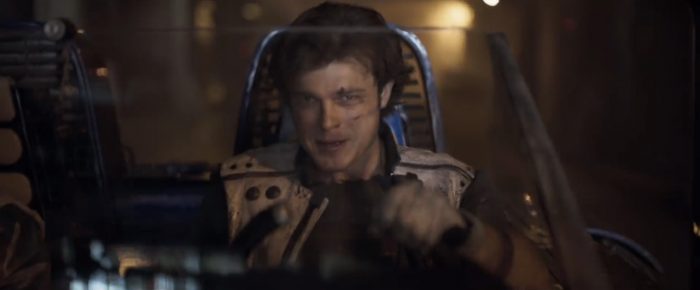 Han builds himself up a little bit in voiceover describing himself as a driver. We've seen how well he does behind the wheel of a landspeeder in chase sequences from the first trailer. In this shot though, it looks like he's had some kind of rough confrontation with someone, as he has some bruises and scratches on his face.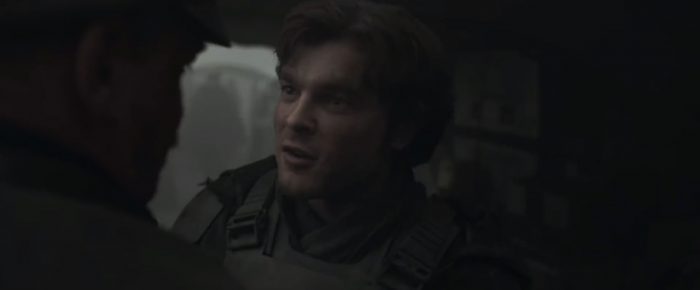 In this shot, Han Solo might be in Imperial gear of some sort, talking to an Imperial officer. There's a chance this could be a scene while Han is still at the academy, maybe just before he gets kicked out for "having a mind of his own," as he described it in the previous footage.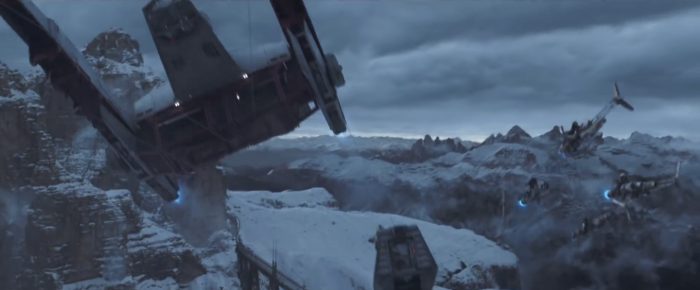 As Han describes himself as a good pilot, we see this quick shot of a ship glimpsed in the first trailer, but this time it's being flanked by a group of other ships, and there's a container between them. All the ships have a cable tied to the container, and it would appear that this might be what the heist on the train known as The Conveyex is all about. But what's inside it? Weapons? Money? A kilo of death sticks?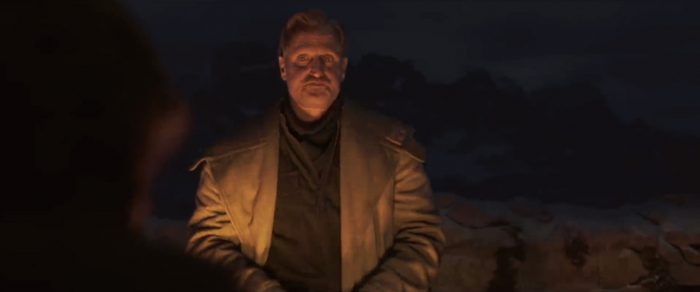 No matter what the smuggling job entails, Han says he's been waiting a long time for a shot like this. Beckett stands next to a campfire, seemingly in the same scene from our first glimpse of Thandie Newton as Val, a character we still don't know a lot about.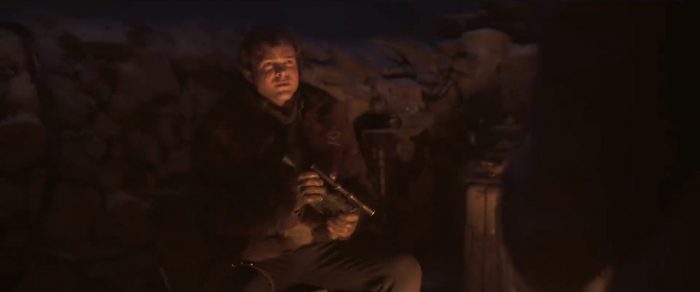 Beckett gives a quick kiss to something in his hands before tossing it to Han, and look at that – it's his trusty DL-44 blaster that Star Wars fans have come to love so much. It really does look like every signature trait of Han Solo will have some kind of explanation in this movie, for better or worse.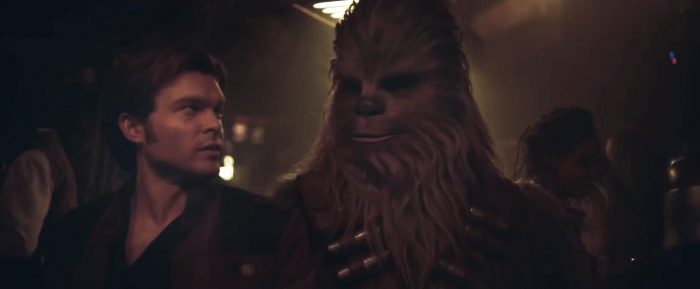 The partnership between Han and Chewie will undoubtedly be a bright spot here, as it is in all of the Star Wars movies. Here Han asks Chewbacca for his opinion, but quickly brushes it off, as Han is wont to do.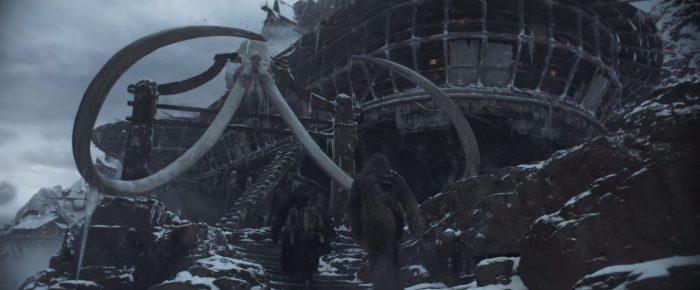 This might be one of the most intriguing shots of the trailer. Does that skull and those tusks remind you of anything? How about the Mandalorian logo that has been donned by Boba Fett and other criminals? Could this location have some kind of ties to the bounty hunter who is after Han Solo in the original trilogy? There's a chance the movie will provide us with some background as to how Boba Fett came to pursue Han Solo. Maybe it's even a set-up for a possible sequel.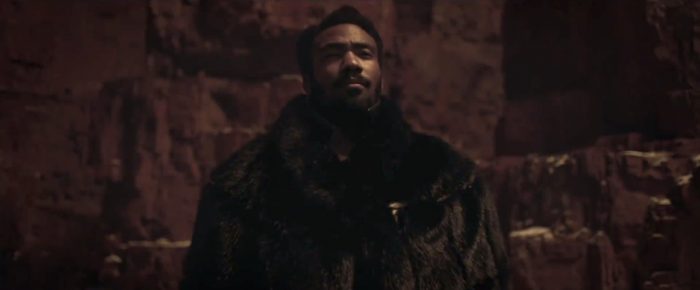 We know that Solo will have Han Solo meeting Lando Calrissian for the first time. What we didn't know is that it appears to be Qi'ra who introduces them to each other. Beckett asks in voiceover, "You got a line on a ship?" Then Qi'ra says she knows a guy and calls him the best smuggler around.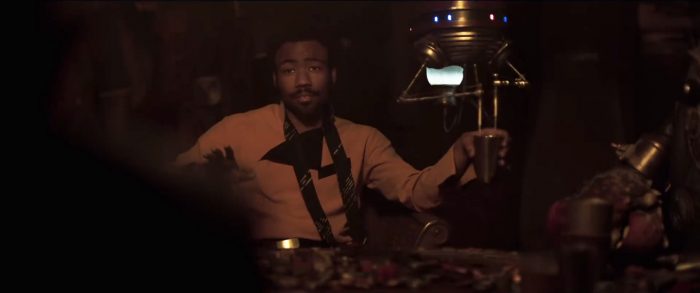 He's so good that even Han has heard stories about him, to which Lando happily confirms, "Everything you've heard about me is true." It takes some real swagger and confidence to say that.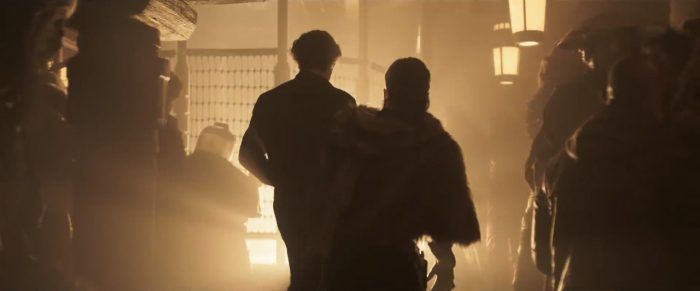 I'm a little curious about what's happening in this sequence. It appears to be in side the same bar that Han is meeting Lando in (check out the lamps for confirmation), but there's some kind of bright flashing light behind a cage. It appears as if there's some kind of droid fight happening, like Battlebots, and a recently revealed Funko POP figure set confirms that.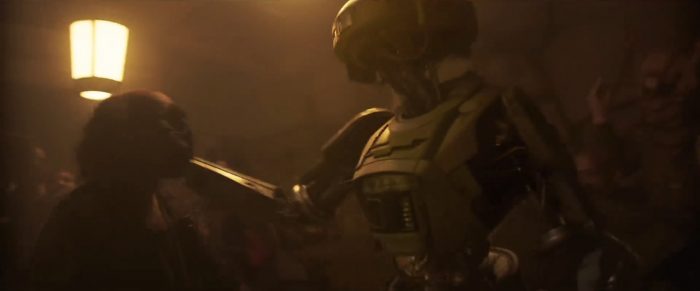 Here we get a more proper introduction to the droid L3-37, played by Phoebe Waller-Bridge. It looks like this droid has some attitude and has no problem asserting herself by grabbing some dude by the face. She also has some sass, not unlike K-2SO in Rogue One. She's Lando's sidekick, which makes us wonder what happens to her between now and The Empire Strikes Back.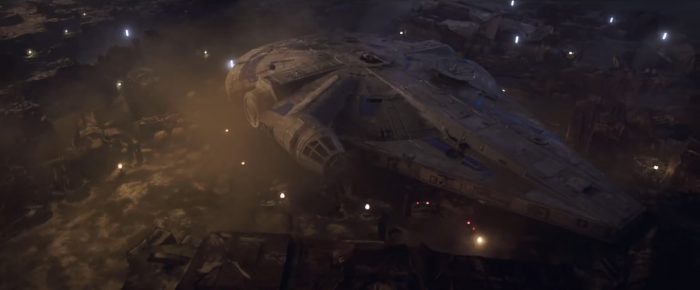 Look at this gorgeous shot of the Millennium Falcon. Not only does it look great, but it appears to be in a mining facility of some sort. That likely means this shot has something to do with the famous Kessel Run that Han Solo pulled off in 12 parsecs. As for what the Kessel Run is and what it entails, that remains to be seen.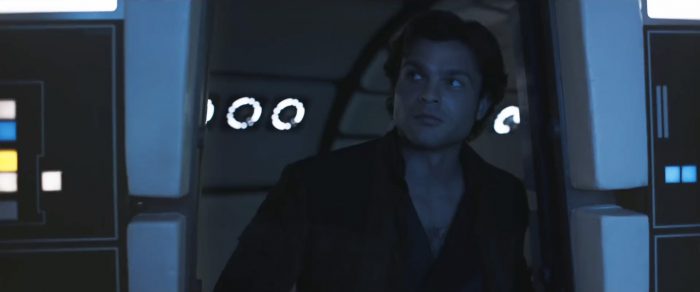 When it comes to the Millennium Falcon, it's love at first sight for Han Solo. He admires the ship as he enters the cockpit for the first time, and it's a perfect companion shot to the one in The Force Awakens when we see a much older Han Solo back in the same doorway after being away from his home for several years. This is just the beginning of Han's life that we all know and love, which is exactly what Beckett tells him when he says, "If you come with us, you're in this life for good."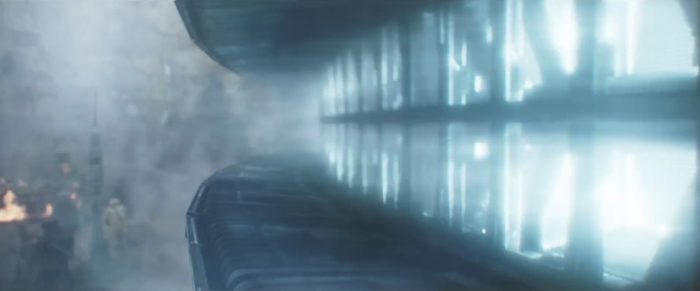 Another cool shot of the Falcon gives us a close-up of the bright engines as they prepare to blast off. It's hard to tell where this shot is taking place, though some background details indicate that it could be either in an industrial part of Corellia or maybe on the mines of Kessel.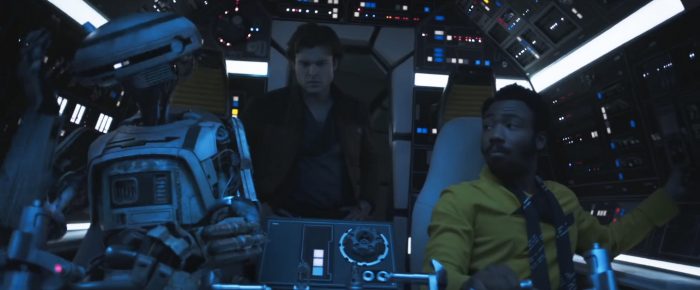 Han isn't the pilot of the Millennium Falcon just yet. Instead, it's Lando and L3 working as co-pilots in harmony. Lando coolly tells Han, "You better buckle up, baby," and I'm pretty sure Donald Glover's performance in this movie is going to get everyone pregnant.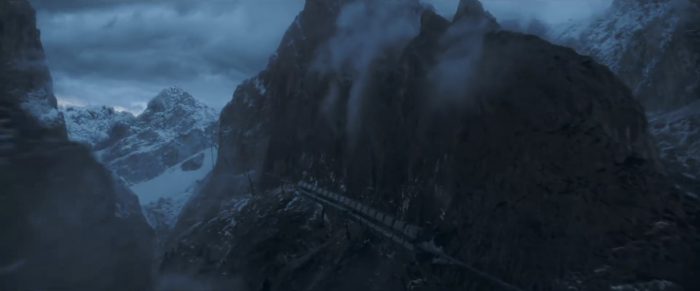 An establishing shot shows is The Conveyex weaving through mountains on a new planet called Vandor. This is another shot that I love, because while it's just a simple establishing shot of the train, it's also a pull from old school westerns that showed the train from a distance just before a robbery was about to take place.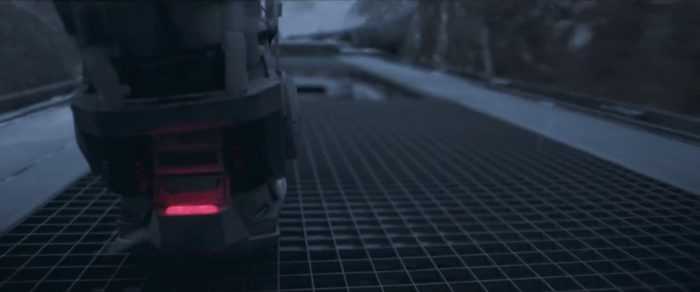 And that's exactly what's happening here. Except these boots don't belong to the crew robbing the train. They belong to the Imperial troops trying to stop it from being robbed. That would imply that maybe this train belongs to the Empire, but maybe they're just trying to protect a shipment they have on it. At this point though, the Empire is controlling a lot, so having their own train makes perfect sense.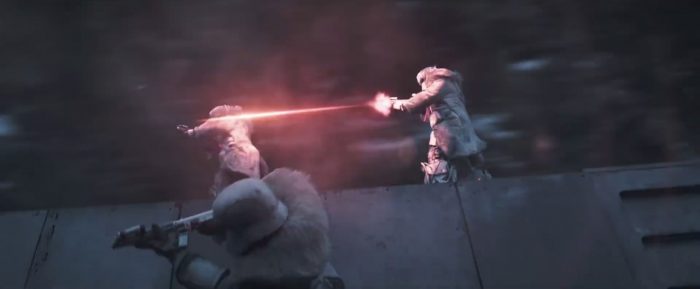 A new kind of Stormtrooper are the ones wearing the boots keeping them attached to the train. They're Ranger Troopers, and they're described on their toy packaging as "frontier Stormtroopers" who "form a backbone of stubborn defense against would-be thieves and pirates."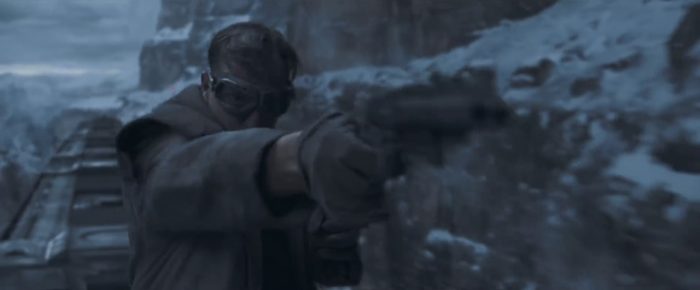 In this case, Tobias Beckett happens to be one of those pirates and thieves, and he has a Ranger Trooper square in his sights while the train speeds around the snowy mountains of Vandor.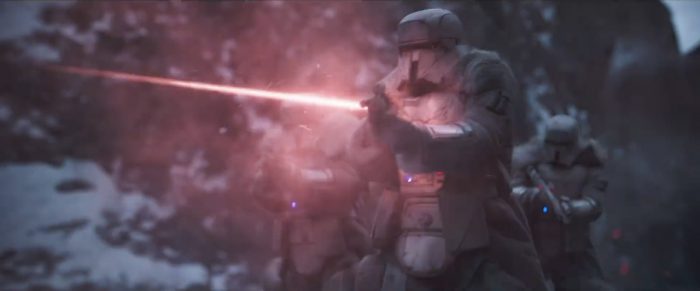 And since Stormtroopers only live to get blasted by our heroes, it comes as no surprise that one gets taken out fairly easily with a blast from Beckett.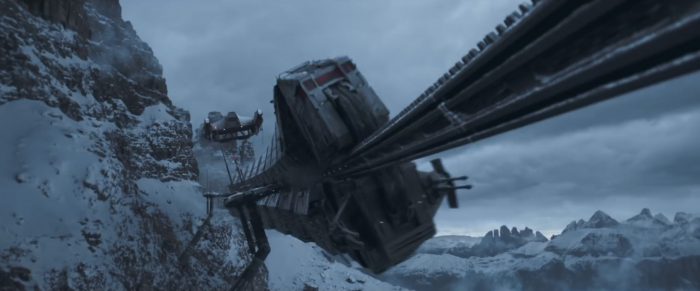 As the train makes its way around a mountainside, you'll notice that there's a ship cruising alongside it. That just so happens to be the same ship that was seen attached to some cargo container earlier in our breakdown. It's also a ship that Han is seen flying in the first trailer.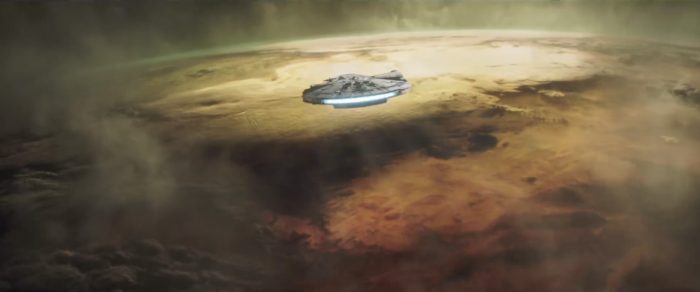 This is one of those beauty shots that I'm glad Star Wars takes its time to include. The Millennium Falcon is flying above a planet, though we're not sure which one. This could easily by above Corellia, a planet that we haven't seen from this angle yet, but we're not sure. Either way, it's just a beautiful shot.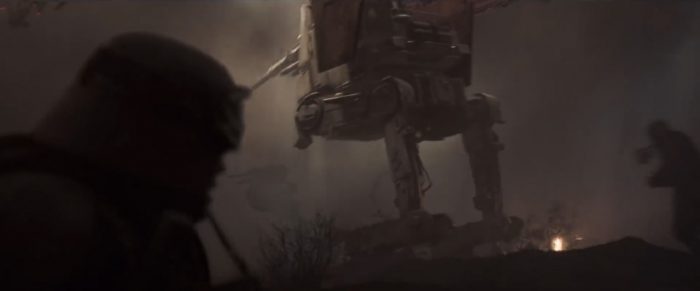 Though this looks like it could be the predecessor to the AT-ST walkers that we first see in The Empire Strikes Back during the Battle of Hoth, this walker looks a little smaller, almost along the lines of the AT-PT, but the design looks a little different from the ones we've seen before.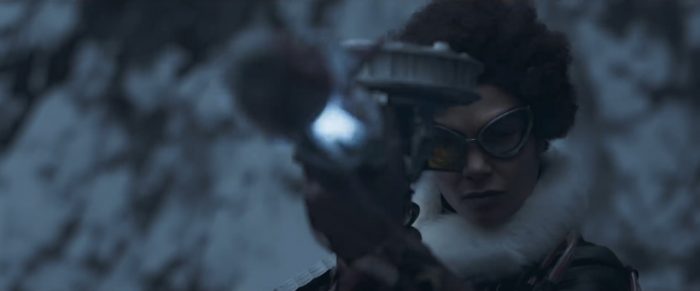 Hey, here's our second official shot of Thandie Newton as Val in this movie. They're keeping her character under tight wraps, but here she's seen shooting some kind of harpoon grappling hook weapon, presumably during the heist. This is likely how the ship ends up attempting to pull away with the cargo.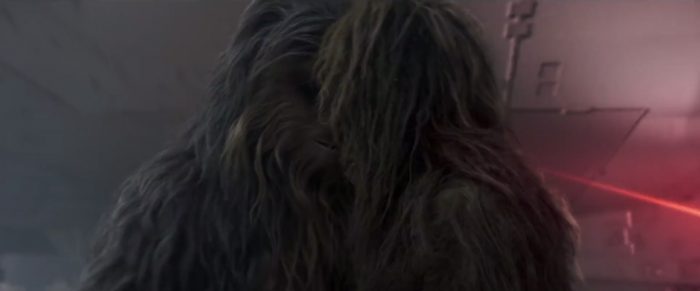 Whoa! Who is that wookiee Chewbacca is so lovingly embracing? Is there a chance Solo: A Star Wars Story could finally make Chewie's wife Mallatobuck (Malla for short) from the Star Wars Holiday Special a character in the official canon? That would be quite an interesting development. Either way, this is some great insight into Chewbacca as a character and it really helps flesh him out a bit.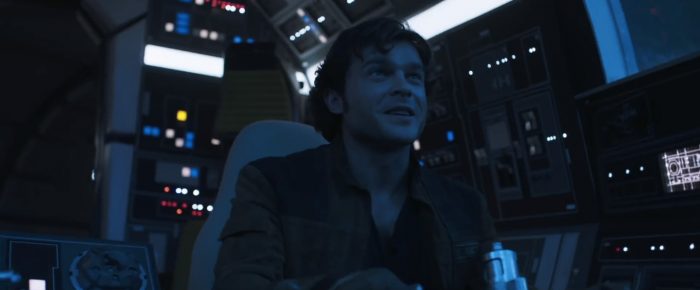 While Solo is certainly showing us a lot of moments that define who Han Solo is, I like that there's this one bit that shows how Han Solo changes over time. In this quick moment, he says "I've got a good feeling about this." Presumably everything goes wrong and he comes to be a little less optimistic over time. Anyway, I really like this variation on the recurring line in the Star Wars saga.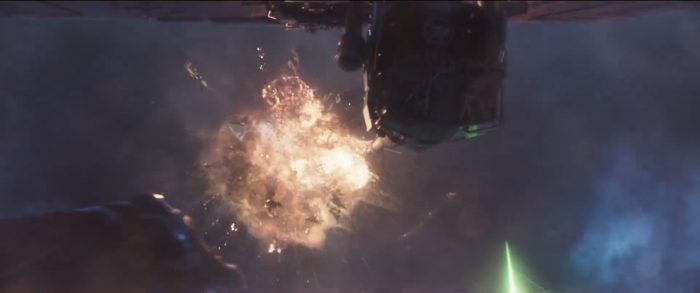 This appears to be the Millennium Falcon's lower gunner station firing upon the TIE Fighters pursuing them through that swirling vortex of a storm. A Star Destroyer hot on their trail as well. Interesting enough, you'll notice that there's only a single barrel on the gunner station. Maybe Han updates it later to make it more effective?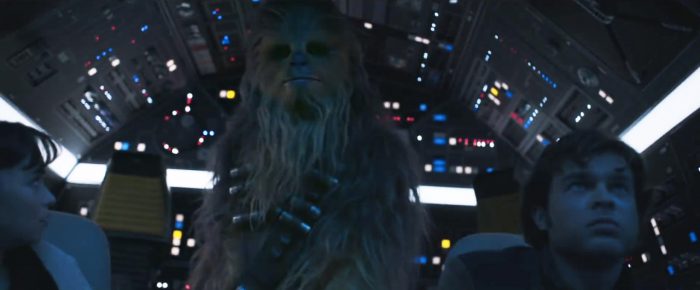 Despite the fact that Chewie and Han have a good rapport, they clear haven't known each other very long. Because in the best moment from the trailer, Han both finds out that Chewie is also a damn good pilot, and he's also 190 years old.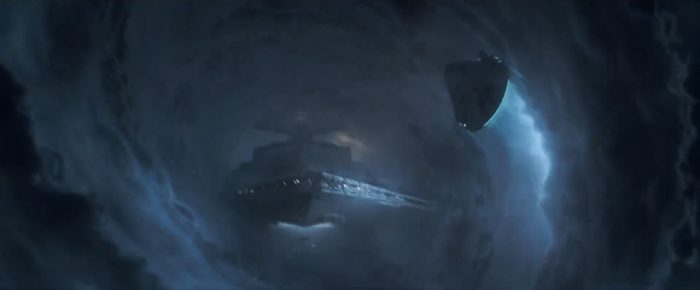 Here's another one of those gorgeous shots from this trailer that keep me optimistic about where this movie is going. The Falcon swirls around this storm as a Star Destroyer looms in the background. It looks like an awesome painting.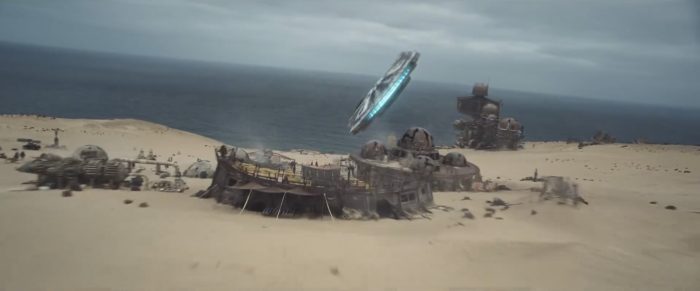 The Falcon also swoops into action above what appears to be the village of Enfys Nest and her Cloud-Rider gang. What Han Solo is doing there, we're not sure, but we'd certainly like to find out sooner than later.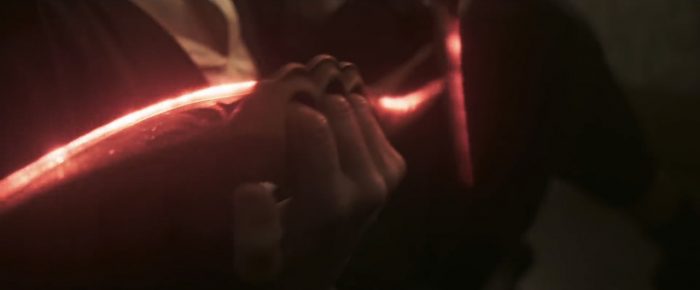 It wouldn't be Star Wars without some cool new weapons we haven't seen before. In this case, it looks like they're brass knuckles with some kind of energized blades on both ends of them. Wielding this new weapon is Paul Bettany, and he slices through some piece of decoration at a bar.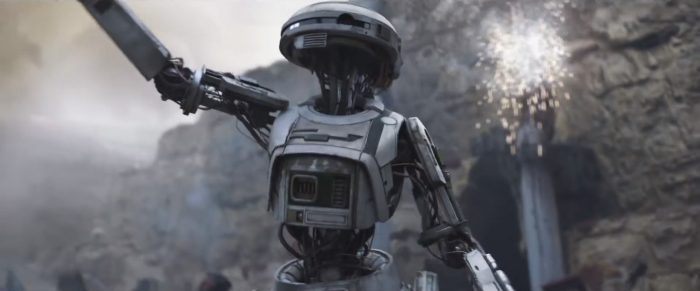 A quick montage of shots starts to close the trailer, including Emilia Clarke throwing a grenade into a big battle of some kind and L3 either sarcastically or excitedly saying "So glad we took this job."
Then we get this little Captain America: The First Avenger moment of Han holding on to Chewie in the midst of the train heist. The trailer ends by leaving Chewie in danger, but it doesn't exactly work all that well since we know he doesn't die. Even so, that train sequence looks like it's going to be an exciting one.
***
That's it for our Solo: A Star Wars Story trailer breakdown. There were definitely some cool details to behold, but I'm still worried about the apparent lack of a lot of moments featuring Alden Ehrenreich's performance as Han Solo. Sure, this looks like it'll be an ensemble movie, but it's still called Solo. Here's hoping they're saving the good stuff for the movie and the marketing department isn't worried about not being able to sell Alden Ehrenreich as Han Solo.
At the very least, Solo: A Star Wars Story looks like quite a thrill ride that should bring some fun to the blockbuster summer season. I'm not sure it'll live up to what fans expect from a Star Wars movie, but I'm certainly hopeful.
Solo: A Star Wars Story arrives on May 25, 2018, but if you made it this far, then you already know that.