'Black Panther' Sails Past 'Titanic' To Become The Third Highest-Grossing Release In Domestic Box Office History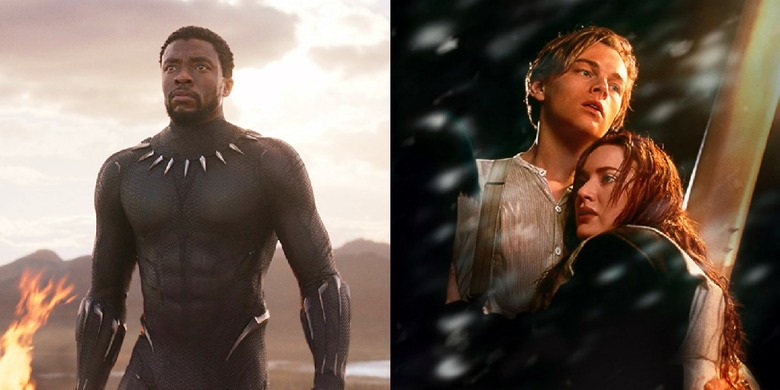 There's a new king of the world. Or at least, a new No. 3 in the list of the highest-grossing movies released in the U.S. The Black Panther box office has just sunk Titanic's record as the third biggest U.S. theatrical release of all time.
Black Panther keeps breaking records. Right out the gate, the box office behemoth turned in Marvel Studio's biggest opening weekend ever, handily beating the opening numbers of 2012's The Avengers. A month later, Black Panther surpassed The Avengers again, winning the title of the highest-grossing superhero movie ever. Now, Black Panther has just beaten another titan at the box office.
According to The Hollywood Reporter, Black Panther has overtaken Titanic's $659 million total box office. As of this weekend, Black Panther has raked in $665 million domestically, bringing it to third place in the list of highest-grossing releases at the domestic box office. That puts Black Panther just behind Avatar and Star Wars: The Force Awakens.
Avatar currently holds the No. 2 spot with a $760 million box office haul, according to Box Office Mojo. That means Black Panther would need a $100 million boost to take the next spot, which is unlikely but not impossible However, it's certain that Black Panther won't beat The Force Awakens' $937 million — especially with Marvel's next film, Avengers: Infinity War, looking to take the box office baton later this month.
But it's still a huge achievement for Black Panther to beat the 1997 ship-sinking blockbuster, which held the No. 1 domestic box office title for years until director James Cameron surpassed his own record with Avatar in 2009. The Force Awakens blew past that record in 2015 but, come on, it's Star Wars.
Black Panther was poised to be a cultural phenomenon from the beginning. Director Ryan Coogler helmed a film that was alternately powerful and poignant, with one of the most diverse casts ever seen in a blockbuster. Its story still resounds with me months after I watched it. Hopefully Black Panther will be the turning point for more diversity and deft social commentary in big-budget movies. And if anything, at least it means more Black Panther and Wakanda in the upcoming Avengers: Infinity War. As it should be.Black Panther's Chadwick Boseman, Danai Gurira, and Letitia Wright can be seen next in Infinity War on April 27, 2018.