'Solo: A Star Wars Story' Trailer: The Journey Of An Unlikely Hero Begins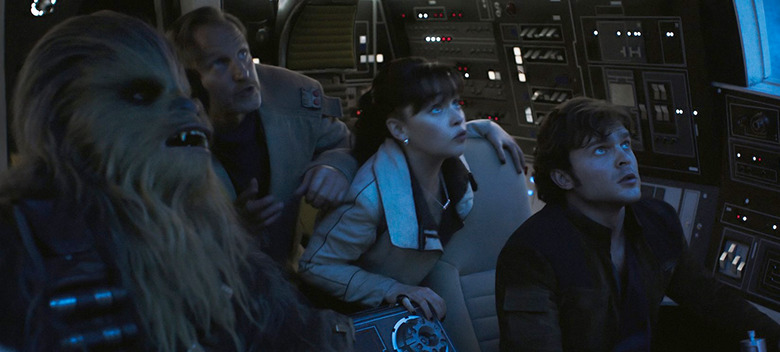 Though Han Solo may have perished at the hands of his son in Star Wars: The Force Awakens, that's not stopping Lucasfilm from bringing the character back to the big screen to tell the story of how the scoundrel came to be one of the most notorious smuggler's in the galaxy.
A new Solo: A Star Wars Story trailer has arrived ahead of the film's forthcoming debut at the Cannes Film Festival, and it shows off tons of new footage from the origin story that stars Alden Ehrenreich in the role originated by Harrison Ford in Star Wars: A New Hope back in 1977. Does he have what it takes to strap into the Millennium Falcon and make fans believe in this movie? Find out for yourself below.
Watch the Solo: A Star Wars Story Trailer
Solo: A Star Wars Story will take fans to locations they've never been before on the big screen, including Han Solo's home planet of Corelia, as well as a new planet called Vandor, which is where the big train heist will be taking place. Plus, let's not forget that we'll finally get to see what that Kessel Run is all about and how Han Solo completed it in less than 12 parsecs in the clean, sleek Millennium Falcon that we're not quite used to seeing yet.
As for the story, it revolves around that aforementioned train called The Conveyex that we're seeing in the trailers. This is actually the first job that Han Solo will pull as a smuggler, and it will allow him to put his famous pilot skills to the test after the Imperial Academy threw him out on the streets for having a problem with authority. But he'll also have to deal with the threat of a mysterious villain named Enfys Nest.
Meanwhile, we'll also see Han Solo meet his future co-pilot Chewbacca for the first time, and they'll spend some time with a young Lando Calrissian (Donald Glover), who will somehow lose the Millennium Falcon to Solo in the process. Fans have been skeptical as to whether we need to see all these events played out on the big screen, but Rian Johnson threw his support behind the movie a little while back, so maybe that's a good sign (at least for those who didn't hate The Last Jedi).
Solo: A Star Wars Story is directed by Ron Howard after the exit of directing duo Phil Lord and Chris Miller. The film also stars Game of Thrones' Emilia Clarke as the resident femme fatale Qui'ra, Fleabag star Phoebe Waller-Bridge as Lando Calrissian's droid sidekick L3-37, Thandie Newton as a tough gal named Val and Woody Harelson as Solo's mentor Tobias Beckett.
Here is the official synopsis for Solo: A Star Wars Story:
Board the Millennium Falcon and journey to a galaxy far, far away in Solo: A Star Wars Story, an all-new adventure with the most beloved scoundrel in the galaxy. Through a series of daring escapades deep within a dark and dangerous criminal underworld, Han Solo meets his mighty future copilot Chewbacca and encounters the notorious gambler Lando Calrissian, in a journey that will set the course of one of the Star Wars saga's most unlikely heroes.
 Solo: A Star Wars story hits theaters on on May 25, 2018.