John Krasinski And Emily Blunt Don't Mind Missing Out On The MCU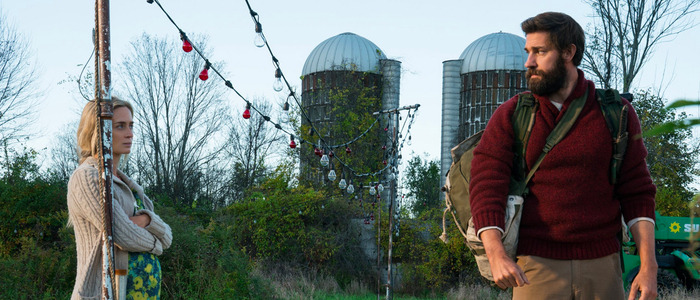 Married couple John Krasinski and Emily Blunt can currently be seen together in the creepy A Quiet Place, but in an alternate dimension, both would be appearing together in Avengers: Infinity War later this month. Both actors nearly joined the Marvel Cinematic Universe in the past, but lost out on their respective roles. Recently, the actors revealed they're not bothered by their missed Marvel opportunities. More on John Krasinski and Emily Blunt in the MCU below.
In some alternate universe, Emily Blunt is the MCU's Black Widow, and her husband John Krasinski is Captain America. I'm pretty happy with Scarlett Johansson and Chris Evans in those roles, respectively, but I can't help but wonder, "What if?" What if Gulliver's Travels hadn't kept Blunt from taking the Black Widow part, and what if Krasinski had beat out Evans to take up Captain America's shield? We'll never know the answers to these hypotheticals, but it's fun to wonder.
Krasinski and Blunt, however, seem perfectly happy to have not found their way into the MCU. Yahoo Movies spoke to the duo about their missed MCU opportunities, and both seemed pretty chill about the whole thing. For Blunt's part, she said not being in the MCU has enabled her to take other projects she's really enjoyed:
"I don't think I would have been able to do a lot of projects that I've loved doing. I think that was a nerve-wracking prospect for me to not be able to choose, and the choices I have are often all I have, so you can't really plan for anything else. You can't predict what's going to happen, what's going to catch fire and what's not, so if I make the choice for me, and not because I'm contracted I think that's an exciting prospect."
Krasinski agreed, and added that if he were part of the MCU, he probably never would've had the chance to make A Quiet Place:
"I think A Quiet Place definitely wouldn't exist. There are benefits, and Chris Evans seems to be having a wonderful time. I love Chris, I've been a friend of his for a while. Those movies are so much fun and I love watching them, I tell him I'm first in line to see his new movies. It's that zen thing of let life take you where it may and I never would have been here if I had gotten Captain America. I never thought about that, you just broke my brain."
Signing up for the MCU is clearly a commitment. Joaquin Phoenix reportedly turned down the role of Doctor Strange because he just didn't like the idea of being attached for multiple movies. So I can certainly see the point of the argument that Krasinski and Blunt would've been unable to do several other projects had they ended up in the Marvel Cinematic Universe. And perhaps it's all for the best. Blunt has forged her own path, with Edge of Tomorrow turning her into a bonafide ass-kicker. And A Quiet Place is earning Krasinski rave reviews, proving that maybe it was his fate to become a horror filmmaker all along.