'C.B. Strike' Trailer: J.K. Rowling's Crime Novels Are Now A Cinemax Miniseries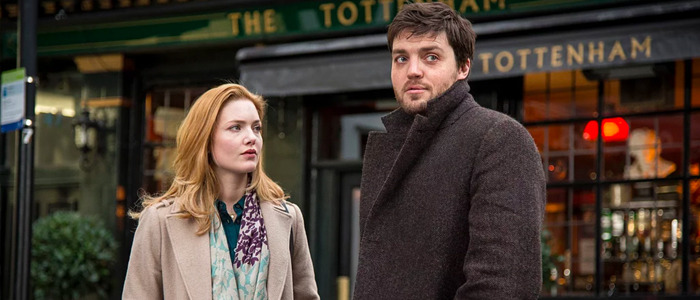 In 2013, Harry Potter author J.K. Rowling released a book called The Cuckoo's Calling under the pseudonym "Robert Galbraith." It was the first in a series of crime novels following the adventures of a private investigator named Cormoran Strike, a former member of the Royal Military Police, and now Cinemax has adapted the first three novels into a miniseries. Watch the first C.B. Strike trailer below.
C.B. Strike Trailer
The first book sees Cormoran Strike (what a name) teaming up with a female partner and investigating the apparent suicide of a model, and the show doesn't appear to do much to differentiate itself from its contemporaries like Sherlock and Luther. But with procedurals like this, it's often not as much about the plots as spending time with the characters, so we'll see how well the idea is executed when it comes to the small screen Stateside this summer.
All of the episodes have already played in the U.K. on BBC One last summer, and at the time, The Telegraph compared one of its episodes to the works of Agatha Christie and another to True Detective and David Fincher's Seven.
If you're interested in checking it out, the first episode debuts on Friday, June 1, 2018 on Cinemax. New episodes will follow each Friday; the show kicks off with three one-hour episodes that cover the first book in the trilogy, and the remaining two books – The Silkworm and Career of Evil – will be covered in two episodes each, bringing the total number of miniseries episodes to seven. But there's always the opportunity for more, since Rowling reportedly wants to write at least ten more books in the series. Lead actors Tom Burke and Holliday Grainger have said they're interested in returning, but they'll wait for Rowling to publish another book before reprising their roles again.
Here's the official breakdown:
C.B. STRIKE is based on the bestselling crime novels written by Harry Potter creator J.K. Rowling under the pseudonym Robert Galbraith. Starring Tom Burke ("Only God Forgives") and Holliday Grainger ("The Borgias"), the story centers on Strike, a war veteran turned private detective, operating out of a tiny office in London's Denmark Street. Although wounded both physically and psychologically, Strike's unique insight and his background as a military police investigator prove crucial in solving three complex cases that have baffled the police.
C.B. STRIKE is a CINEMAX Miniseries presentation in association with BBC; a Bronte Film and Television production; "The Cuckoo's Calling" executive produced by Ben Richards, Neil Blair, Ruth Kenley-Letts and J.K. Rowling; "Career of Evil" and "The Silkworm" executive produced by Tom Edge, Neil Blair, Ruth Kenley-Letts and J.K. Rowling.