'Yellow Submarine' Is Sailing Back To Theaters For Its 50th Anniversary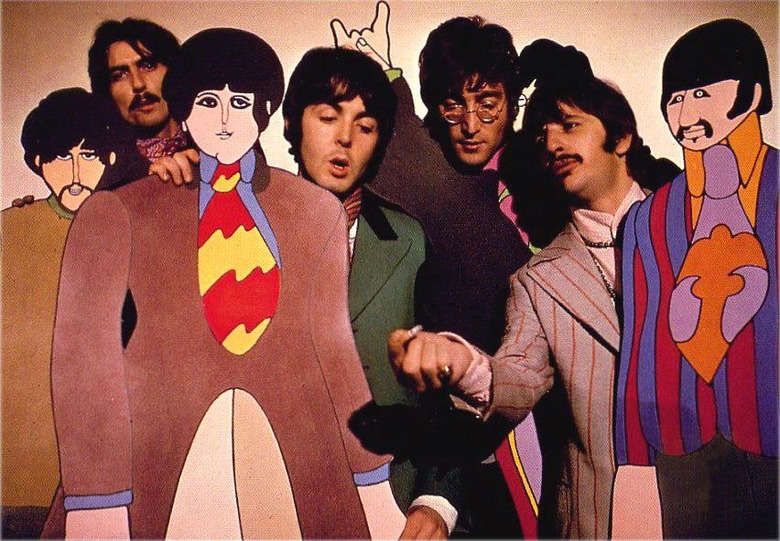 It's The Beatles' yellow submarine, we're all just living in it.
The British rock band's classic 1968 animated film Yellow Submarine is getting a re-release in theaters across the U.S., in celebration of its 50th anniversary. It's probably the closest thing we'll get to a Beatles reunion, so get ready to buy your tickets now.
Released in 1968, Yellow Submarine has become the epoch of pop art experimentation, blending together surreal animation with beloved Beatles pop songs.
Now, Abramorama, Apple Corps Ltd. and Universal Music Group are teaming up to give the classic animated film a theatrical re-release for its 50th anniversary, according to ComingSoon.Net. Yellow Submarine is receiving a 4K digital resolution restoration by Triage Motion Picture Services, while Universal Music Group's Abbey Road Studios is remixing the film's songs and score in 5.1 stereo surround sound. And the delicate hand-drawn animation has been restored meticulously by hand, frame by frame.
Yellow Submarine Re-release Trailer
Yellow Submarine is a trippy, surreal pop art masterpiece that was initially released when the Beatles were at their peak. Named after one of their most famous songs, "Yellow Submarine," the part animated, part live-action film follows the fantastical story of the music-loving inhabitants of Pepperland, a paradise by the sea. When Pepperland is attacked, the Beatles must band together to save their musical paradise. Naturally, it's all set to the tunes of the Fab Four's most beloved releases, including "Eleanor Rigby," "When I'm Sixty-Four," "Lucy in the Sky With Diamonds," "All You Need Is Love," and "It's All Too Much."
Richard Abramowitz, CEO of Abramorama said of the re-release:
"We're thrilled to have the privilege of bringing 'Yellow Submarine' back to the big screen so that 3 generations of happy Beatles fans can enjoy the ground-breaking animation and classic tunes and that have long been part of our collective cultural DNA."
The theatrical re-release will take place in theaters across the U.S. Information on local screenings can be found by clicking here.
The music-loving inhabitants of Pepperland are under siege by the Blue Meanies, a nasty group of music-hating creatures. The Lord Mayor of Pepperland (Dick Emery) dispatches sailor Old Fred (Lance Percival) to Liverpool, England, where he is to recruit the help of the Beatles (John Lennon, Paul McCartney, George Harrison, Ringo Starr). The sympathetic Beatles ride a yellow submarine to the occupied Pepperland, where the Blue Meanies have no chance against the Fab Four's groovy tunes.