Release Date Announced For 'Anna And The Apocalypse', The Christmas Zombie Musical You've Always Wanted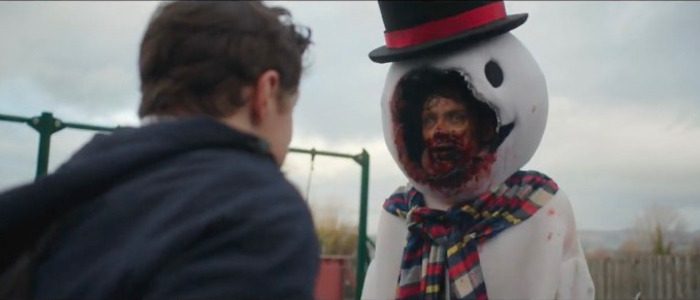 Finally, the Christmas-themed zombie musical you've been waiting for has a release date. Anna and the Apocalypse will sing and dance its way into theaters this December.
Fans of zombies, Christmas and musicals rejoice – Anna and the Apocalypse is just the film for you, and it's hitting theaters this year. Deadline reports that Orion Pictures will open John McPhail's film on December 7, 2018 in select theaters before a nationwide rollout. We had already reported that the film would likely debut in time for the holiday season, so this is just perfect.
/Film's own Jacob Hall saw the film at Fantastic Fest last year, and had a lot of good things to say:
Horror aficionados won't be surprised by much of Anna and the Apocalypse. It hits the familiar beats, even introducing a human threat (a vice principal played with gusto by Paul Kaye) that suggests that the living are the real enemy in an undead end-of-the-world scenario. But I'm not convinced that horror aficionados are the intended audience here, even though plenty of them will have a great time. Anna and the Apocalypse is a very good movie, but it's easy to imagine it directly connecting to the 14-year-old theater kids, the offbeat weirdos who like horror and musicals in equal measure, the kids looking for a genre movie that speaks (and sings) a language that they think they're alone in speaking. It's easy to appreciate Anna and the Apocalypse as a weird genre experiment. It's easier to imagine a generation of younger, burgeoning genre enthusiasts embracing it as a new all-time favorite.
Anna and the Apocalypse Teaser
"The musical aspect just helps show the depth and their growth, their plight," director John McPhail told /Film. "Where they're going, which way are they coming from and where they want to go. The horror aspect of it is just part of the story. It's part of our zombie apocalypse. That's the inevitable part of it. We'll eventually reach the horror moments by starting like a zany teen comedy and introducing the new characters – get people laughing. Then, slowly but surely, head towards that horror genre where people are going to be terrified for their favorite character. Scared that they're going to lose them which, in turn, means they'll root for them when they're at their lowest."
Anna and the Apocalypse is based on the short film Zombie Musical, which you can watch below.
Zombie Musical
Anna's (Ella Hunt) life is dominated by the typical concerns of her youthful peers until the Christmas season in her small town brings not Santa, but an outbreak of the undead in this genre-mashing holiday horror musical. Yep. Musical.