'Wonder Woman 2' Will Feature Select Scenes Shot With IMAX Cameras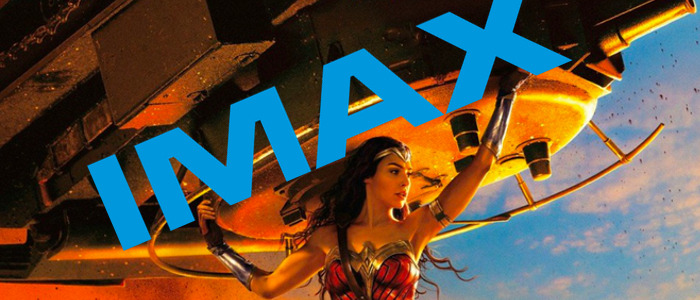 We'll take any info about Wonder Woman 2 we can get at this point. Like how it's being shot, for instance! Patty Jenkins will be shooting a portion of her super-sequel in IMAX, so expect big action when Wonder Woman 2 hits in 2019.
Superhero movies have been embracing the larger-than-life IMAX format for a while now. Christopher Nolan shot large chunks of The Dark Knight and The Dark Knight Rises in IMAX, and the upcoming Avengers: Infinity War is the first movie to be shot entirely with IMAX cameras. Now Wonder Woman 2 is getting in on the action. During a recent IMAX earnings call, IMAX exec Greg Foster revealed that a good chunk of Patty Jenkins' highly-anticipated sequel would be shot with IMAX cameras:
"I'm excited to announce that Wonder Woman 2, which comes out in the second half of 2019, will be shot with IMAX film cameras in select sequences. This Warner Brothers DC production, the sequel of the global juggernaut from 2017, is directed by Patti Jenkins and produced by Chuck Roven and Rebecca Oakley Roven. And we couldn't be more excited that IMAX has been chosen to be a part of the film's design."
Foster also commented that "Disney's Lion King, which comes out in July of 2019 and is directed by our longtime partner, Jon Favreau, will feature roughly 30 minutes of key sequences in our aspect ratio."
While Wonder Woman was released in IMAX 3D format, it wasn't filmed in IMAX – a key distinction. More often than not, studios will simply stretch their films into IMAX format rather than film in IMAX, since it's a bit cheaper. Unfortunately, you don't always get the best quality picture and sound with this method. Directly shooting in IMAX results in high quality picture and sound, and, as Christopher Nolan once said, "it's the best argument that cinema has against the competition represented by improvement to home video systems."
Patty Jenkins' Wonder Woman 2 will bring back Gal Gadot as the Amazon Warrior. Kristen Wiig will play the main antagonist Cheetah, and Game of Thrones actor Pedro Pascal was recently cast in an undisclosed role. Specific details about the sequel are still under wraps, but in the past, Jenkins has said:
"[Wonder Woman 2 is] really still going to other values of hers, and a similar formula insofar as making a great, enjoyable fun movie but that ultimately in its third act turns some very big issues, and a very big experience that will aim to have slightly more weight and profundity than it has to have. Because that's a formula that I really like, and I like the idea of taking somebody on a very solid, great journey but that arrives at a bigger question being answered. So it's like that but because she is Wonder Woman and she's here now and she's fully developed, it's got great fun from the start and great big superhero presence from the start, and is funny and a great love story again and a couple new unbelievable characters who I'm so excited about, who are very different than were in the last movie."
Wonder Woman 2 opens on November 1, 2019.