'Jurassic Park' 25th Anniversary Celebration Coming To Universal Studios Hollywood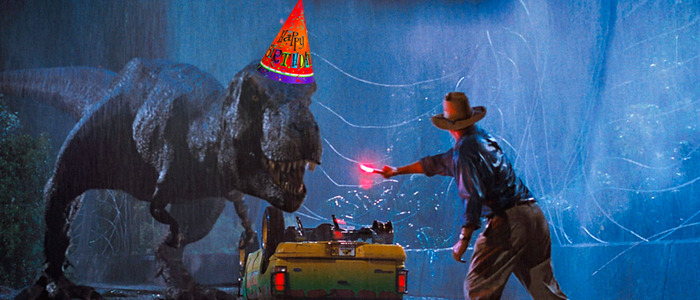 It's almost time for Jurassic Park's 25th birthday! We're all old now! To celebrate the Jurassic Park 25th anniversary, Universal Studios Hollywood is going to throw a dino-sized bash. Hold onto your butts.
I remember seeing Jurassic Park in the theater opening weekend – my young mind blown as Steven Spielberg slowly had his cameras craning up, up, up to reveal the towering Brachiosaurus. I remember it like it was yesterday. But it wasn't yesterday! It was 25 years ago, which officially confirms that I am an old, old man. To celebrate the impending 25th anniversary off Jurassic Park, Universal Studios Hollywood is set to host a big event on May 11 and 12 that will surely appeal to Jurassic fans of any age.
The celebration will feature a private screening of Jurassic Park at Universal CityWalk's "all-new, state-of-the-art Universal Cinema." The cinema boasts "18-plex with deluxe power-reclining seats, Dolby Atmos multidimensional sound and Christie RGB Laser projection or our 7-story IMAX featuring next generation IMAX dual 4K laser projection and 12 channel sound." I'm not really sure what most of that means, but it sounds expensive. The original Jurassic Park trailer will also be screened.
The rest of the event, which includes exclusive after-hours access, will take place within Universal Studios Hollywood, adjacent to the theme park's "Jurassic Park—The Ride." 
Jurassic Park 25th Anniversary Celebration
Attendees to the event will "receive a special commemorative lanyard and unlimited access to all things Jurassic, from the acclaimed theme park ride, to original props, including the Gyrosphere as seen in the record-breaking Jurassic World, original dinosaur maquettes, costume displays and an interactive expo area.  Live entertainment, themed food and merchandise will also be available to complement the event." You can also dress up in costume as your favorite character from the franchise, if you so desire. I'm guessing everyone is going to dress as Mr. DNA. (Universal has posted costume guideline requirements here, FYI.) 
This sounds like a lot of fun, and if you're anywhere near the area, you should attend. Steven Spielberg's Jurassic Park hit theaters on June 11, 1993, and promptly changed movies forever. There have been several sequels, including the upcoming Jurassic World: Fallen Kingdom, but none of the subsequent films have been able to capture the magic of that original.
Take a journey back into the world of the dinosaurs at Universal Studios Hollywood™ to celebrate the 25thanniversary of the movie that started it all: Jurassic Park™. Enjoy special exhibits, themed photo ops, a fan costume show, live entertainment, giveaways, character sightings, exclusive after-hours access to face off against a 50-foot T. rex on Jurassic Park® – The Ride, and much more. While here, join us for a private screening of the original film on the big screen at Universal Cinema on CityWalk.